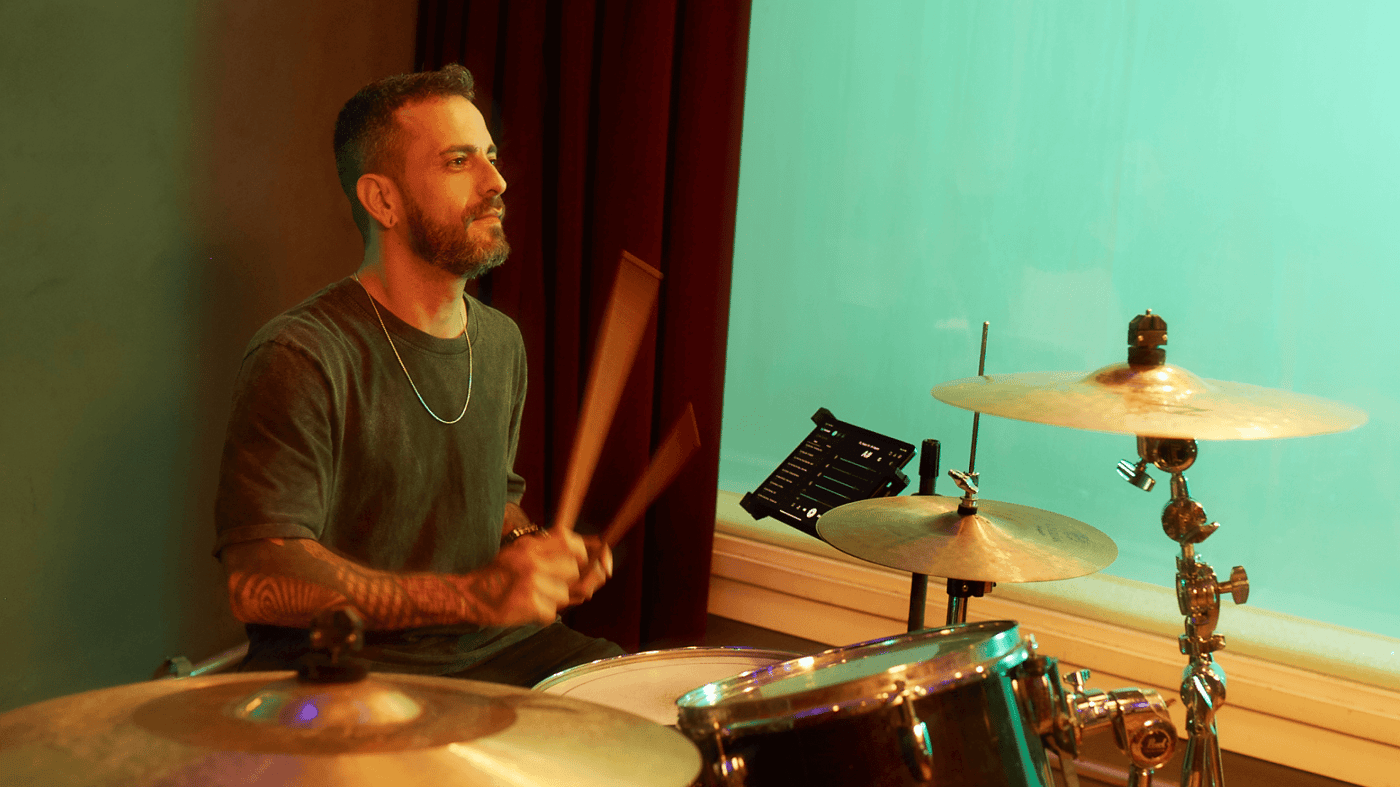 Drumless tracks are great tools for drummers to hear themselves better while playing along to music, or to record their own drum track to accompany the song.
Before AI, the only way to get a fully drumless track was to go straight to the producer of the song and ask for it – a tough task to say the least.
Another option was to artificially lower the presence of the drums by manipulating the track's frequencies, but it wasn't a perfect system and it always left the song sounding off.
But with the recent surge in AI technology, it's now easy for anyone to separate instruments out of a track. There are many reasons why drummers use drumless tracks, and Moises is a resource that makes this possible.

Moises is an app that lets you quickly alter the presence of instruments and vocals on a track, turning each individual element up, down, or even removing it completely. You can upload any song and remove the drums in less than a minute.
(The technology is so awesome, Drumeo has actually partnered with Moises for all of our instrument-less music in our members area!)
Why use drumless tracks?
Removing the drums lets you hear your own playing more clearly and pick up on any mistakes while you learn how to play songs. Once you've perfected your own drumming, using drumless tracks can give you the space to create your own melodies and beats and alter the playing style to fit your personal tastes.
Drumless tracks are also a favorite among drummers who like to film and share their playing online. They make recordings sound cleaner and emphasize the talent of the cover drummer without the distraction of the song's original drums.
What is Moises?
Moises is an app that lets you isolate and remove entire instruments from a song. As mentioned in our affordable apps article, it uses AI in order to alter elements of the track artificially and provides sliders to reduce or remove each element. 
This is particularly useful for the removal of drums, which traditionally was a difficult process as the frequencies of the drum track were hard to separate. AI lets you listen to the drums in isolation and study the beats without distraction from the rest of the track.
How to use Moises
It goes without saying, but you'll need to download the app first. Click here to get Moises on iOS, Android or desktop.
Once you've opened the app, you'll be taken to a home screen (shown here on the phone version) which will display your library.
As you double-click on the track (in this case, the example song "Move" by Sydnie Keddington), you'll see a control board showing each instrument/element as well as sliders that can be used to control the volume at which each plays.
From there, you can easily remove the drums and practice the track with no distractions.
In addition to isolating and controlling the different instruments, Moises offers a variety of other tools to help you practice better. Moises identifies the tempo and allows you to adjust it or add a click track. The song section feature breaks the song down into parts which can be looped to nail a particularly tricky piece.
You can use the app with any song, which means you can upload your own tracks and downloads! Depending on whether you're using the paid version or the free trial, you can select how you want the track to be separated – from vocals and instrumental to more complex breakdowns:
Once you've made the required edits, you can export the track and use it whenever you need, making it an incredible resource for your drum learning journey!
Why is Moises awesome?
1. Moises includes a smart metronome that instantly generates a click track in time with the song you want to learn – and it even counts you in. This is a useful tool to help you stay on the beat once you've removed the original drum track.
2. You can alter the speed of a track to slow it down or speed it up. This means you have complete control as you learn the track and can take more complex sections of the songs slowly as you get the hang of them. You can even reintroduce the drums as you slow down the track to study how the original drummer navigated the beats.
3. Beyond its uses for drumming, Moises also has a ton of other tools for musicians. From finding a song's key and chords to altering the track's pitch, it also lets you use AI to transcribe pre-existing lyrics and helps you write new ones.
There's always been an appeal to using drumless tracks to learn to play. You can use them to work on timekeeping, hear yourself play better, and learn the song without the distraction of the original drums.

Moises is a massive game-changer for drummers. Pulling any instrument from any song? That's what we love about it – and that's why Drumeo uses it for all 5000+ play-along song tutorials in our members area. Try it for free for 7 days and let us know what you think!
SHARE THIS: