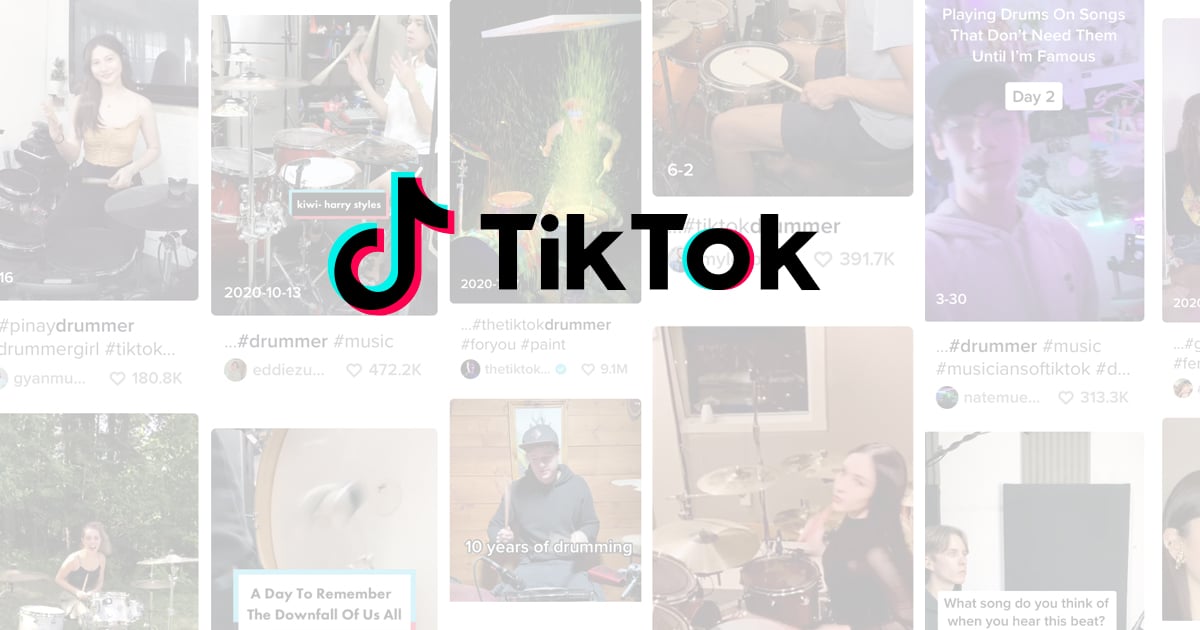 Do you want to make clickworthy TikTok drum videos?
TikTok is the fastest-growing social media platform in the world, and it all started as a lip-sync app called Musical.ly. It's also home to a huge, active community of drummers. Posting your drumming videos on TikTok is a great way to get noticed, explore your creative side and make amazing connections.
Here are some tips to get you started (and maybe even help you go viral):
Do something unique
The top drummers on TikTok all have one thing in common: they post unique content that their audiences eat up. Look no further than Josh Harmon's ingenious and fun videos which combine his love of drums and comedy. He's amassed over 2.5 million followers by transcribing and playing along with the rhythms of comedians, movies, and popular TV shows. Austin Ware (@thetiktokdrummer) is another great example: his eye-popping videos with drums and paint 'explosions' have gained him millions of followers worldwide. Find your niche and go for it!
Record a drum cover
Drummer Domino Santantonio became a TikTok superstar by playing along to Top 40 hits. This platform closely follows (and even dictates) trends, so if you want to catch people's attention, pick songs that are on the Billboard charts or popular on the TikTok trending songs page and play along!
You can choose a song with drums, or try one that has programmed beats where you add your own over top. Covering a song that doesn't have acoustic drums is a great way to reach a wider audience of both drummers and non-drummers who are into these songs and open to checking out a new and fun version.
One awesome thing about TikTok is that it specializes in short-form content – so you don't even need to learn the full song. Just pick your favorite clip and give it the performance it deserves.
Try Duets
'Duets' is a great tool for drummers to network with other musicians since you can grab a video from a guitarist or singer you like and play along. After you post it, TikTok sends them a notification so they can see your video too. Check out @TheFarPost adding drums to this guitar clip using Duets.
TikTok has even led to some amazing real-world duets. After Elijah Woods saw a TikTok of Canadian singer Jessia performing a song idea in her car, he downloaded it, produced the song and used the Stitch feature to share it. "I'm Not Pretty" went viral on TikTok and got the attention of Grammy-nominated artist Bebe Rexha, whose resulting collaboration with Jessia has produced 100 million views/listens across all platforms. Pretty amazing!
Your duets don't have to be with other musicians to catch people's attention. Here's a video of @HarryTheDrummer from Norway dueting with an adorable baby.
Get right to the point
TikToks are meant to be brief. Most are only 15 seconds, and many people won't watch all 60 seconds of the longer option, so spending 3 seconds adjusting the hi-hat clutch is 3 seconds too long. There's so much content on TikTok and people tend to scroll through quickly, so get right into it if you want to retain your audience. The platform's algorithm prioritizes videos that have a longer watch time – don't give anyone a reason to scroll by!
Work the algorithm
Have you posted a ton of videos but you aren't getting many views? Keep trying! The algorithm is set up in a way that it's possible for any video to go viral at any time. You never know if your 15th or 20th video will be the one that takes off. Try to choose trending hashtags to increase your chances of going viral. Hashtags on TikTok are used to categorize videos, so picking the right ones will help the algorithm serve your content to the best possible audience.
You can also use the analytics tab to check out who is watching your posts, where they are (geo-location), and what time of day you're getting the best response. Keeping these stats in mind will help you choose what to post and when. And on that note…
Post Consistently 
The more often you post, the better the chance you'll be seen. Many of the top TikTokers post multiple times a day since this is the best way to engage and retain their audience. When you sit down behind the kit, try making a couple of videos at once so you have some options to choose from. Spread them out so you don't have to film every day. Keep them coming back for more!
Make good quality content
Using your phone is totally cool, but make sure your space is clean and the lighting is good so your viewers can actually see you and your kit. If possible, use a single-color background and avoid having a bunch of extra clutter (here's looking at you, soda cans and food wrappers) in the shot that will distract the viewer from what you're doing.
Using pro audio and video gear will make your TikToks sound even better. If you film yourself outside of the TikTok app, you can sync the bounced audio file from your DAW with the video using iMovie, Adobe Premiere, or any other video editing software. Even if your video is lighthearted, people will take it more seriously if it seems like you put in the time.
Cross-post
It never hurts to post your drum covers or duets to YouTube Shorts, Instagram Reels, or other social media platforms. The more eyes you can get on them, the better (make sure to keep an eye out for music copyright restrictions outside of TikTok, though).
Features like dueting and stitching (where you can attach your video to the end of another user's video) set TikTok apart for innovative music-making content, but Reels is not far behind and has started adding similar features.
Keep in mind that the content made for TikTok – filmed vertically, for example – is what typically looks and performs best on TikTok. So it's better to cross-post your TikToks to other platforms.
Be positive, experiment, and try not to get discouraged
People looking for drum videos on TikTok are there because they want to see something fun, impressive, or inspiring. There's so much negativity on the internet already, so keep it positive, crack a smile, and show your audience you're having fun while you play.
Don't be afraid to be weird! This is not a job interview, it's an opportunity for you to stretch out and explore your creative side. Not sure if your concept works? Just go for it. Here's @boomerdrums, a drummer with an inspirational story playing a roll on a tennis ball (this looks hard!)
As TikTok drumming star Josh Harmon mentions in this interview, you should make TikToks because they're fun, not because you feel like you have to. Just because your videos aren't going viral doesn't mean they're not worth your time.
Authenticity often ends up shining through in TikToks that do go viral. Be positive, experiment, and try not to get discouraged. If you aren't having fun, don't do it.
Hopefully these tips will help you start making your mark on this fast-growing community of drummers. TikTok drum videos have the potential to reach a huge untapped market of fans and fellow musicians. If you're having fun sharing your drumming and participating in this new music scene, you're doing it right. So grab your phone and record a cover or duet – you have nothing to lose!
SHARE THIS: