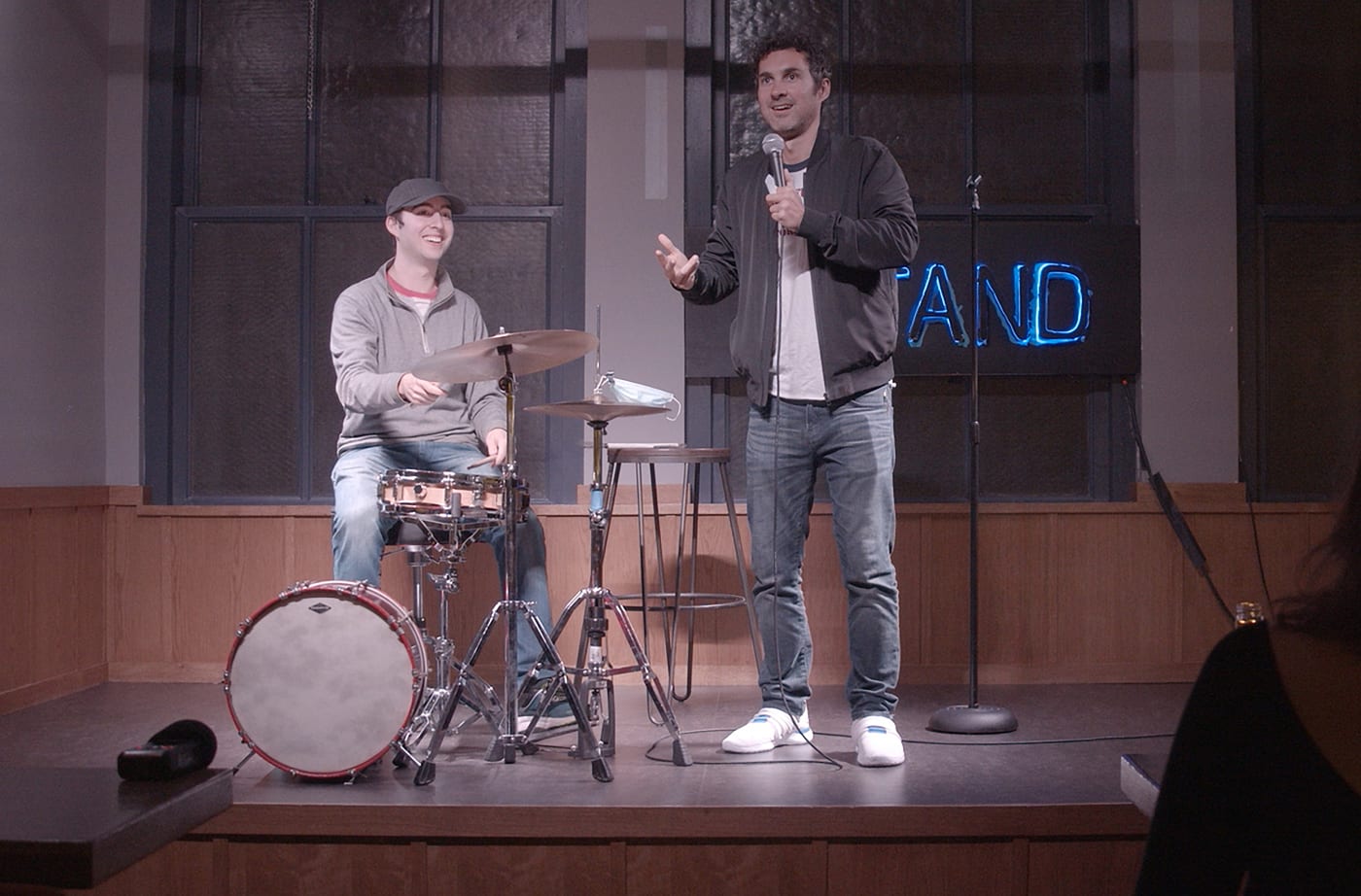 It's tough to go viral on any platform, especially as a drummer. But when you do, it's usually because you're doing something unexpected.
Drummer Josh Harmon has gone viral multiple times, and he now has over 2 million followers on TikTok and over 300,000 followers on Instagram. He's one of the most popular drummers on TikTok. His videos regularly get over a million views.
Why?
Because they're relatable to everybody, not just musicians. He's creating sound effects for film and TV clips on his drums. Like a one man soundtrack (with a constant smile on his face), he's amassed a huge audience while landing a feature on The Tonight Show, dream brand endorsements (Ludwig, Vic Firth, Zildjian, and Remo), and other opportunities he never even imagined.
His most popular video, posted in February 2021, has racked up over 134 million views:
There's at least one thing that Josh understands more than the average drummer: rhythm is literally everywhere. It's in the footsteps we take when we walk down the street. It's in the cadence of a curtain rustling.
Everything we do can be broken down into rhythms.
Josh has been drumming since he was 4 years old and studied with established jazz drummer Tommy Campbell and SNL's house drummer Shawn Pelton. But he never planned to pursue music as a career. He majored in French literature, going to France to make a documentary on French drummers and writing about the history of the snare drum for his thesis.
But he's now seeing the ways he can combine his two "quirky passions": drumming and comedy.
A writer for Today.com, Josh is also a comedian, and started his series of drumming-to-video-clips by drumming along to funny stuff. In an ongoing series dubbed "Rhythms Of Comedy", he uses drumming to bring out the rhythmic delivery of stand up comedians (like Bo Burnham) and comedic TV and movie scenes (like Brooklyn 99), and it landed him a feature on The Tonight Show.
Josh loves to study great stand up comedians and, as he says, "try to figure out what's going on mechanically with their delivery." Jerry Seinfeld, Eric Andre, Andy Kaufman, Hannah Gadsby, and Bo Burnham are among his biggest influences, all of whom he says have great rhythm.
DRUMEO: Is there something about drumming that non-drummers can relate to? Do you think comedy can bridge the gap?

JOSH HARMON: There's a way the sentences feel when you're reading a book. The Beatles said, "There's something in the way she moves." That's what rhythm is. It's this underlying thing beneath the words and melody. It's an indescribable layer.
What did you think when Fred Armisen put out 'Standup for Drummers'?

I love Fred. He's one of my heroes. He's talking about something hyper specific, like wingnuts on cymbals, and it's really funny to me. My family thought it was funny and they don't play the drums (or maybe they've just seen me do it). Fred took something so specific and made it accessible to a large number of people without losing its true nature.
There's a real community around drums. I don't know if other instruments have that same culture. Drummers really have a bond.
It seems like we hear more about standup comedians who happen to be drummers than about drummers who are also standup comedians. Maybe the general public talks more about comedians than they do about drummers.

There's a long tradition of comedians who play drums, like Jon Stewart, Fred Astaire, and Johnny Carson. David Letterman loved to ask guests, "Are those your drums?"

If you have good rhythmic intuition, you can be a good drummer and a great speaker. As George Carlin says, "It's not just telling jokes; it's rhetoric." It's the rhythm you give the words that makes it funny.

If you were to read a Dave Chapelle routine word for word, it might be kind of funny, but not as funny as hearing him do it. If you sat down on Steve Jordan's drum set, you still wouldn't sound like Steve Jordan. Both drummers and comedians have a rhythmic personality. You could tell the same joke and not be as funny. You could play the same beat but not be as groovy. Rhythm is so integral to someone's personality. You can imitate it, but you can't be it.

Why do you think people find it entertaining to watch you play drums to comedy clips? Do you think there's something inherently comedic in drums themselves?

Drums aren't inherently funny; drums simply amplify the thoughts and feelings of the person playing them. Sometimes the person playing them is funny, like Papa Jo Jones: that guy was hilarious and a brilliant virtuoso. The way he played has a comical element to it: joyous, effortless.
On the other hand, Ginger Baker and Tony Williams were not funny. The drums take whoever you are and push out a message that's beyond words. The drum is just a communication device.

TikTok is a great platform to interact with other musicians, especially by using the 'duets' feature. What do you think is the best way to stand out from other drummers on TikTok?

I don't consider myself a 'TikToker'. I'm not a social media guy; my videos happen to be on there to be seen and create a community. I make videos that are fun to make, and that's the only thing I think about, not "is this going to get a lot of views".
If it's fun for you to break down double stroke rolls, that translates. If that's not who you are, don't do that. Don't be afraid to zag when other people zig.
Keep trying new things. I didn't come up with this concept instantly; sometimes you have to push it further and experiment. Even if it's not your best video, post it anyway, and learn from the feedback. If something takes off, see what sticks, and make more like that if you want.
If you don't feel like posting, don't. I only make a video when I feel like it, and that helps me maintain a healthy relationship with social media.
I put myself out there and I think it takes some practice. I still sometimes get nervous about doing it, but I get less and less nervous every time. Keep working on it; you never know what will happen or who will see it.

Do you think you'll incorporate drumming, or jokes about music, into your future standup routines?

Definitely. That is the plan. I'd like to try to use drums to do something more than just 'play the drums'. Like what Antonio Sánchez did with Birdman, it's more than just drums, it's a story.

I would like to turn "Rhythms of Comedy" into a full blown Broadway experience or comedy special. Something authentic with rhythms and speech and storytelling.

What about the history of the ba dum tss? Why is it funny? Is it ingrained in us? That is an example of how a rhythm can contain emotional information. It makes you laugh the same way stadium claps get you excited.

Is there anything else you want drummers to take away from this conversation?

I love to play the drums, but I'm trying to take it to a new place, challenge myself, and keep myself entertained. For drummers out there who are reading this, you don't have to play something because someone says you should. You don't have to learn jazz if that style doesn't appeal to you. You don't have to learn left foot clave to be considered a good drummer. What I encourage others to do – and what I'm trying to do – is keep pursuing the things that interest you. You might go further than you thought, and end up at a surprising and interesting place.
Recreating sound effects on the drums isn't random – it's a culmination of other ideas. I kept doing what interested me and it brought me to this place. Have fun! Drumming is fun.
The number one comment on my videos is, "He looks like he's having a great time. He makes me want to play the drums." It's contagious. People get so wrapped up in paradiddle combinations or how to tune. Have more fun!
SHARE THIS: