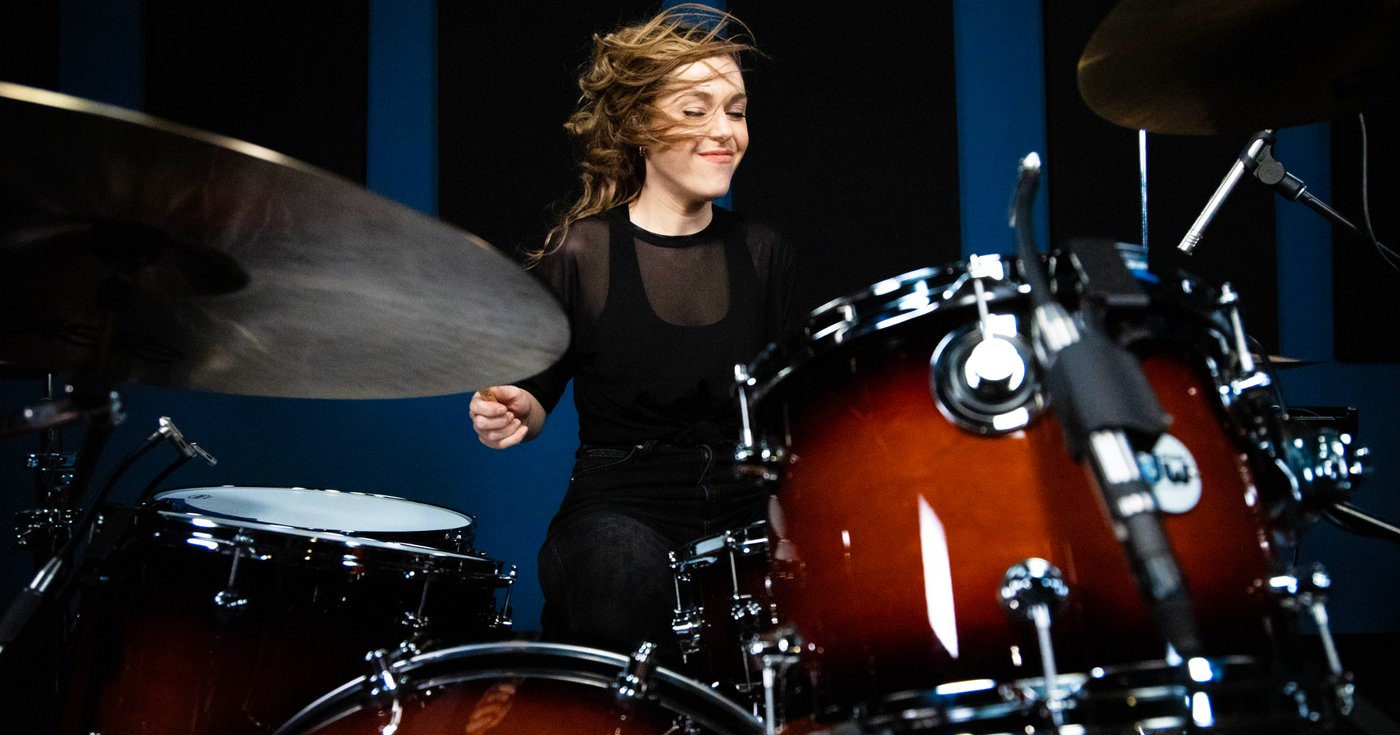 Domino Santantonio has become one of the top drummers on TikTok for her energy-infused pop covers. So we asked her to share her top 10 pop beats of the year!
Domino loves covering pop songs because they have lots of space for drummers to get creative, especially since most modern songs in the genre use electronic beats rather than acoustic drums. Her top 10 songs also have blues, reggaeton, 60s, and 80s influences.
1. "Blinding Lights" (The Weeknd): With its 80s throwback vibe, this tune reminds her of classic pop songs. Its driving beat is powerful and "makes you feel like drumming". To add more strength to the chorus, Domino adds open hi-hat accents.
2. "Don't Start Now" (Dua Lipa): With a solid four-on-the-floor kick and groovy hi-hats, this is one of Domino's favorites.
3. "Yummy" (Justin Bieber): Pop meets hip-hop in one of the top pop beats of 2020, which has a slow and catchy feel and 16th notes on the hi-hats.
4. "Roses" (SAINt JHN – Imanbek Remix): Domino says this song "makes you want to train or be active", and it really does have that energy to it. Because there isn't much of an acoustic beat in it, she built on it in her own style.
5. "Rain On Me" (Lady Gaga & Ariana Grande): With a semi-swung disco beat feel on the hi-hats, she adds a few extra notes on the kick at the end of the phrase.
6. "Savage" (Megan Thee Stallion): Like "Yummy" but more uptempo, this song is really popular on TikTok.
7. "Mamacita" (Black Eyed Peas, Ozuna, J. Rey Soul): Reggaeton beats are really popular in modern pop, so this had to make the list.
8. "Midnight Sky" (Miley Cyrus): With a two-handed hi-hat pattern and a funky kick pattern, this one has "kind of a Bee Gees vibe to it".
9. "Stuck With You" (Ariana Grande & Justin Bieber): This song is completely different from the others. It's a 6/8 ballad, has some blues vibes, and there's lots of room to add your own variations.
10. "Golden" (Harry Styles): This song is fun to play and it has a beat that incorporates the toms. Can you hear a bit of the 1960s surfacing?
What do you think of Domino's choices? What were your favorite songs to drum along to in 2020?
SHARE THIS: