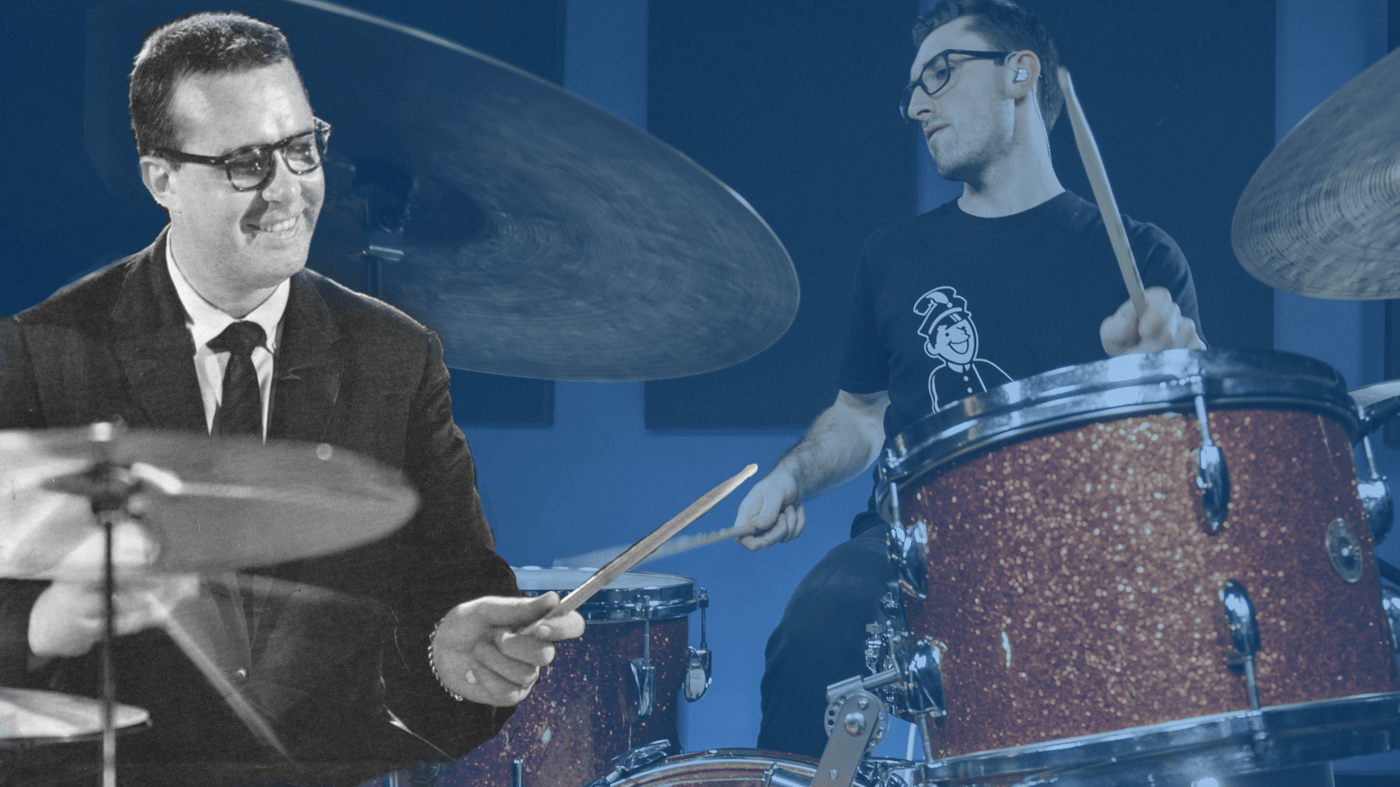 Download the drumless play-along track! With click | Without click
One of the most popular odd time songs in the world happens to be one the most iconic jazz tunes of all time: "Take Five" by The Dave Brubeck Quartet! Whether you're a new drummer, a pro, or you've never played jazz before, you can learn how to play the main motif at any level.
It's your turn to channel the legendary Joe Morello on drums. In this video, Brandon breaks the 5/4 beat down into its simplest form to start, then builds it back up over five levels of difficulty:
1. I've never played jazz
Before you even pick up the sticks, get used to counting to five. Put on the song and count out loud to internalize the odd time. Now strike the ride on every quarter note and count along. Add a bass drum hit on the 1. You can get through the entire song just by playing this simple part!
2. The jazz band drummer
Maybe you played in your high school jazz band or you've dabbled in the style. This level introduces the 5/4 swing pattern. Think of it like 4/4 but with an extra note on the end. Play this on the ride, add that bass drum hit on the 1, and you'll be able to get through the song with a bit more pizazz than in level 1.
3. The independent drummer
This one challenges your limb independence between the ride, bass drum, and your left foot as you add the hi-hat on beats 2 and 4. The track is a bit fast, so may need to work your way up to full tempo. If you're coming from world of rock drumming where the main focus is your bass drum and snare drum, keep in mind that jazz is more about anchoring the ride cymbal and hi-hats to keep time.
4. I play this at the jam session
Now you're adding in some snare drum comping! It's not about playing random notes – it's just one of many ways jazz drummers interact with the other musicians. Use the shots and accents that are inspired by what you're hearing from the band.
5. Joe Morello
You might as well be Morello himself. Go out and buy a vintage kit and some dark sounding cymbals, add dynamics and ghost notes, and don't bury the beater so you get that authentic sound.
Download the play-along track here!
SHARE THIS: