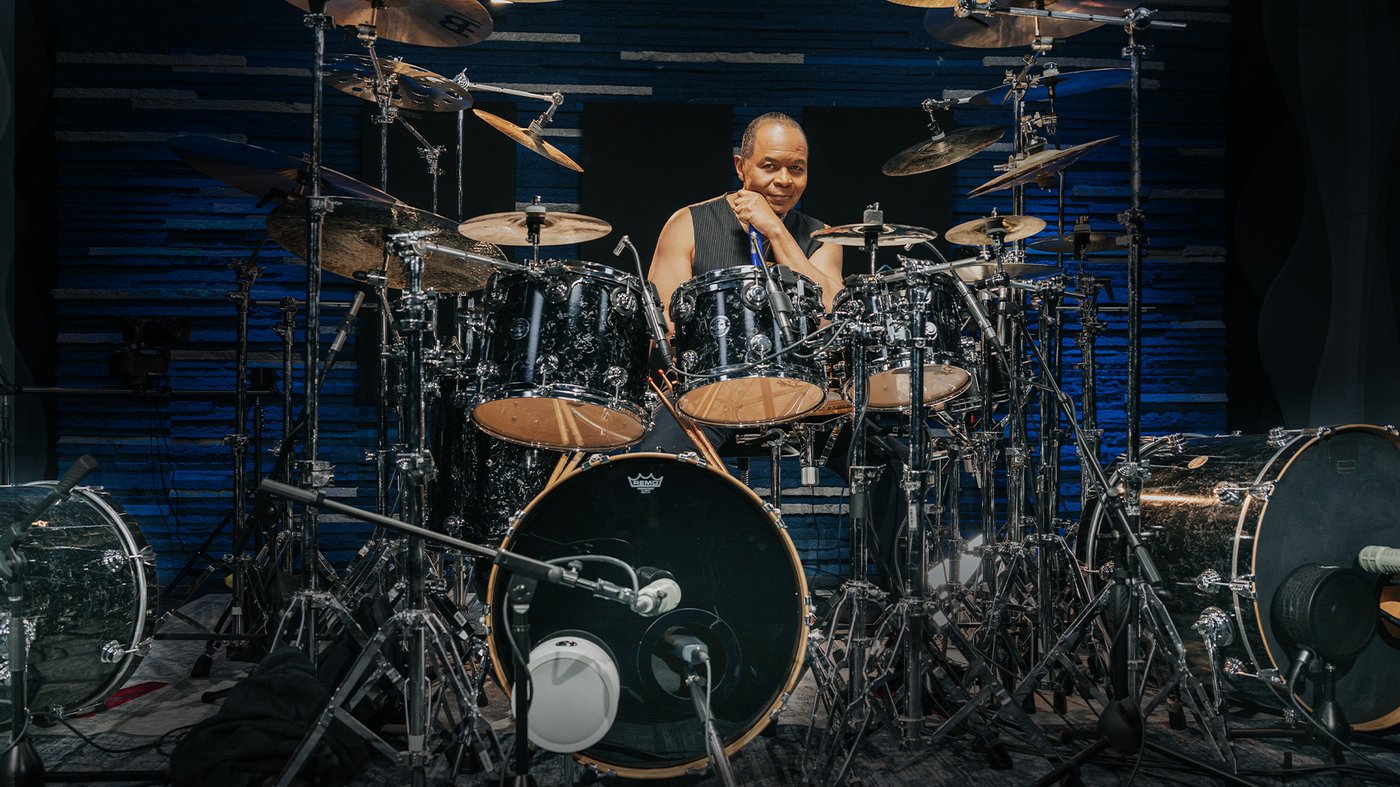 We've seen Larnell Lewis play blazing-fast triplets on a single bass drum.
And drummers like Gene Hoglan tear it up on a double bass drum kit.
But have you ever seen someone play three bass drums?
Jonathan "Sugarfoot" Moffett – legendary sticksmith behind Michael Jackson, Madonna and Elton John – has a triple bass drum setup. With three different sizes (18″/22″/24″) tuned to three different notes, he can play melodies and chords with his feet.
At the age of 10, Sugarfoot watched a church organist's feet dance over the pedals of a Hammond B3. Fascinated and excited by the possibilities, he eventually applied it to the drums.
"Drummers have like 8 brains in this big ol' fat head."
In this hour-long drum lesson, you'll learn:
How (and why) to play a triple bass kit
How drums can be just as musical as a piano
Why Sugarfoot sets up the bass drums from low note to high note instead of high to low
Why every parent should get their child a set of drums
How drums can be your "translator"
You'll also watch Sugarfoot play through tracks by Michael Jackson, Janet Jackson and more!
For more Jonathan Moffett love, find his course, The Grooves Of Michael Jackson, MJ drumless tracks, note-for-note transcriptions and more with a free 7-day trial to Drumeo:
Lesson Index:
0:18 – SONG: "Escapade" by Janet Jackson
5:21 – Introduction
8:30 – The triple kick drum setup
11:39 – Melodic drumming
14:13 – How to apply it to existing songs
18:12 – Rehearsing for "This Is It"
19:51 – Triple kick drum demo (listen in stereo!) and tips
32:15 – SONG: "Emergency" by Jonathan Moffett
39:46 – The power of drums
45:44 – The "Billie Jean" groove
54:12 – SONG: "Earth Song" by Michael Jackson
Sugarfoot Plays:
DW Drums
Meinl Cymbals
Remo Drumheads
Follow Sugarfoot:
Instagram
Facebook
TikTok
YouTube
Website
SHARE THIS: