Eloy Casagrande joined Brazilian metal legends Sepultura in 2011 – when he was just 20 years old. He's now one of Brazil's top drummers, and if you watch the video above, you'll understand why.
The hour-long drum lesson covers everything from traditional rhythms to the "Brazilian blast beat", and Eloy's best advice for drummers.
"Respect who you are on the kit. Don't try to compare yourself to other drummers – just be yourself."
Who is Eloy Casagrande?
Born in São Paulo, Brazil (Santo André, specifically) Eloy Casagrande has been a sought-after drummer from a young age. At the age of 13, he won the Batuka International Drummer Fest
A winner of Modern Drummer's Undiscovered Drummer contest, he performed at the 2005 Modern Drummer festival at just 14 years old where his solo introduced the world to his skills.
While he's become an experienced clinician and session drummer since that time, Eloy is known largely in the heavy music community as the drummer of legendary Brazilian metal band Sepultura, which he joined in 2011.
Though he was voted "Metal Drummer Of The Year" at the 2022 Drumeo Awards and "Best Metal Drummer" in the 2021 Modern Drummer Readers Poll, Eloy is a gifted all-around player who has also been touring and releasing music with his progressive instrumental duo, Casagrande & Hanysz (featuring guitarist João Hanysz).
Eloy has worked with the following artists and more:
Sepultura
Casagrande & Hanysz
Iahweh
Andre Matos
Gloria
Aclla
Daniel Piquê
2ois
Andreas Kisser
Eloy Casagrande's biggest influences
He's not your typical metal drummer. Eloy's background in Brazilian music reflects his cultural upbringing, and he naturally fuses it into even the heaviest of parts. He grew up loving both metal and traditional Brazilian rhythms (like maracatu, samba, bossa nova, baião and maxixe), particularly those developed in Northeast Brazil.
Learn how to play these Brazilian rhythms and almost 100 other styles in
The Drummer's Toolbox,
one of the best drum books to help you become a well-rounded drummer.
Combine that with an early love of Black Sabbath and receiving his first drum kit at age 8, and you have a recipe for a uniquely creative drummer who now plays crossover concepts rarely (if ever) heard before.
As for drummers who have influenced Eloy Casagrande, he took some key advice from a recent Vinnie Colaiuta interview: that "thought is the enemy of flow." This means that if you think too much while you're drumming, you'll lose the feeling of the music. He mentions this in the video lesson at the top of this page, along with other great advice for other drummers.
What's Eloy Casagrande's drum setup?
Here's Eloy Casagrande's current drum setup:
TAMA Drums:
Starclassic Bubinga
22″x16″ Bass Drum
22″x16″ Bass Drum
14″x5.5″ Snare Drum
10″x8″ Tom Tom
12″x9″ Tom Tom
16″x14″ Floor Tom
18″x16″ Floor Tom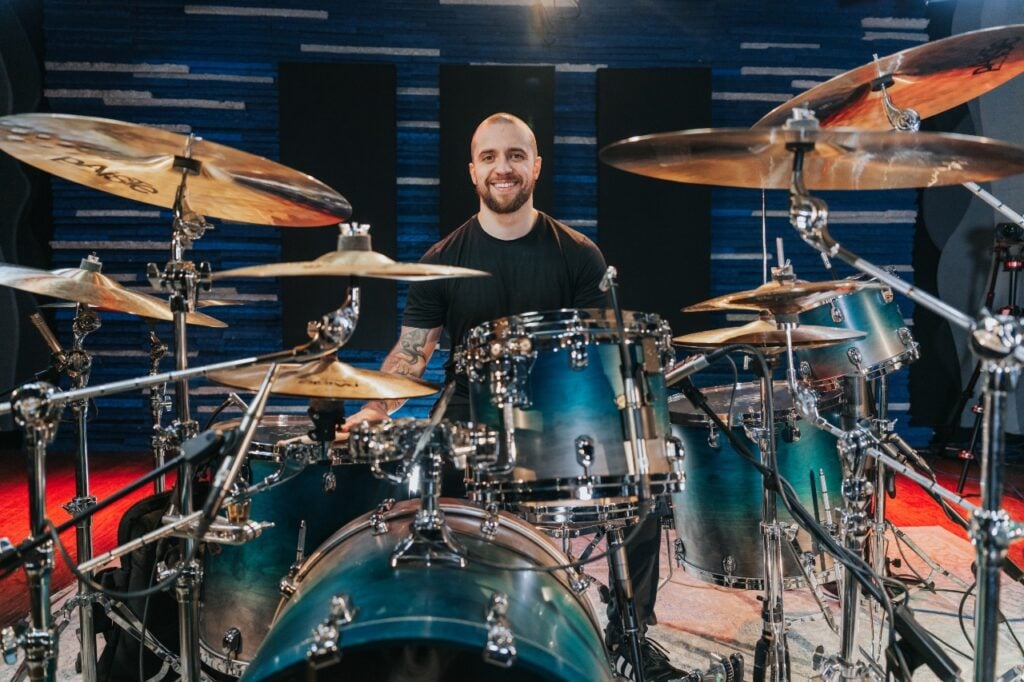 Eloy likes to tune his toms high, which is less common in metal music but common in Latin drumming. He keeps his highest tom tuned extra high for percussive "effect".
20″ 2002 Wild Crash
15″ Formula 602 Modern Essentials Hi-Hat
12″ RUDE Shred Bell (as stack top)
14″ RUDE Blast China (as stack bottom)
19″ Formula 602 Modern Essentials Crash
14″ PST X Swiss Flanger Stack
14″ Formula 602 Modern Essentials Hi-Hat
20″ Formula 602 Modern Essentials Crash
20″Formula 602 Modern Essentials Ride
18″ 2002 Novo China
14″ Evans Genera HD Dry Drum Head
14″ Evans Clear 300 Snare Side Drum Head
12″ Evans G2 Clear Drum Head
22″ Evans EMAD2 Clear Bass Drum Head
Classic Forward 5B Hickory Drumstick, Oval Wood Tip
---
Follow Eloy:
Instagram
YouTube
Facebook
SHARE THIS: