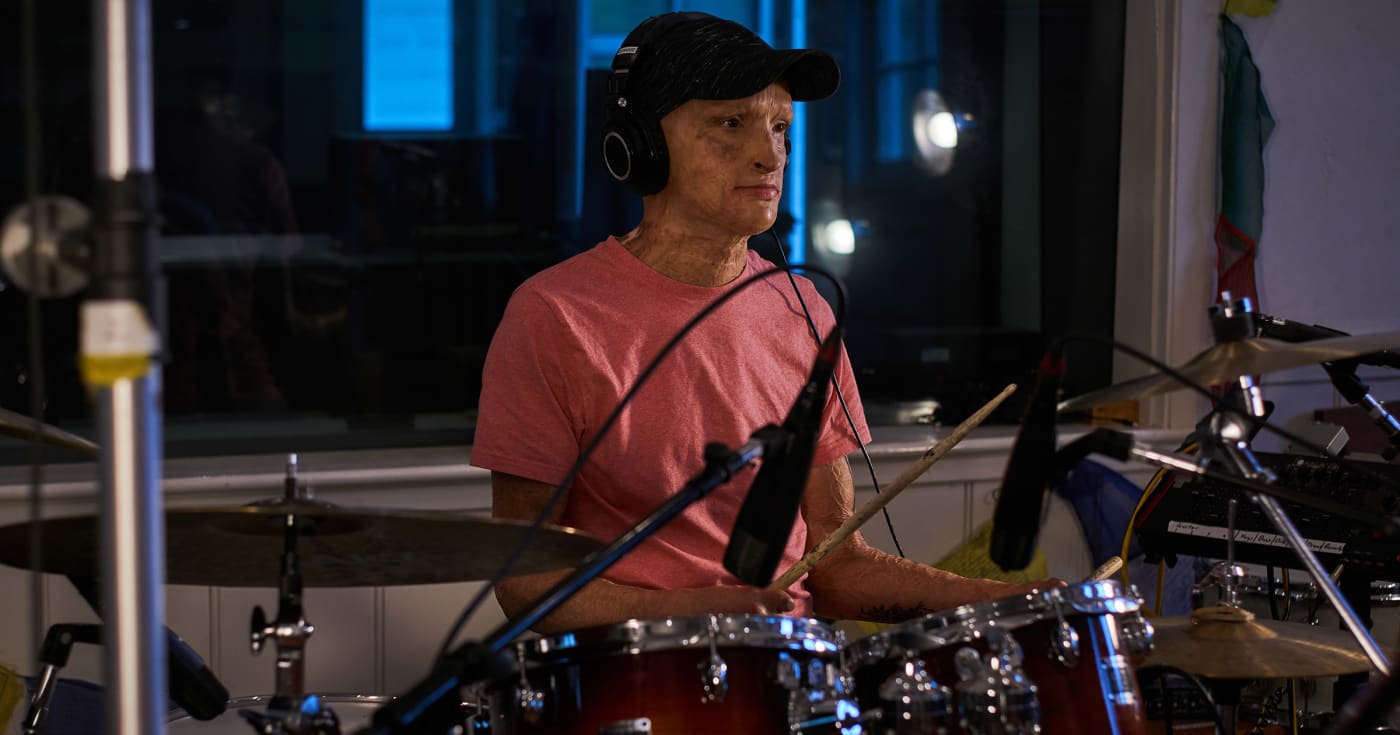 "Being in the hospital for a twelve-year-old kid – day in day out – was kinda like a nightmare."
Ray Levier's story behind how he became a drummer is among the most inspirational that you will ever hear. Based out of Nyack, New York, Ray's career is divided between being a sideman, teacher, clinician, public speaker and composer for TV and his musical projects. When you listen to Ray play, you wouldn't know that he was involved in a serious accident that almost claimed his life. When he was twelve years old, he and his friends were hanging out in the chicken coop at night (which was a common activity). But on one particular night, a candle fell over and the chicken coop caught fire with Ray inside sleeping. Ray's brother went back to rescue him from the blazing inferno, and from there Ray would spend six grueling months in a burn unit fighting for his life.
His mother told Ray to "think happy thoughts" and for Ray, those happy thoughts were drums and one day being able to play. Through many years of hard work, ingenuity, and practice Ray realized those dreams and has had a long, successful career in music. In this podcast, you will hear his story and many incredible points of view on how to live a fulfilling life and how to face adversity.
In this episode:
Ray talks about how his mother told him to "think healing thoughts" when he was a young boy in the burn unit fighting for his life. Ray thought about a chrome Slingerland kit that he saw someone play once, and how he wanted to do that one day too.
We hear Ray's story about how he began taking up the drums after the accident and the incredible mindset he has.
Ray shares his perspective on how other people assume that Ray has limitations because of his physical appearance.
Hard work followed by honest intentions produces success over time.
We discuss the importance of the emulation stage in a drummer's life.
What powers do we gain as people from enduring trauma?
How being present and grateful enhances your drumming and day to day life.
Why you should listen:
This episode contains a great deal of simplified and pragmatic knowledge on how to live a good life. Yes, we hear about Ray's story and it paints a picture of what he went through as a child. It is horribly tragic and I can't imagine what that must have been like for him. Ray acknowledges that it was "basically torture" in the burn unit. I'm sure that the years that followed rehabilitation would be challenging to everyone involved in his recovery. Ray doesn't feel like a victim at all though. He has such a strong sense of what matters in life because he almost lost his. He is also living proof that limitations are in the mind. He wanted to prove that regardless of what happened to him, he could become a highly capable musician.
During the conversation, Ray kept saying things that resonated so strongly with my own set of values and beliefs. It was like having someone tell me everything that I already think about. The fact that we established this feeling of unity led us to some incredibly deep subject matter.
I can assure you that the stuff we talk about in this episode really works. Listen closely to Ray's personal story and then the actions he took to grow and heal. It is so simple and obvious – but sometimes what is obvious is the answer you are looking for. This episode has the chance to give you such a massive set of tools to take your state of happiness to a more stable place that can be counted on. I hope you all find tremendous value in this episode and I want to thank Ray for sharing his story and thoughts with us on this one.
Music featured in this episode:
Ray Levier – "Ray's Way"
Follow Ray:
Instagram
Facebook
YouTube
Website
Follow Drumeo Gab:
Instagram
Facebook
SHARE THIS: