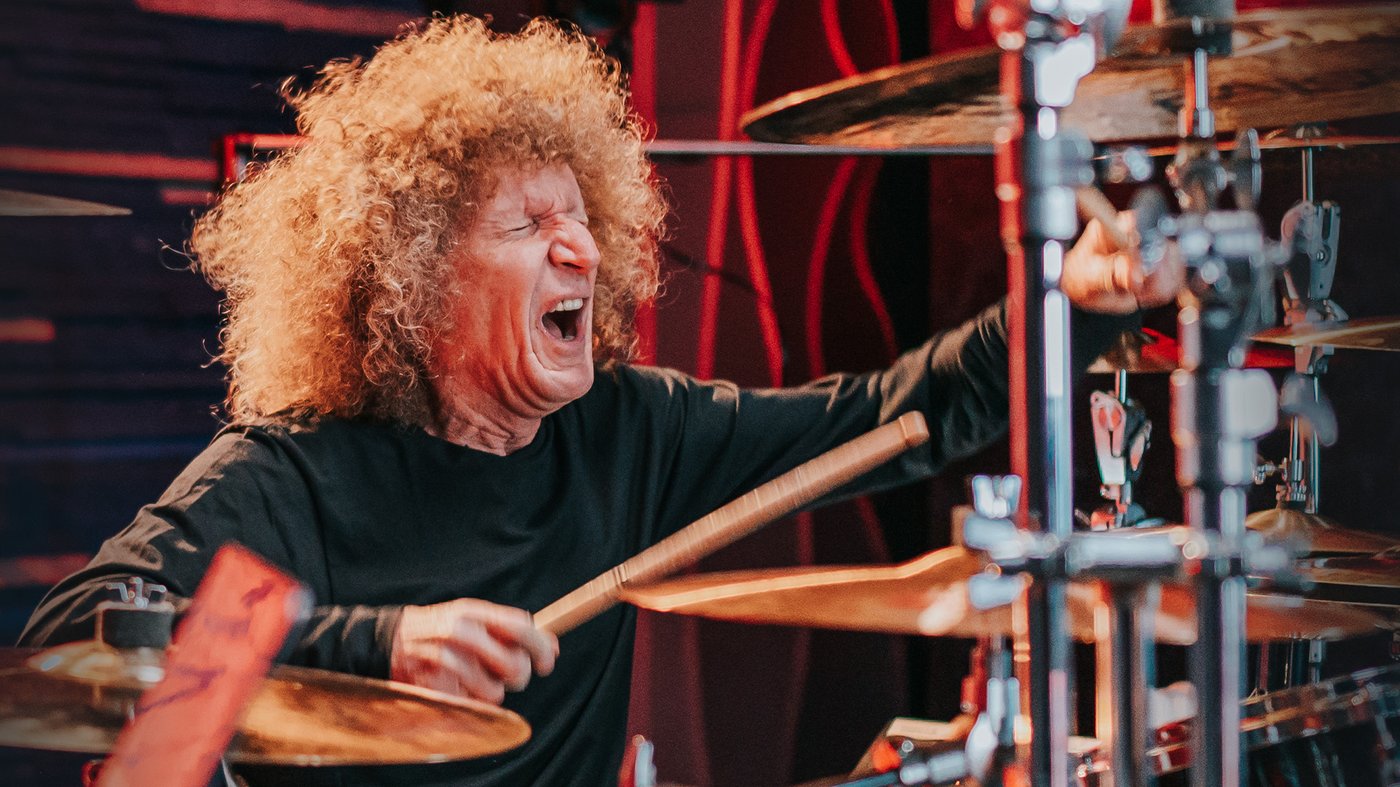 "Its not about the click. It's about music."

Tommy Aldridge
Tommy Aldridge is larger than life – and it's not just because of his insane showmanship or epic mop of curls.
His huge stage presence and punishing drumming have supported Whitesnake, Ozzy Osbourne, Gary Moore, Pat Travers, Black Oak Arkansas and more. Rockstars have handpicked Tommy over the years for his groundbreaking, now-classic drum sound.
He was playing double bass runs before it was cool, and he's proudly worn his heavy metal badge before many of us were born.
In this hour-long lesson, you'll get breakdowns on key Whitesnake and Ozzy fills, find out what it was like working with Randy Rhoads ("You couldn't make it heavy enough for Randy"), and watch the Bonham fan perform some of his favorite tunes.
You'll hear how playing with amazing musicians helps you elevate your own game, and why "you don't have to play 300 BPM to be successful."
Oh, and if you're a Drumeo member (or if you start a free 7-day trial here), you can get note-for-note transcriptions and practice tools to loop/slow down the track for thousands of songs, including the full Bark At The Moon album!

Lesson Outline:
0:00 – SONG: "Nowhere To Run" by Iconic
4:10 – Introduction
5:20 – Applying hand patterns to double bass
9:15 – The "Over The Mountain" drum fill
14:26 – Tips for double bass shuffles
18:40 – The "Bark At The Moon" drum fill
24:17 – SONG: "Here I Go Again" by Whitesnake
30:00 – How Tommy approached the Whitesnake gig
34:45 – What it was like playing with Randy Rhoads
38:58 – Tommy Aldridge's gear walkthrough 
42:21 – Hand drumming and showmanship
51:15 – Advice for young drummers
54:22 – SONG: "Enough Of Your Love" by Iconic

If you liked this lesson, watch Tommy break down Ozzy Osbourne's "Crazy Train" and Whitesnake's "Here I Go Again"!

SHARE THIS: