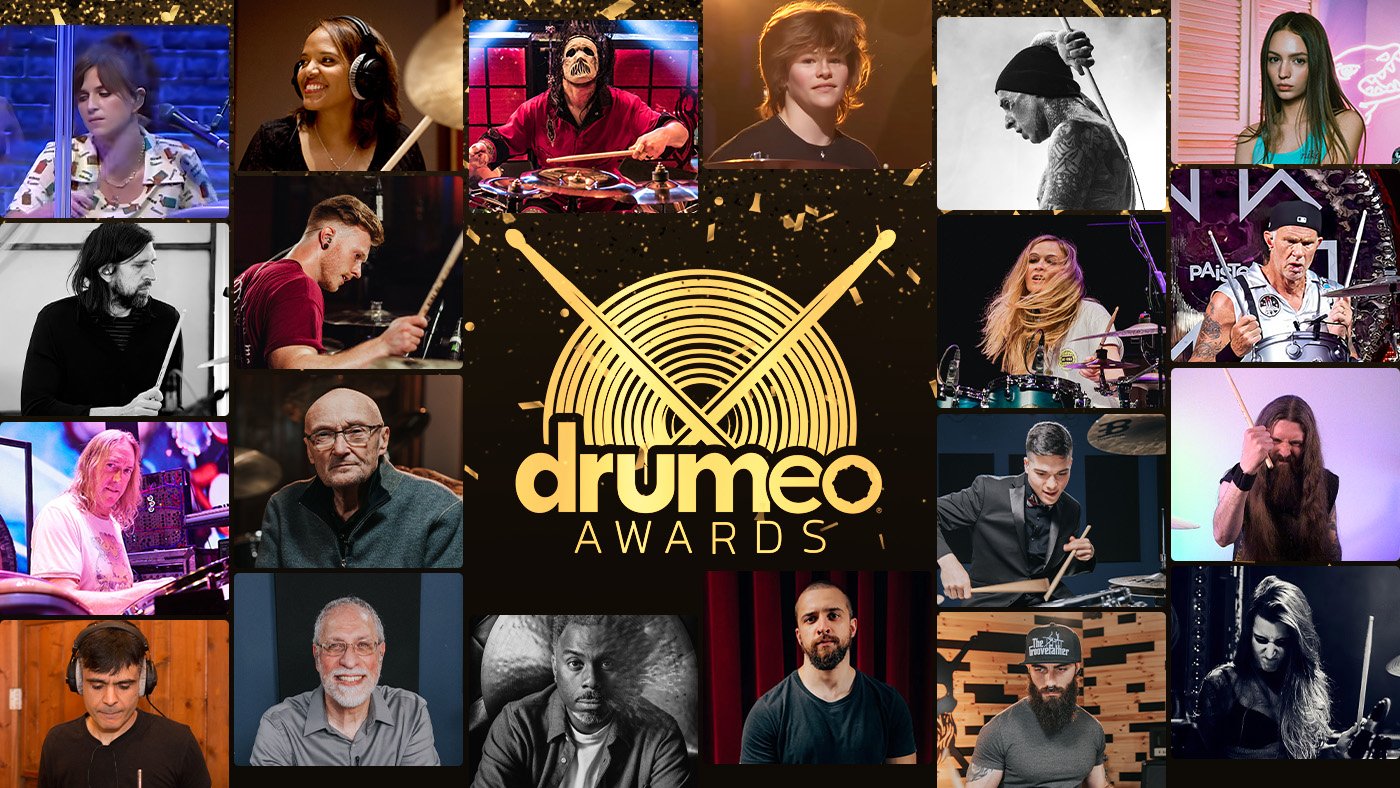 Are you ready to find out who won at the 2022 Drumeo Awards?
We nominated 75 deserving drummers across different music styles and platforms. And you submitted a staggering 800,000 votes, resulting in 15 winners taking the podium and bringing home a shiny blue trophy.
Because of you, we're able to recognize and highlight some of the most accomplished players in the drumming community this year.
Scroll down to find out who won, or learn about all the 2022 Drumeo Awards nominees here.
And if you missed the awards show live stream, you can always rewatch it:
Let's get into the 2022 winners.
---
Drummer Of The Year: Chad Smith
The Drummer Of The Year Award is our biggest award. It goes to a drummer who checked all the boxes this year with recording projects, live or streaming events, online presence, and all-around excellence in their contributions to music.
You voted for Chad Smith to receive this honor.
On top of two new studio albums, a Grammy nomination and touring with the Red Hot Chili Peppers, Chad worked on sessions with Ozzy Osbourne and Iggy Pop, appeared at the Taylor Hawkins tribute concert and more.
Drum Recording Of The Year: Jay Weinberg
The winner of this award played on a single track or a full album that made an outstanding contribution to their style – or to music in general – via the drums.
You voted Jay Weinberg's work on Slipknot's The End, So Far as 2022's top drum recording.
Drum Performance Of The Year: Shane Hawkins
The winner of this award put on a legendary, must-watch performance during 2022, either with a full band at an event or in a solo studio video.
16-year-old Shane Hawkins did just that (watch the full video here), pouring his heart and soul into a live performance of "My Hero" at a tribute concert dedicated to his late father and Foo Fighters drummer, Taylor Hawkins. It touched millions of people and showed how much love, energy, and spirit can come out on the drum kit.
Pop Drummer Of The Year: Sarah Jones
Sarah's year consisted of tours with Harry Styles (including residencies at legendary venues like Madison Square Garden), percussion credits on Harry Styles' new Grammy-nominated album, recordings with Kurt Vile, and recording her debut album with project Technology + Teamwork.
Jazz Drummer Of The Year: Terri Lyne Carrington
Terri Lyne released several albums this year as well as a new lead sheet compilation project with Hudson Music, appeared at prominent gigs, and ended 2022 with two Grammy nominations.
Country Drummer Of The Year: Fred Eltringham
Fred Eltringham drummed on multiple Grammy-nominated albums this year with artists like Willie Nelson, Sheryl Crow, Miranda Lambert and Ashley McBryde. Gigs with Sheryl Crow, a Seth Meyers sit-in, an appearance on a Billy Joe Shaver tribute album, and a single for The One Eighties are just a few of his other 2022 highlights.
R&B/Hip-Hop Drummer Of The Year: Giulliana Merello
Her 2022 included huge tours with Karol G, a Modern Drummer cover, a sit-in with Seth Meyers' 8G band and more.
Soul/Funk Drummer Of The Year: Nate Smith
Drumming with Fearless Flyers, Kinfolk, Cory Wong, a tribute album to Leonard Cohen, appearances at jazz fests…Nate Smith had a busy 2022.
Contemporary Drummer Of The Year: Anika Nilles
Anika is back on the scene with a new EP, teaching, and touring with the late legend, Jeff Beck.
Progressive Drummer Of The Year: Danny Carey
From big tours with Tool and appearing at the Taylor Hawkins tribute concert, to playing club gigs on the side, Danny Carey is still at the top of his game.
Metal Drummer Of The Year: Eloy Casagrande
Eloy has had a busy year touring with Sepultura, teaching, and contributing his insane skills to prog project Casagrande & Hanysz and rock band Scalene.
Rock Drummer Of The Year: Travis Barker
He's the man who never slows down. In 2022, Travis worked on the new Avril Lavigne, Machine Gun Kelly and Ho99o9 albums, drummed on tracks with K.Flay and Iann Dior, and racked up a ton of producing credits.
YouTube Drummer Of The Year: 66Samus
This award goes to a drummer who has built their profile independently, has created a strong online community on YouTube, and is constantly inspiring or entertaining people with their drum videos, playing, and/or personality.
Educational, skilled and hilarious, 66Samus is a staple in the metal community and knows what drummers find both entertaining and useful. He added 240k new subscribers to his channel in 2022, with a jaw-dropping 38.7M views across 44 brand new videos (the top one earning almost 2M views). Samus also hit over one hundred million views on YouTube in 2022.
Instagram Drummer Of The Year: Kriss Drummer
This award goes to a drummer who's built a strong online community on Instagram, has created a strong brand for themselves, and constantly inspires, educates, or entertains.
An active content creator on the platform, Kriss Drummer regularly posts fun covers of popular rock songs. In 2022 she launched her signature sticks with Meinl, collaborated with Matt McGuire, and had several videos exceed 3 million views as her page grew to 650 thousand followers.
TikTok Drummer Of The Year: El Estepario Siberiano
This award goes to a drummer who's a standout on TikTok and who has used the platform to entertain or inspire the next generation of drummers.
The drummer other drummers say is "impossibly good", El Estepario built a following on concepts like playing tricky songs one-handed and doing ridiculously difficult things on a small setup. He shared a staggering 250 videos on TikTok in 2022, with his most popular clip reaching over 9 million views.
An in-house panel chose the next five award-winners as examples of drummers who embody the spirit of each award's namesake.
The Buddy Rich Award: Phil Collins
One of the most accomplished and well-known drummers of the 20th century, Buddy Rich is still a household name because of his virtuosic talents and his accomplishments as a bandleader. The recipient of this 'hall of fame' award has made their name synonymous with drumming over decades of excellence. This may be through any combination of performance, recording, teaching, or all of the above.
We chose Phil Collins based on his incredible legacy and ability to deeply reach people, even those outside of the drumming world. He composed some of the most recognizable drum parts of the 20th century, inspiring drummers with his technical and musical approach to playing the drums and innovating with electronic sounds and finding ways to incorporate them into his music.
The drumming legend officially announced his retirement in 2022.
The Viola Smith Award: Yoni Madar
Viola Smith was a pioneer in expanding the boundaries of drumming. From her unprecedented, massive drum set (including two elevated gong drums) to playing beyond the age of 100, she was an innovator who carved her own path in the drumming community – especially during an era when she wasn't encouraged to do so.
This award is given to a trailblazing drummer who has shown innovation and creativity in how they approach the drum set. 
Yoni Madar is a master independence technician who pushes what's physically possible on the instrument. His incredible control and drive has inspired an entire segment of the drumming community, yet he often still flies humbly under the radar. He's a seasoned educator who literally marches to the beat of his own drum.
The Jim Chapin Award: Dom Famularo
Jim Chapin was a prolific educator whose teachings are still in the hands, feet, and soul of many modern drummers. Having learned from the legendary Sanford Moeller, he taught some of today's top drummers and educators like Dom Famularo, Steve Smith, Russ Miller and Thomas Lang. His 1948 instructional book, Advanced Techniques For The Modern Drummer, is still a staple of drum education today.
This award is presented to an educator who has displayed excellence in inspiring & informing drummers everywhere. This could be through education in an academic setting, contributions through a published book, or an online course/channel.
When we started the Drumeo Awards program in 2021, we asked drumming's global ambassador, Dom Famularo, to choose the winner of this category. This year, we're presenting the 'Educator of the Year' award to Dom Famularo himself – a man who has been through the absolute ringer, undergoing cancer treatments and navigating uncertain waters while continuing to inspire drummers around the world.
A former student of Jim Chapin, we felt it fitting to recognize Dom's incredible tenacity and constant effort to pass these teachings to the next generation and beyond.
The Louie Bellson Award: Chris Turner
Louie Bellson has long been credited as the first drummer to popularize double bass playing. Before metal and rock came to be, Louie transferred his skills and sounds from hands to feet, finding new ways to express rhythms on the low end. This award is presented to a drummer who has displayed excellence and creativity in double bass drumming.
Chris Turner has so much control and precision on his feet, people have questioned how it's even possible. But he's proven time and time again that putting in the work gets results. Chris has been building his profile as an independent drummer, releasing an instrumental album this year and taking the tracks on the road.
The Tony Williams Award: Greyson Nekrutman
Tony Williams was just 17 years old when he played on Miles Davis' revolutionary album, Seven Steps To Heaven. This award is presented to a drummer who has already made a memorable impact at a young age. The winner will have made valuable contributions to drumming and/or inspired others with their music.
Greyson Nekrutman is barely out of his teens but he's already proven to be a dynamo. Between performing at his first big drum festival, going on tour, playing on albums and releasing a drumming course, Greyson killed it in 2022 – he even drummed with the Beach Boys alongside John Stamos!
On top of being a busy, skilled drummer, he's a social media powerhouse, regularly sharing clips, filming covers, and engaging with the drumming community.
Thank you for voting, for sharing, for participating in a program we hope will help to further strengthen the drumming community. See you in 2023!
SHARE THIS: