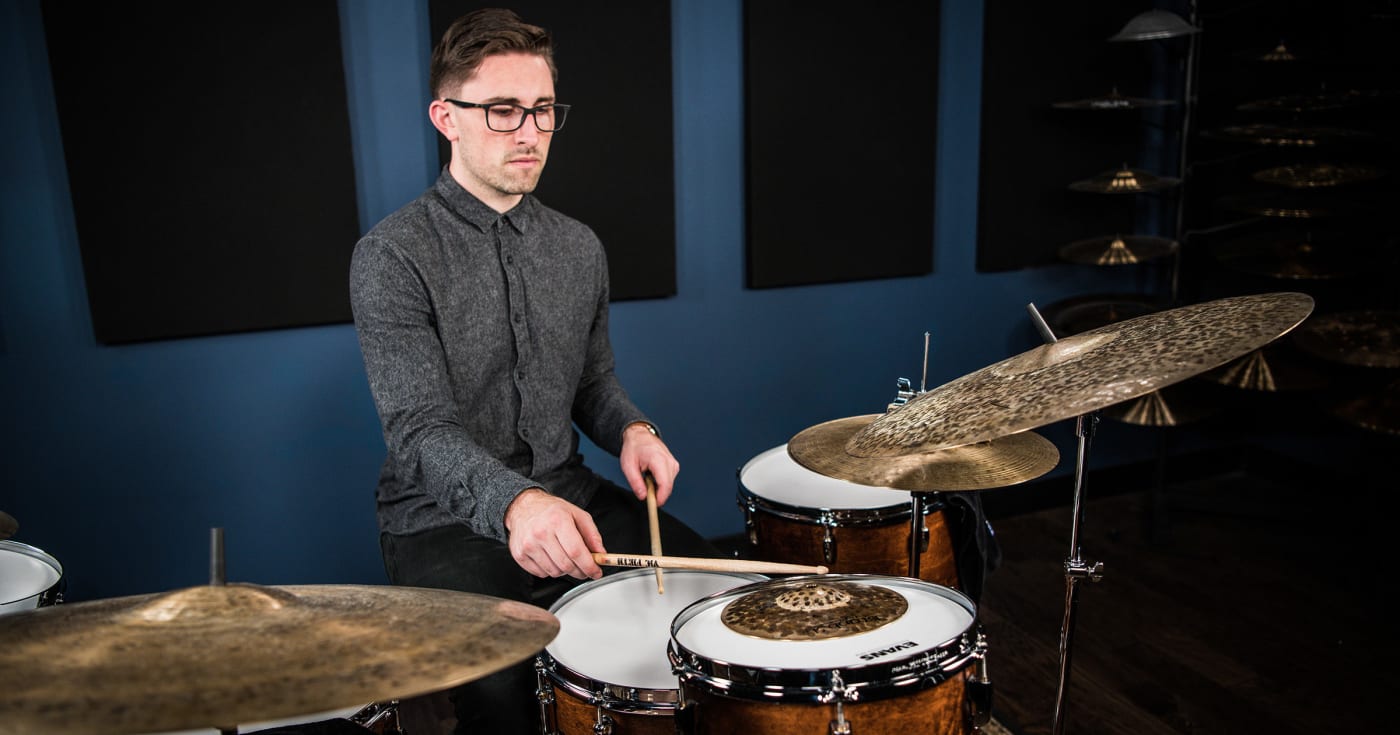 "From that point on, there was reason behind every note I played."
– Brandon reflecting on his first drum lesson with Jared Falk
Brandon Toews is the Product Director at Drumeo, author of two drumming books (The Best Beginner Drum Book and The Drummer's Toolbox), drummer, and educator. At 22, he has managed to achieve quite an impressive resume within the industry. Recently Brandon has also become an endorsed artist with Evans Drumheads, Istanbul Agop Cymbals and Vic Firth Drumsticks. In this interview we explore playing with intention, balancing heavy work loads, and a first lesson with Jared that always stuck with Brandon.
In this episode:
You'll hear about…
A brief conversation about drum kit setups
A quick overview of Brandon's career going back six years to the present
A valuable lesson learned during Brandon's first drum lesson with Jared
Whether or not drummers are disciplined enough to stick with focused practice
Our thoughts about gigs that excite us vs the ones that don't as much but still need to exist for us to pay our bills
How Brandon managed to write two drum books in a year and a half while attending school
Why should you listen?
There is general drum nerdery in this episode that will be fun for listeners, but our conversation also explores some topics that hold a great deal of relevance for all drummers. Any drummers who earn their livelihood through drumming may get a kick out of our conversation about the gigs that we may sometimes feel take up too much of our gigging schedule. Imagine this: the audience is eating dinner and having conversations, and your job is to provide a gentle and appropriate ambience for their dinner. The sound guy says, "you are too loud. Please play quieter". This kind of remark can easily diminish the fun factor of what we might be fantasizing about. And that fantasy might be going all out with no volume or creative restrictions in sight with a totally engaged audience and whistling and some positive outbursts. We all love that scenario, don't we?
We also talk about the importance of playing with intention: really considering the notes and grooves that we choose, to provide something appropriate and tasteful to a band setting. It is easy to get caught up with the flashy "drummy" stuff, and while there is a time and place for that, we need to keep that to a minimum when we know it doesn't belong.
Follow Brandon:
Instagram
Facebook
YouTube
Follow Drumeo Gab:
Instagram
Facebook
SHARE THIS: