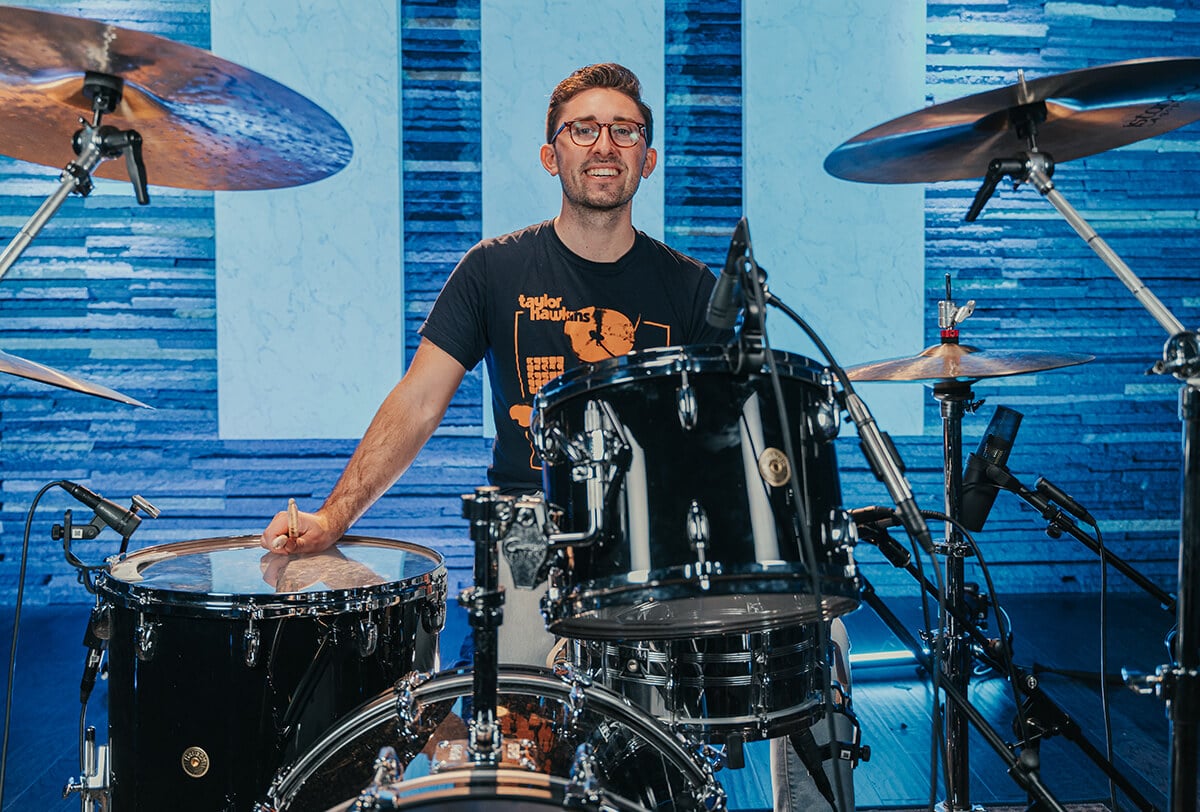 If you spend time on social media, you might see a conversation about how social media drummers shouldn't be put in the same light as drummers who have taken the more traditional route. 
What does that mean, exactly? And what should aspiring drummers believe about the music industry and how to make a living?
The drumming world has expanded dramatically regarding career opportunities, and here's everything you need to know.  
In this article:
Drum influencers vs. industry drummers
It's a hot topic on social media: are drum influencers "real drummers"? Some of the tension comes from those struggling with a shift in career opportunities.
A few decades ago, all drummers would need to grind to make ends meet. Sleeping on a friend's couch was a normal way to save cash on rent, as nightly gigs wouldn't always pay enough to be financially stable. 
To become well-known and respected as a drummer, you'd need to work hard to get to the top, performing, recording, and teaching wherever possible. 
In the new age of social media, it's possible to gain major fame by posting a few videos. You technically don't have to leave your house and can still become an influential figure in the drumming and wider music communities. 
Is that a bad thing? Well, it depends on how you look at it. There are pros and cons on both sides, and we think it's important to deeply understand both to see which path you want to take as a drummer. 
Someone who regularly posts pictures and videos (such as drum covers) on social media platforms can be considered a social media drummer. However, most drummers do this, even if they've taken the more traditional drumming career route. 
It's the drummers with large followings who make significant incomes through online platforms that are typically considered "drum influencers." 
These drummers get endorsements from drum companies and leverage their followings for business opportunities. 
Many drum influencers do a lot more work this way than by playing gigs or recording albums.
Is there anything wrong with that? Not at all! Drummers who regularly post videos must learn an entirely new set of skills to keep up with current trends and algorithms compared to the traditional route of playing gigs and recording.  
These skills include: 
 Knowing how to use cameras and lighting 
 Video editing 
 Talking in front of a camera
 Marketing strategies
 Managing communities 
What does a traditional drumming career look like?
The conventional drumming career involves:
Joining bands
Performing live gigs regularly
Touring different places to perform
Tracking drums for albums
You could also throw in-person teaching into the mix.
This career path is seen as traditional as it was the only way to have a successful drumming career before social media was a thing. 
It's often seen as more difficult than taking the social media route, but people don't consider that many of the skills needed are entirely different. 
With the traditional route, you need to make connections and find yourself in the right place at the right time. Some aspiring drummers never made it big with this route, while others were lucky enough to join bands that became popular.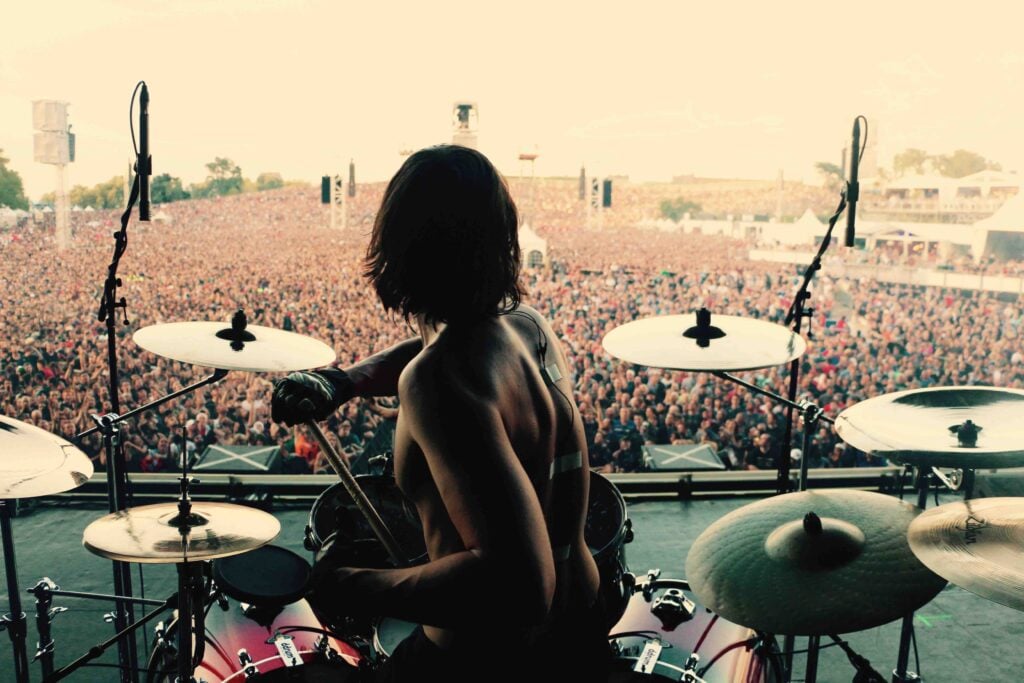 The best part about doing it the old-school way is that you get to play music with other people. Whether you make money or not, playing drums in a band can be rewarding.
You don't need to be in a huge band for this career option to work, either. Some drummers comfortably support their families by playing in local wedding bands. 
And there are other gigs you might not have thought of. Drumming on a cruise ship, joining a football team's drumline, playing drums with Cirque Du Soleil or drumming in war reenactments – these could all be options in your future.
Which career path is better?
The interesting thing about drum influencers vs. industry drummers is that both parties often feel that their career path is harder than the opposing one. 
Neither career path is better. They're just different, and some drummers may prefer one path over the other. 
The biggest downside of being an influencer is that you don't get to play with other musicians as often as industry drummers do. 
One huge aspect of learning an instrument is playing with other musicians; that skill can fall flat when you spend more time playing the drums alone.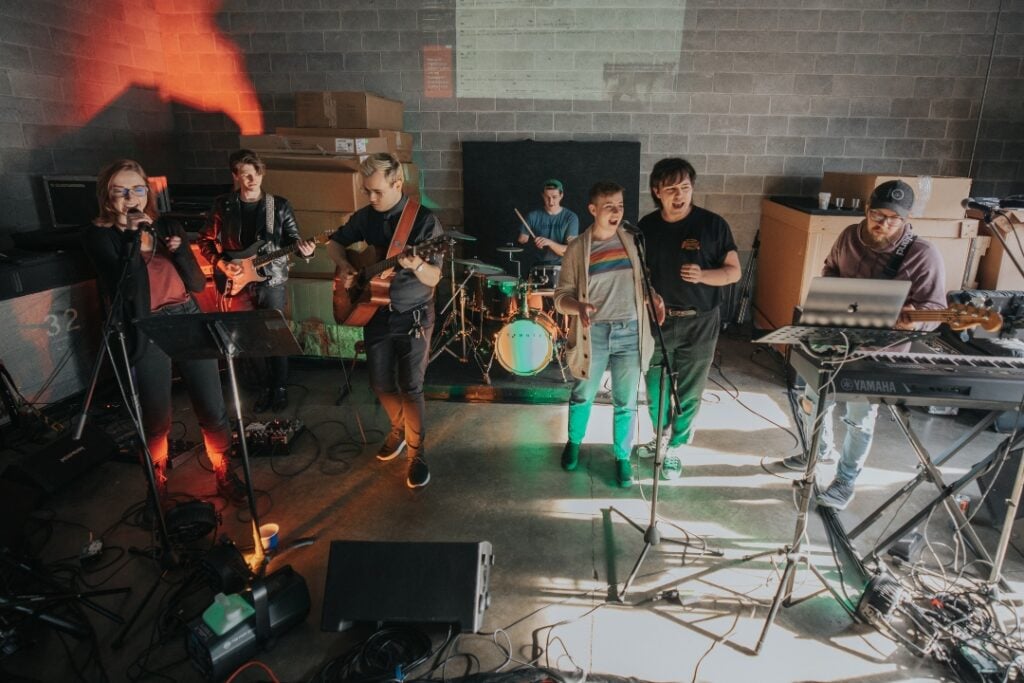 Most professional musicians can tell when a drummer isn't comfortable performing live in a band setting, and that's something social media drummers should note (read this article on how to deal with stage fright).
If social media isn't your thing, you may find more reward in getting gigs to earn a living. You can forget about the ever-changing algorithms and just enjoy playing with other people. 
However, your social presence is also your resumé. Sharing content online makes it easy for other musicians to see your playing, and many social media drummers have landed huge "real world" gigs because of this. 
Also: not everyone can (or wants to) leave home regularly for gigs or sessions. If you'd prefer to be a homebody, the online content creator life might be for you.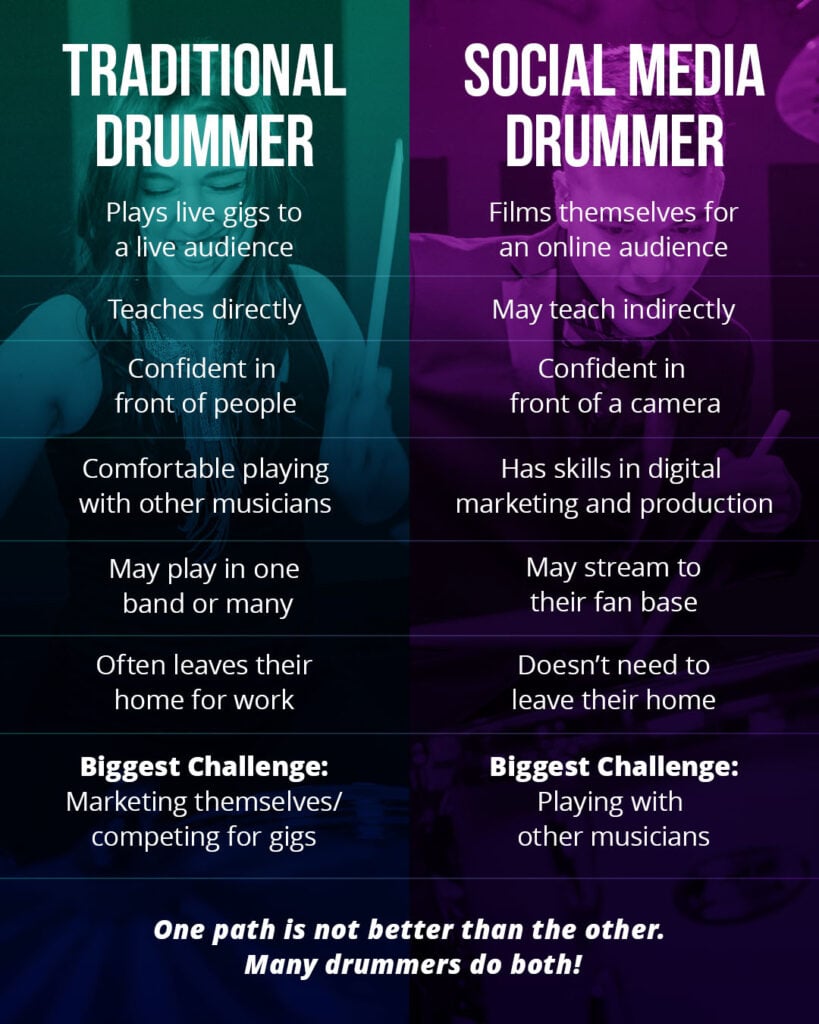 7 ways to make money playing drums
Here are a few ways to support yourself as a drummer. You'll be golden if you can fill up your schedule with different income streams. However, it's also possible to succeed by sticking to one.
Check out this podcast episode where Nick D'Virgilio (Sweetwater, Genesis) explains how grinding at bars and tracking for small artists led him to get some massive opportunities.
1. Playing gigs
Playing gigs is the tried and true way to be a successful drummer. When you tell someone "I'm a drummer", they'll assume you play in a band, and that's why gigging is seen as one of the most popular routes to take.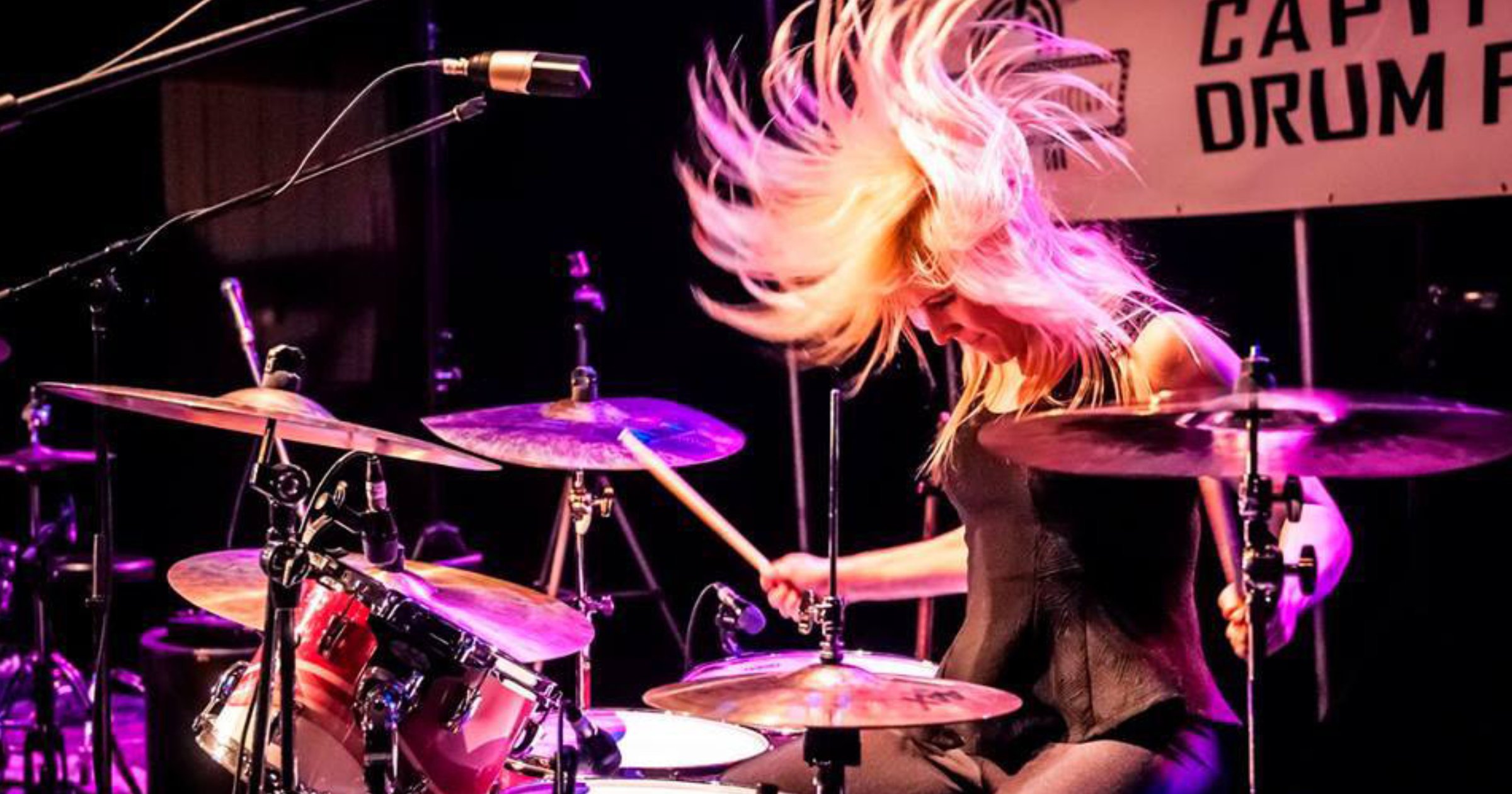 While many drum parts are programmed these days, artists still want to perform with live drummers, so there are countless opportunities in all styles of music.
2. Recording drum parts
Studio recording isn't as popular as it was a decade or two ago. You'll get the occasional studio gig, but digital drum sounds have become incredibly realistic, so producers tend to work with those more. 
However, there's still a big market for remote recording. If you have a personal studio space around your drum kit, you can market yourself as a remote session drummer, and people will send you their songs so you can add the drum parts. 
Of course, drummers are still being hired for recording sessions in a commercial studio. But these gigs can be harder to come by, and producers/artists tend to hire the same drummers over and over. If you can constantly work on your networking skills and meet people when you can, you may get invited to work traditional sessions as well.
3. Teaching
You can offer drum lessons in person or online. You can either find local students or use social media to reach students from around the world. 
If you're teaching online, you just need a decent setup so your students get good audio. You also have to accept that many students will have lesser audio quality coming from their side. 
4. YouTube
It can take time to get started, but 'YouTube Drummer' is a real potential career path. If you have a large viewership, you'll make money through Google AdSense, and you can tack on affiliate marketing and sponsorship deals to round out your income.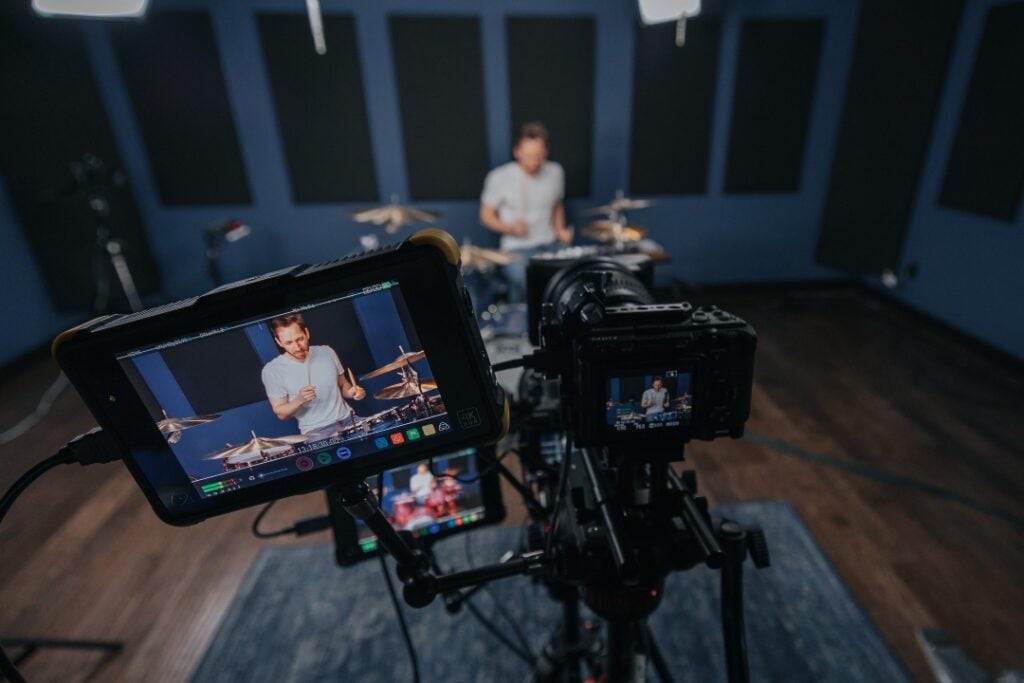 5. Streaming
Streaming is getting bigger and bigger each year. As a drummer, you can sign up for a streaming platform like Twitch and get paid per subscriber. You can also receive tips when you stream. 
6. Sampling
With so many people valuing electronic drum sounds, drummers can record four to eight-bar grooves and then sell them as samples. You can also record single sounds from your kit to sell. 
Learn how to do it in this ultimate guide to drum samples.
7. Getting sponsorships
We briefly mentioned sponsorships for YouTubers, but you can get them if you have a large following on any platform.Just note that most paid sponsorships don't come from drum, cymbal, or stick brands.
Instrument companies typically offer endorsements on a relationship basis, offering product instead of payment, while monetary sponsorships will come from other industry brands willing to pay to put their product in front of an audience. 
That's not to say that drum brands don't pay their artists. It's just not as normal as some people think.
Examples of drummers who do it all
You should know that you don't have to stick to one side of this whole debate around if social media drummers are "legit". Plenty of drummers have major social media followings from posting videos, but they also perform and record regularly in more traditional ways. 
Here are a few examples. 
Zack Graybeal (ZackGrooves)
ZackGrooves is a jazz drummer who started posting videos that blew up on YouTube. He's since become many people's favorite YouTube drummer, but he's also a drum teacher who performs with various artists and is releasing an album with his band, Everything Yes. 
Domino Santantonio 
Domino has a massive following across TikTok, Instagram, and YouTube. She's most well-known for posting drum covers of popular songs, but she also tours with artists like Roxane Bruneau while maintaining her social media platforms. 
What most people don't know: she was, in fact, a gigging drummer before she blew up online.
El Estepario Siberiano
El Estepario has been posting drum covers on YouTube for several years and has a huge following across all social media platforms. Many people know him for being the drummer who plays crazy things with only one hand. 
El Estepario has used his following to get gigs with bands like Saratoga, which means he's used the social media route to break into the more traditional one (and he's not alone).
In summary
When it comes to drum influencers versus industry drummers, both are valid. We should be grateful that there are so many ways for drummers to make a living these days. 
If you primarily work on creating solo social media drumming videos, know that your ability to improvise and play comfortably with other musicians may take a hit. 
But if you want to take the traditional drumming route of playing gigs and recording, know that you'll make a lot more connections by starting a social media page to get seen. Running that page may be trickier than you think! 
At the end of the day, we all get to play the drums, and there's nothing better than that.
SHARE THIS: