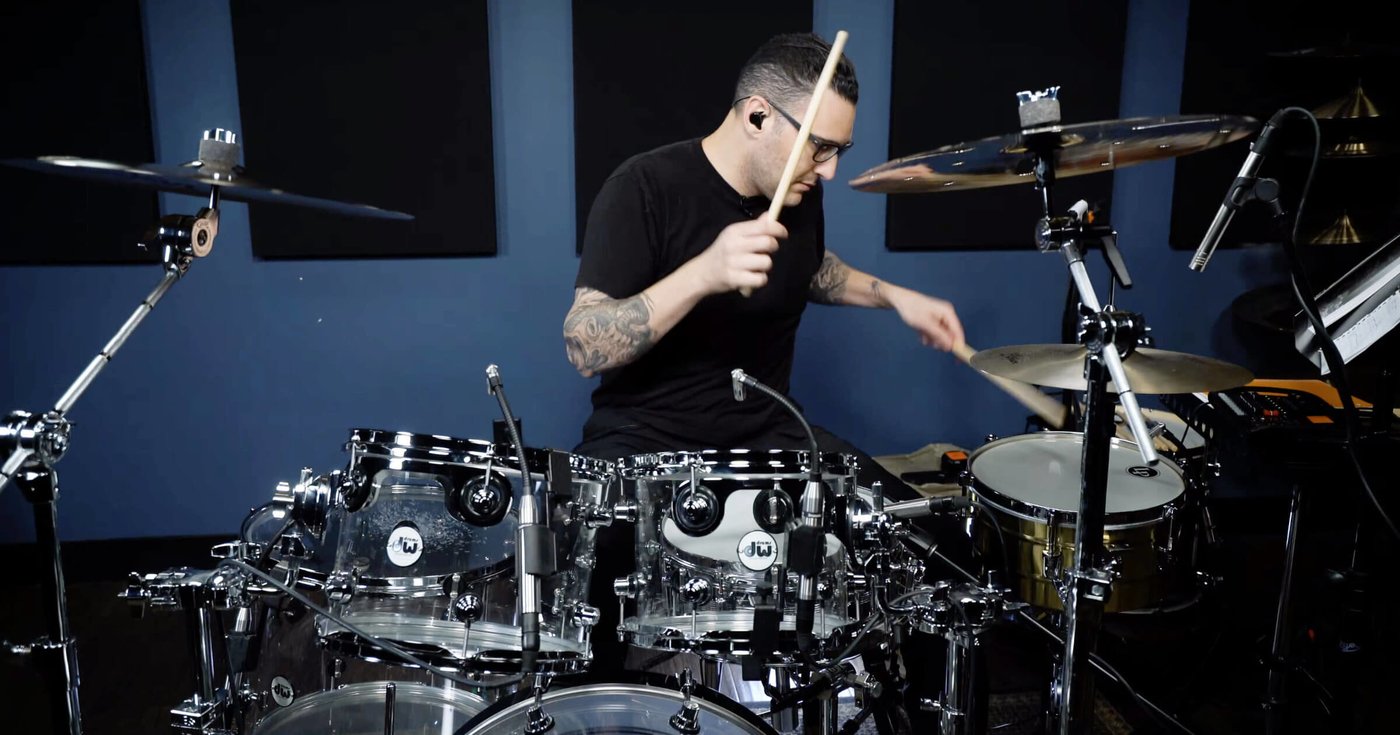 "I'm not just a rock dude…a reggae dude…an extreme metal dude. I'm a musician and I play what I love."
Gil Sharone is known for his work with Dillinger Escape Plan, Marilyn Manson, Hollywood movie soundtracks and much more.
A king of versatility, he's a huge advocate for paying respect to the early drummers who changed the world of music. In this lesson, Gil will teach you how to apply classic drum techniques to get you through any modern style.
Lesson Index:
0:00 – SONG: "Nutville" by Buddy Rich Big Band
3:13 – Introduction
7:38 – SONG: Soundtrack Medley
14:08 – Why go back to the classics
16:58 – Moeller exercise
24:37 – How to apply it to different styles
27:08 – Shuffle exercise
29:15 – Syncopation exercise
30:52 – Triplet exercise
31:55 – Putting it all together
33:21 – SONG: Medley by Western Standard Time
37:13 – Gil's best advice
43:03 – SONG: Roots Reggae Jam into Drum Solo
The techniques shown in this lesson barely scratch the surface. For an in-depth look at how far you can actually go, check out Gil's course on Drumeo Edge!
About Gil:
Gil Sharone is an industry award winner and educator/clinician who has played with Marilyn Manson, Stolen Babies, The Dillinger Escape Plan, Team Sleep and more. His work further extends into film and television scores including Deadpool 2, Guardians of The Galaxy 2, John Wick 1, 2 & 3, The Punisher and Kingdom. He co-wrote & performed on songs for DC Comics' Dark Nights: Metal soundtrack with Tyler Bates and Mike Elizondo. He is also the author of the award-winning DVD and book called "Wicked Beats" based on Jamaican drumming styles.
Gil plays:
DW Drums
Zildjian Cymbals
Remo Drumheads
Vater Drumsticks
Follow Gil:
Instagram
Facebook
Twitter
SHARE THIS: