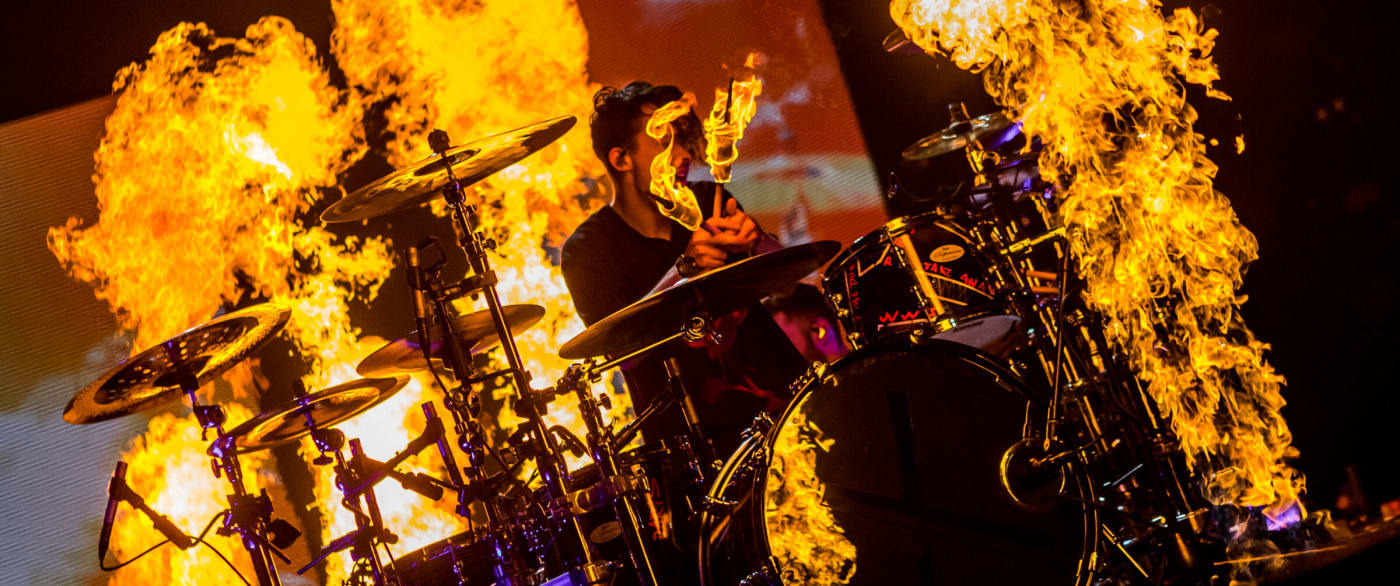 Matt McGuire is widely known as the drummer of The Chainsmokers, but before he started playing with them, he was racking up millions of views on his YouTube drum covers. In fact, that's how the band found him! He now ends many of his videos by breaking down why he made the drumming choices he did for the song.
From EDM, pop and rap to rock and metalcore, Matt has a ton of different covers under his belt. He especially nails it when the original song features electronic percussion – it gives him room to be creative while recreating some of the key sounds from the track.
Here are some of his best cover videos that show off his skills and creativity (and they all happen to be from the list of his personal favorites).
Marshmello – "Alone"
Lots of fun-to-watch crossovers in this one! Seeing drummers add acoustic drums to songs that don't have them gives the song new life, and it's really cool seeing his take on this track – especially with the dual hi-hat patterns.
Billie Eilish – "Bad Guy" Remix
Matt gives a half-time groove treatment to this trap remix of 2019's biggest hits, building up the patterns as the song progresses and adding lots of funky details in the cymbals and
ghost notes
. In his post-video recap, he talks about trying to recreate a clock sound with multiple closed hi-hats.
The Chainsmokers – "Don't Let Me Down" Remix
Drums can help make a song catchier, and Matt's approach of creating suspense and movement on the kit gives the track the perfect build-and-release it needs.
David Guetta – "Hey Mama"
This is another creative take on a song that doesn't have acoustic drums, which gives Matt tons of room to build something of his own. From reggaeton beats to blast beats, he keeps you guessing the entire time.
Bebe Rexha – "I Got You"
While he keeps tom-and-hi-hat-driven grooves going through most of this pop track, he knows what drummers watching his videos are waiting for: tasty
linear
fills and flourishes.
BLACKPINK – "How You Like That"
Matt says he didn't want to go overboard with crazy fills in this cover, and did his best to play to the vocals and rhythms in the track. But there's still so much going on, and it's awesome to watch.
Lil Nas X – "Old Town Road"
How often do you see YouTube drummers cover songs totally improvised? We don't know if this was his first and only take, but we do know that the confidence doing this off the cuff makes this video extra awesome.
Ed Sheeran – "Shape Of You"
At first, it might seem like Matt is sticking with a similar vibe to the original track, but it soon progresses into a total remix with half-time jams and lightning-fast fills. It's amazing what a
backbeat
can do to a song!
Twenty One Pilots – "Ride"
Matt gives this song his trademark double hi-hat treatment and demonstrates awesome foot control while showing restraint where it counts. His cymbal work really gets the song driving and if you weren't dancing in your seat before, you should be now.
Justin Bieber – "As Long As You Love Me"
What if you put live drums over the perfect mix of pop, electronica and rap? What if you added some double bass patterns to the end of the song? What if?
Did you know Matt McGuire is one of our DrumeoCOACHES? Get live streams, Q&As, lessons and support from Matt and other world-class drummers when you join Drumeo Edge!
SHARE THIS: