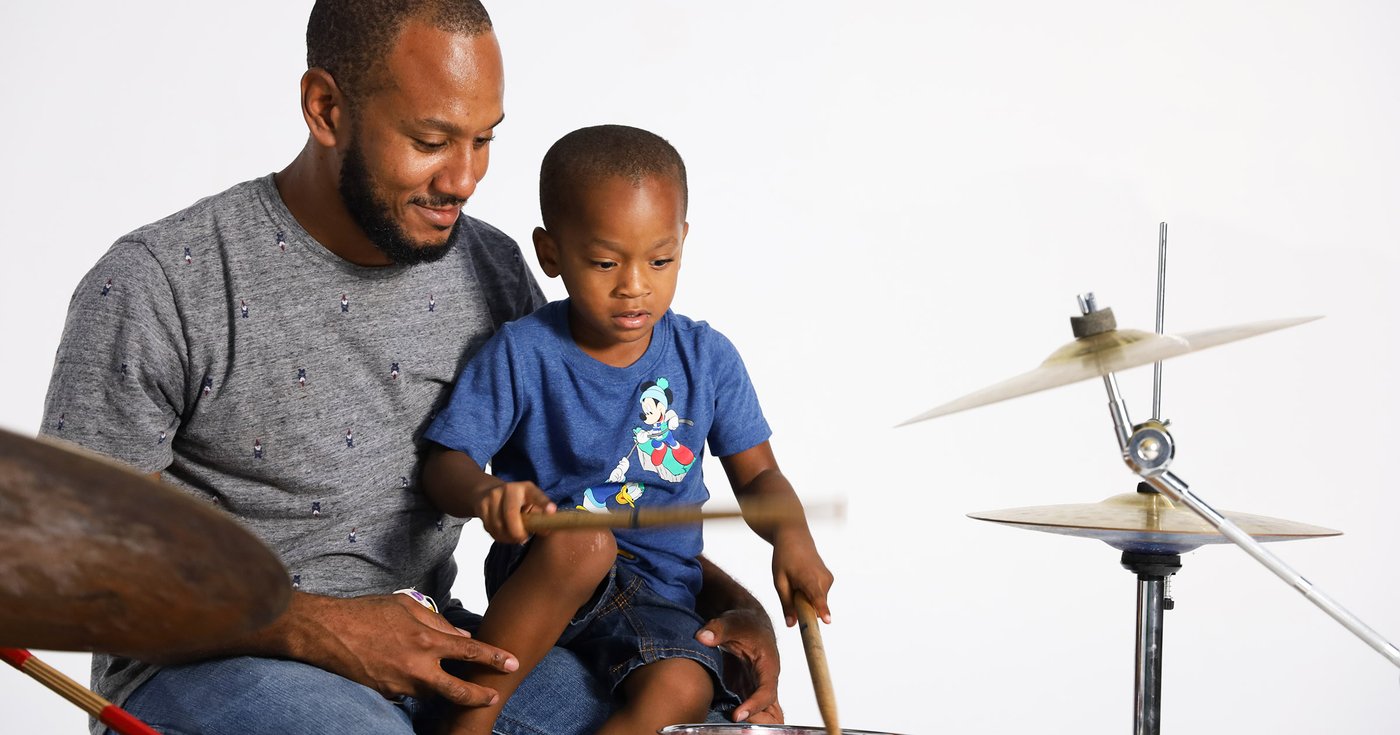 Dads are the best. They help raise us, they drive us to our first gigs, and like Marco Minneman's dad, they sometimes buy us our first drum sets. Even if they don't love our music, they still love and support what we do. We're forever grateful for the dads who have been there for us on our musical journeys.
But this article is all about drummers who are dads. How can you make time to practice? How do you get your kids interested in drums? And how do you rock out while keeping the volume down?
(P.S. You don't need to be a dad to benefit from the tips in this article. And if you're a drummer mom, you might also want to read this one!)
How can drummer dads find time to practice?
Parents often feel pressure from their partner and/or society to drop everything they were doing pre-kids and take care of their families. Have you been drumming less lately? How can you balance fatherhood and 'drummerhood' without dropping the ball in other important areas?
It's a good idea to make time for the things you love, even when you have your hands full with work and family. Pursuing leisure activities can lower stress and blood pressure, and drumming also improves mental and physical health. All of these benefits can benefit multiple areas of your life. More energy and better moods? Sign us up!
So the trick, of course, is how you can 'make time' when you don't have time. Firstly, be realistic and honest with yourself: you probably don't have space in your schedule for daily five-hour shed sessions. But you could allocate 30 minutes in the early evening for practicing drums instead of taking 30 minutes to zone out on your phone before bed. That 30 (or even 15) minutes is better than nothing. And if you only have five minutes a day to run through a song or exercise, that's a great start. Don't forget to set a reminder in your calendar.
Drummer dad Kyle recommends practicing "on the go" if you must: "I always have a practice pad in my car for when my son has soccer practice or theater school. Take advantage of that time to practice while supporting your kids!"
How can you keep drum volume down at home?
If your family is trying to sleep or relax – or if they're sensitive to noise in general – drumming isn't going to make them nearly as happy as it makes you. It goes without saying, but unless you live in a large home with a properly soundproofed room in the basement, you should avoid practicing during the wee hours.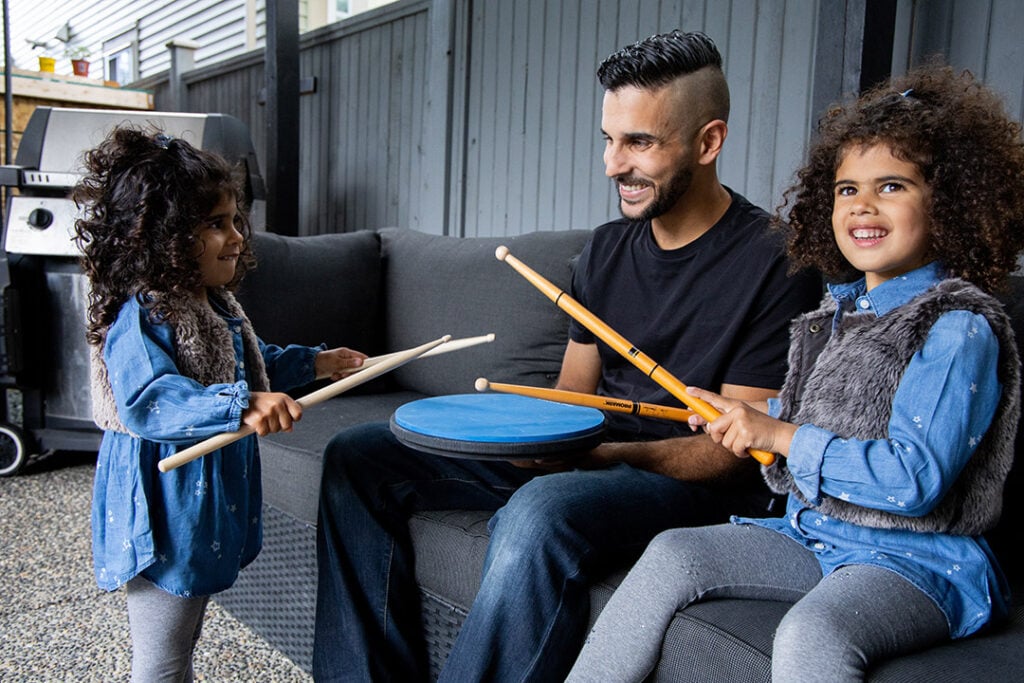 How to dampen acoustic drums
An acoustic kit is definitely the loudest and the most intrusive option, but don't go selling it just yet. A cheap solution is throwing old T-shirts or towels over each tom and snare and stuffing the bass drum to capacity with blankets. You'll lose a lot of the rebound, so be careful not to strain too hard when you're playing. You can also buy mesh heads, the type many drummers use when converting sets from acoustic to electronic, or mutes that go on each drum.
Cymbals – the worst offenders – are notoriously difficult to mute, unless you've bought low-volume ones. To reduce some sustain, you can try using gaffer tape – which doesn't usually leave any residue – or buy a specialized cymbal mute (like these Cymbomutes or Soundoffs, which are effective and not too expensive). You can also try playing more softly or using sticks that are smaller or designed for low-volume environments (like these).
Still too loud? Invest in some soundproofing and sound absorption materials. Surround your kit with carpets, curtains, and foam panels. If you have the space and resources, try building an isolation room around your drums. There are tons of great tutorials on YouTube.
Other quiet drumming options
An electronic kit solves most volume issues that come with acoustic drums – and it's usually much smaller. Keep in mind that the kick pad can still be audible and can vibrate through floors and walls, and that mesh heads will be quieter than rubber pads.
If you don't have the funds or the space for an electronic kit, you can get a practice pad kit, which is exactly what it sounds like: a set of practice pads set up in a typical drum set configuration. It'll feel more like playing a real kit than just one pad, but without any of the volume.
This article goes more in-depth about how to practice drums so it's easier on the ears.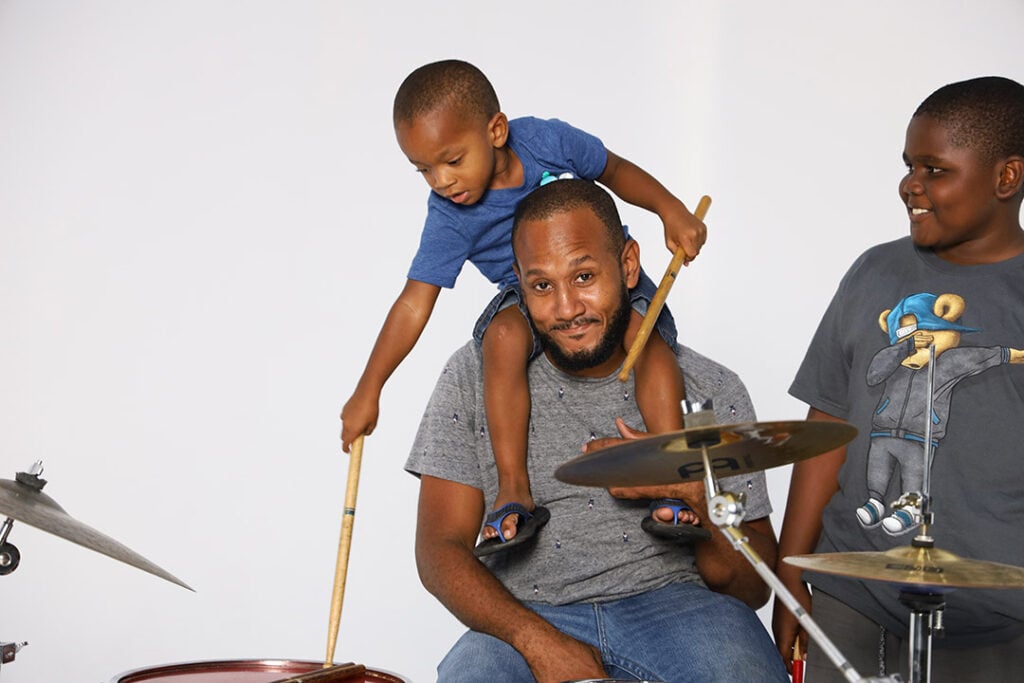 How can dads get their kids drumming?
One way to guarantee quality time with your kids and get your groove on is to encourage them to drum with you. Whether that means inviting them to watch you jam, giving them lessons, or letting them wail away on the kit, how you include them is up to you.
Drummer dad Tyson says, "I've found that sharing my love for music – but not pushing my love for music – has made my daughter into an incredibly well rounded music lover, and a great source for new musical inspiration!"
Before you go any further, make sure your kids (and you) have proper hearing protection. Ears are sensitive, especially at a young age, so pick up some over-ear protection and make sure they're worn properly whenever drums are being hit. Read this for more details on different ways to prevent hearing damage.
Quality time aside, there are many reasons why it's a great idea to encourage your kids to play drums. It's a good outlet for energy, it builds confidence, and research has shown that it can benefit cognitive development. You can teach them rhythm games and show them a few episodes of this show that was created just to get kids excited about playing drums!
Drummer dad Jared offers this advice: "I'm not the best teacher for my kids. They learn better from seeking out their own education through Drumeo or YouTube, or another private teacher. Another thing I try to focus on, especially when they're young, is always keeping it fun. They don't understand the short term pain, long term gain. It has to always be fun as they compare the activity to very rewarding gamified experiences. This is why we play songs they know well. I try and make a game of it. My boys are super competitive so if we do challenges and earn points, they are more likely to keep going."
When your kids see you doing something you love, they'll feel more connected to you and maybe be inspired to follow in their dad's footsteps. And what's cooler than that?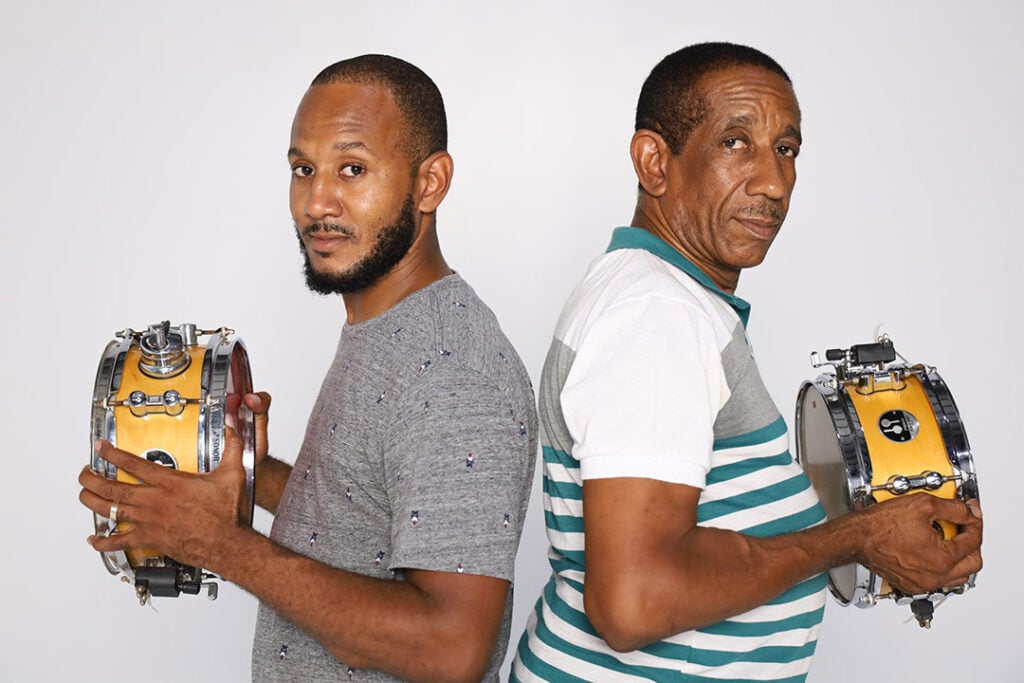 SHARE THIS: