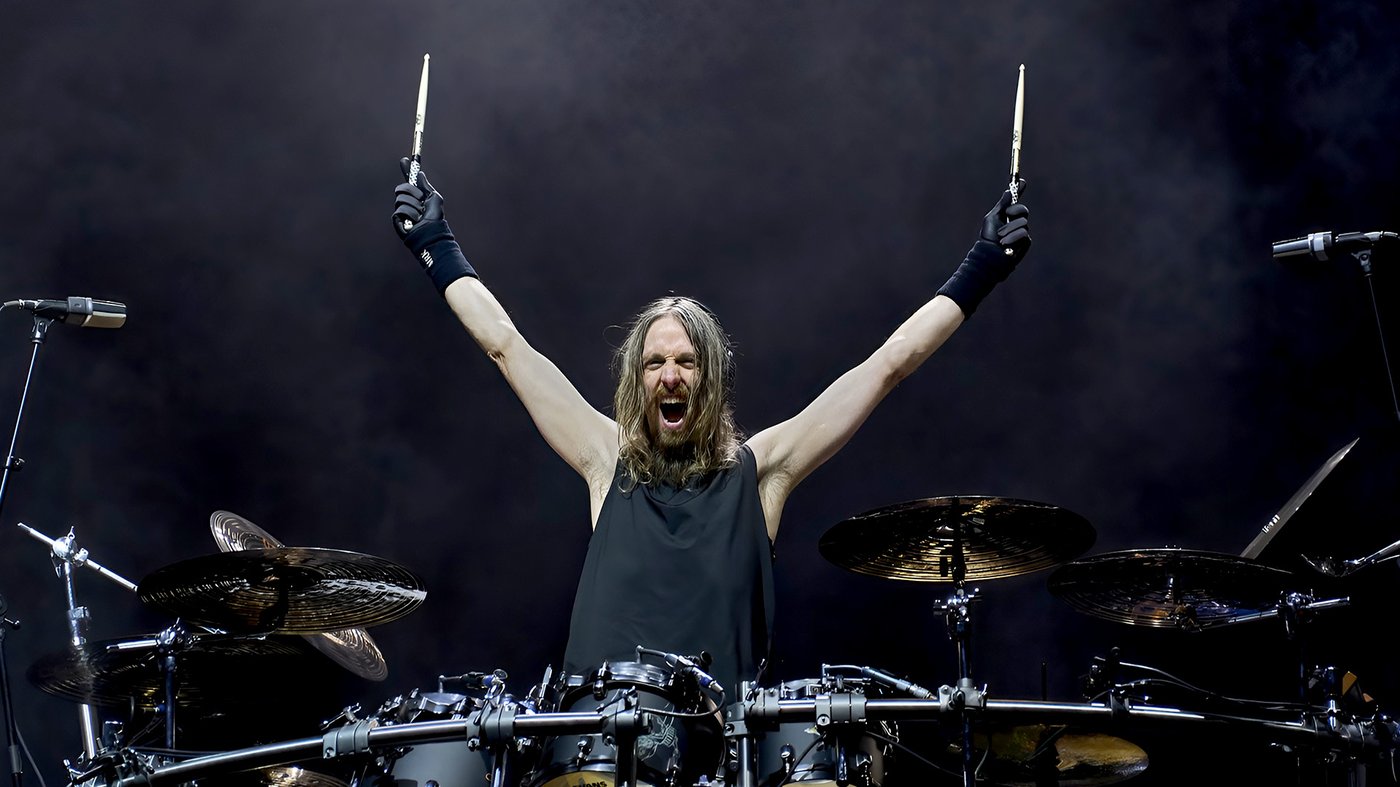 It's hard enough being "the new guy" (or gal) coming in partway through a group's career.
But joining a legendary band like Megadeth and filling the shoes of iconic drummers like Nick Menza? You know you're in for a whirlwind experience.
Luckily, Dirk Verbeuren – formerly of Soilwork – was perfect for the job. The Belgian drummer was already an accomplished road warrior and studio musician, having worked as a session drummer with artists like Devin Townsend, Jeff Loomis, Warrel Dane and more.
Verbeuren joined Megadeth in 2016 and appears on their latest album, The Sick, The Dying…And The Dead!
Drumeo brought him (and his entire touring rig) out to the studio during Megadeth's latest tour to provide you with a symphony of sonic destruction…and some practical insights into how he does what he does.
In this free drum lesson complete with performances, Verbeuren talks about:
How to honor the parts but still find room for creativity
His swivel technique (and how his left foot is actually faster)
How he created the Dirk Blast from the flam accent
How you need to keep trying, even if you feel like you aren't making progress (he's been through it, too)
Why his first big influences were hip-hop artists
How he overcame stage fright
What he includes in his practice routine
How he almost quit several times during his career – and why he's glad he didn't
For more Dirk Verbeuren content, make sure you're a Drumeo member (click here for a
free 7-day trial
) so you don't miss out on his other lessons and performances!
Lesson Outline:
0:32 – SONG: "Hangar 18" by Megadeth
5:16 – Introduction
7:49 – SONG: "Symphony Of Destruction" by Megadeth
12:17 – The type of drumming needed for Megadeth
20:12 – Showmanship
21:37 – His approach to double kick
28:51 – The Dirk Blast
32:54 – SONG: "Soldier On!" by Megadeth
37:47 – Growing up listening to hip-hop
40:18 – Getting over the stress of playing live
49:46 – "We'll Be Back" by Megadeth
54:30 – Outro
Dirk Plays:
Tama Drums and Drumsticks
Meinl Cymbals
Evans Drumheads
Follow Dirk:
Instagram
Twitter
Facebook
SHARE THIS: