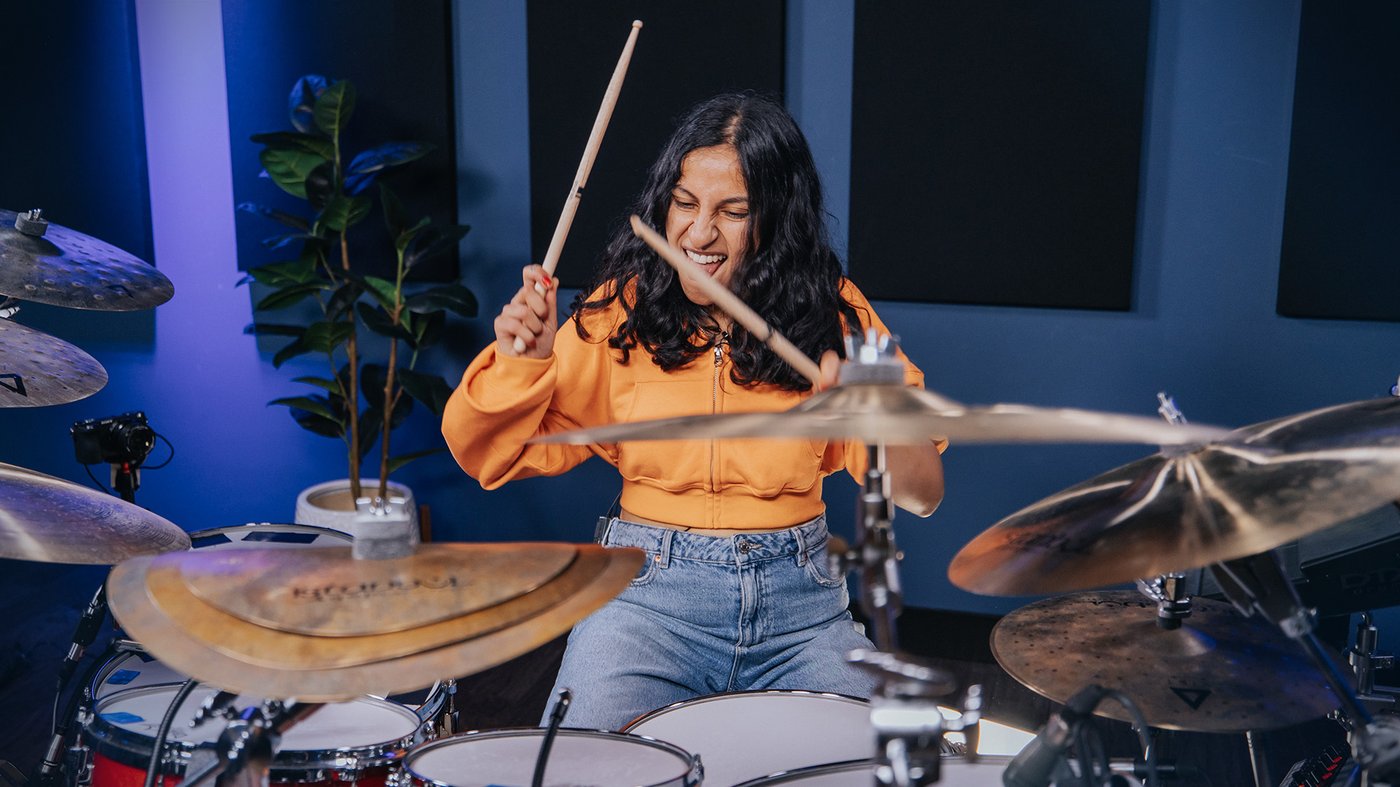 When it comes to translating Indian percussive traditions onto the drum kit, Sarah Thawer is the guru! In this video, Sarah uses an odd time rhythm called the rupak to demonstrate the beauty of not accenting the one.
You'll learn how you can integrate this type of rhythmic thinking into your drumming and how to feel odd time signatures differently (and possibly even more comfortably, depending on how your mind works).
Follow along with the lesson:
Tala (or 'taal') is a rhythmic cycle.
The rupak is Sarah's favorite tala, and it's broken down into 3-2-2 (or 3 then 4).
Rather than always putting the emphasis on the 1 (common in western music) you

accent

it like so: one two three ONE two THREE four.
You can vocalize this pattern with syllables: tin tin na DHIN na DHIN na (where the 'dhin' represents the lower-sounding drum of the tabla, a classical percussion instrument from the north of India). This can help you feel the music better.
The first (unaccented) half of the cycle is 'empty' (known as khali) and the second (accented) half of the cycle is 'heavy' (bhari). So the rupak rotates between khali and bhari.
To translate tabla-based music onto the drum kit, you could assign the lower sound (DHIN) to the bass drum and the higher sounds to the snare and hi-hat. But there are no rules!
Here's the loop Sarah plays along to in the video. Try it yourself:
If this lesson got you thinking differently about rhythm, you'll love Sarah's course 'Exploring Indian Grooves', available for Drumeo members. Sign up for a 7-day trial here and get access to Sarah's lessons on Bhangra and Garba, plus hundreds of other courses, thousands of play-along songs and more!
SHARE THIS: