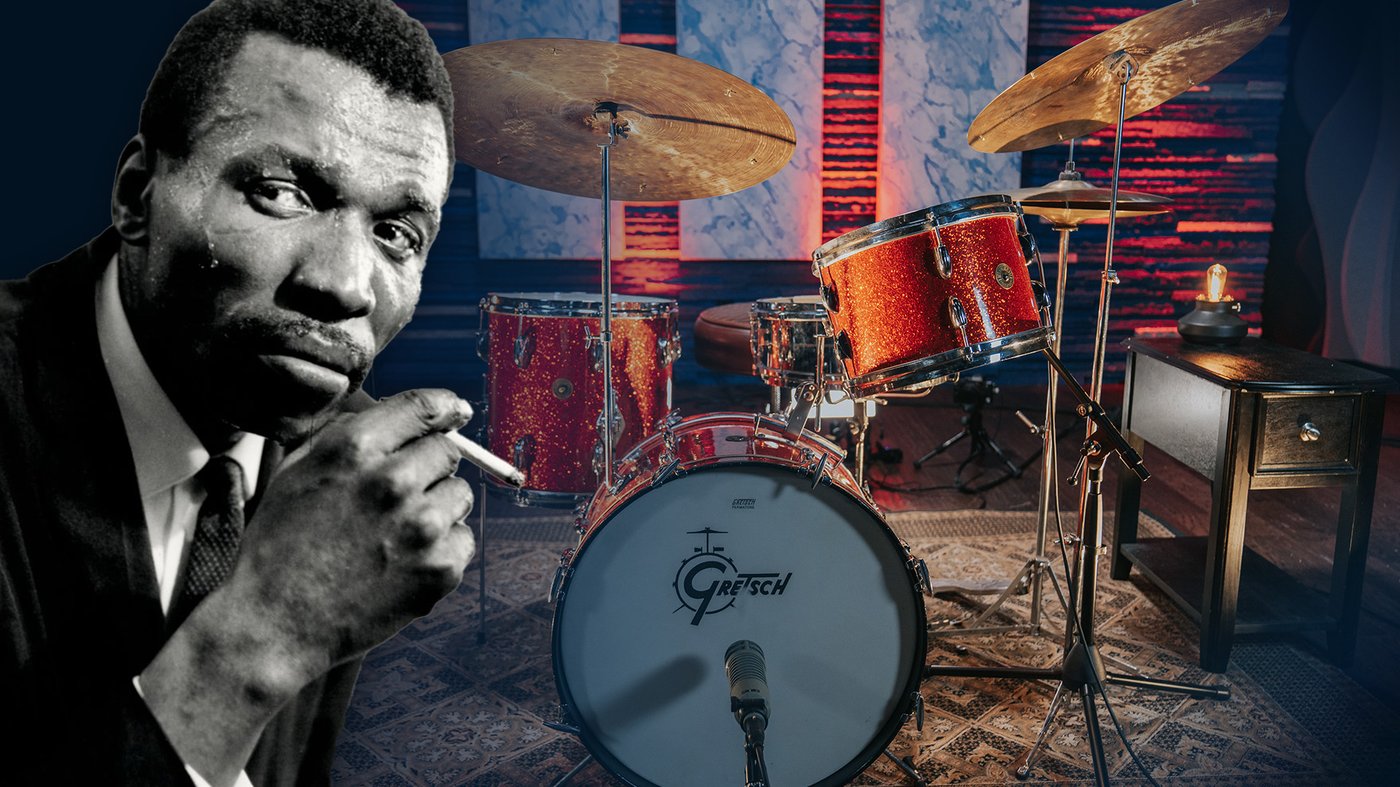 "I was a rebel. Nobody could play with me 'cause they couldn't understand it."
Elvin Jones is one of the top jazz drummers of all time, and definitely one of the most influential. But why?
His power and energy were unmatched.
He took a unique polyrhythmic approach to timing, comping and soloing.
He was one of the first jazz drummers to approach the drum set as a single voice, often playing

linear

patterns.
Elvin Jones influenced big names like Mitch Mitchell, John Bonham, Bill Bruford, John Densmore and Ginger Baker, even having a drum battle with the latter in the early 70s.
A professional drummer from the 1940s until his passing in 2004, Jones was a key member of John Coltrane's classic quartet in the '60s, appearing on legendary jazz records like A Love Supreme, My Favorite Things and Ascension.
He also performed with big names like Wayne Shorter, Joe Henderson, Freddie Hubbard, Miles Davis and Sonny Rollins, and was a great bandleader with his own projects.
Here are 6 reasons why Elvin Jones was a genius (and how he helped change the direction and future of jazz drumming):
1. His playing was recognizable
Sonny Rollins' A Night At The Village Vanguard (featuring the well-known tune "A Night In Tunisia") is one of the first times people heard what was to become 'the Elvin Jones sound'.
But outside of that album, here are a few key tracks where you can hear his flavor at its finest:
"Remembrance" by Elvin Jones – Dramatic dynamics
"Zachariah" by Elvin Jones – Huge cymbal crashes
"Acknowledgment" by John Coltrane – A washy, rivet-filled ride sound
"My Favorite Things" by John McLaughlin – Hemiolas/polyrhythms
2. His swing feel was unmatched
In the 1940s, most drummers would accent every quarter note or beats 2 and 4 while swinging on the ride, like this:
But not Elvin Jones. He'd often emphasize the upbeat of 2 and 4, like this:
Listen to "Anthropology" by Elvin Jones or "Miles' Mode" by John Coltrane and you'll hear the difference.
Jones was also known for his triplets, particularly his focus on the middle triplet partial (which most drummers neglected). You can hear this on tracks like "The Children, Save The Children" by the Elvin Jones Quartet.
3. His gear played a role in his groundbreaking sound
He was known for playing loudly with unprecedented energy and strength – so much strength that he'd sometimes nail the bass drum to the floor to keep it from sliding!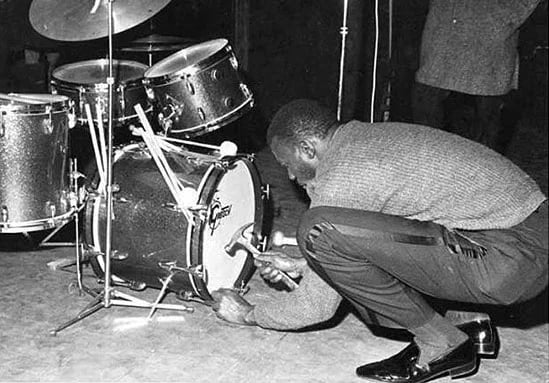 His over-the-top style could've been partially due to trying to get more volume out of his relatively small drums, which he used in the early days because of limited travel space and stage space.
From felt mallets on tracks like "The Drum Thing" (John Coltrane) and timpani on "Psalm" (John Coltrane) to riveted cymbals and flipping his drumsticks around to use the butt end, Jones carefully chose gear to give him the sounds he wanted.
4. Polyrhythms were rare in jazz
How many jazz drummers can you name from Elvin Jones' time who were playing polyrhythms? One of Jones' favorites was to play 3 beat phrases in a 4 beat context (like in "Impressions" by John Coltrane).
Or in the bridge of "A Love Supreme":
He also incorporated hemiolas* into his drumming – rare for the time and style as well.
"People are never going to approach the drum set correctly if they don't start thinking of it as a single musical instrument. If you learn it piecemeal, that's the way you're going to play it. You have to learn it in total."
(*Hemiola is where three beats of equal value take up the space where two beats would typically fall.)
5. His grooves and time were masterful
It was once said that "Elvin loosened up the time and opened up the music," and it's this relaxed sense that set him apart.
Drummers still talk about his grooves about to this day, especially his trademark 'afro waltz', which can be heard on multiple songs Jones tracked with artists like John Coltrane and Wayne Shorter.
His Latin and Afro-Cuban-inspired grooves set him apart in the jazz world.
Listen to his power and volume on tunes like "Shiny Stockings" (Elvin Jones and Richard Davis) and how "The Trip" by Art Pepper features all four limbs in the intro.
6. His drum solos were explosive
Elvin Jones built his rudimental chops in the US Army band, and they made their way into his mind-blowing drum solos. Jones' go-to rudiment was the paradiddle-diddle, moving between the ride and snare drum or around the toms (like on "Pursuance" by John Coltrane).
Nowadays people flock to players with linear drum chops, but it wasn't always that way. Jones was sometimes criticized for the linear drumming that made up a big part of his vocabulary. Listen to "The Drum Thing" by John Coltrane and you'll hear Jones often doing it in groups of threes.
Jones often used RLK and LRK (practice your rudiments leading with both hands, people!). If you like John Bonham's triplets or you're a fan of Carmine Appice and Ginger Baker, they might have got their heavy triplets from Elvin Jones.
Jones would incorporate wide open flams between drums, throw in chaotic tom flurries and rail on the cymbals like there was no tomorrow – but he could still play softly when the song called for it.
You could always tell when he was ending a drum solo because he'd play a buzz roll on the snare drum and vigorously nod his head (a great way to signal to the band when you're about to wrap up).
Elvin Jones was a captivating and creative force behind the drums. If you enjoyed this breakdown of his playing, Drumeo members get access to notation and practice tools (to loop/slow down sections) for all of the tracks mentioned here. Click here to try Drumeo free for 7 days!
SHARE THIS: