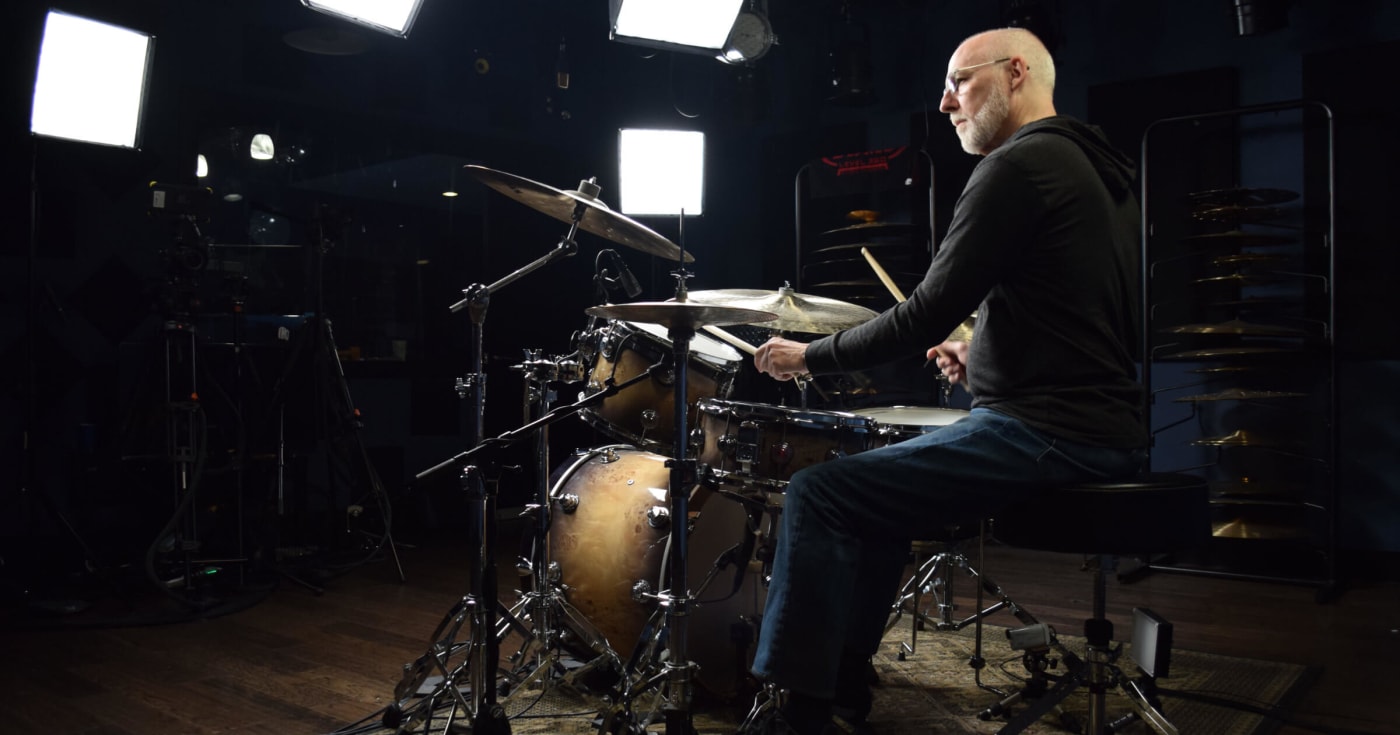 If you want to start playing polyrhythms – or just improve your creativity around the kit – start with technique guru Bruce Becker's 7-7-5-5-3-3-2 exercise. It consists of paradiddles and paradiddle diddles:
The 7 is a paradiddle paradiddle paradiddle diddle (RLRR LRLL RLRR LL).
The 5 is a paradiddle paradiddle diddle (RLRR LRLL RR).
The 3 is a paradiddle diddle (RLRR LL).
The 2 is a single paradiddle (RLRR).
The sticking for the entire phrase should look like this:
RLRR LRLL RLRR LL (7)
RLRR LRLL RLRR LL (7)
RLRR LRLL RR (5)
LRLL RLRR LL (5)
RLRR LL (3)
RLRR LL (3)
RLRR (2)
But we're counting 16th notes in 4/4, so it becomes a tracking exercise. Because the accents become syncopated, you'll have to count along with the 16th notes and not lose yourself within the sticking.
This exercise will help you expand your polyrhythmic range, even though it's still in 4/4.
Want to take this further? Try putting the accents on the toms. Or put the accents on the cymbals with a bass drum hit beneath each accent to add even more polyrhythmic feel to it. You could also put your accents on the snare drum, with everything else alternating on the toms.
Whether you're laying this down on a practice pad or exploring new variations on the kit, Bruce Becker's exercises can help you take your technical game to the next level.
Sign up for Drum Technique Made Easy to get more of the guru's secrets!
Follow Bruce:
Facebook
Instagram
Bruce plays:
DW Drums
Zildjian Cymbals
Evans Drumheads
Vic Firth Drumsticks
About Bruce:
An educator for over 30 years, Bruce Becker's studies with Freddie Gruber influenced his approach to drum education. His reputation has led heavy hitters like David Garibaldi, Mark Schulman, Daniel Glass, Glen Sobel, and many more to seek his teachings. Founding member and drummer of the David Becker Tribune, Bruce has recorded and co-produced 10 critically acclaimed recordings. His game-changing 26-week online course, Drum Technique Made Easy, is available on Drumeo.

SHARE THIS: