Finally! It's here: the day drummers have been waiting all year to arrive. It felt a bit like Christmas morning for attendees arriving from close cities like Seattle and from countries as far away as Brazil, Germany, Sweden, and Russia.
From the moment the doors opened, there was a buzz in both the main lobby and the upstairs lobby. Picture hundreds of people checking out the exhibitor and merch booths (there were over a dozen shirt designs plus other great swag), testing out the gear, meeting new people, and reuniting with old friends, and you might get a sense of just how exciting this was. Festival-goers could also test their skills with Mike Michalkow at the drumometer station.
Some attendees were comparing the event to a 'mini, drummer-exclusive NAMM' because of the buzz and the variety of things to do. There was plenty of time during artist changeovers to mingle or grab a taco or wings at the food trucks parked outside. Artist signings were extremely popular, and one attendee mentioned that he hadn't had this kind of artist access at other drum festivals.
With artists performing for around 45 minutes and full bands performing for over an hour, there was enough playtime and diversity to keep the crowd happy. And with prizes like a Sonor AQ2 snare drum, an Istanbul cymbal and a chocolate Yamaha snare – plus the ever-entertaining Harry Miree tossing T-shirts into the audience – you know it's all uphill from there.
It's one thing to watch a YouTube video or a festival DVD, but it's a whole other world seeing performances like these in person. From the pounding of the bass drum in your chest to the artist interactions, you can't replicate the experience of being there.
The first day of the inaugural festival kicked off with Jared Falk's heartfelt welcome address. Soon, drumming's global ambassador and exceptional host, Dom Famularo hit the stage with his trademark gusto, reminding the audience about art, expression, and pushing yourself to keep learning.
Backstage, each artist's kit was set up on its own riser, just waiting to be played. Dom made a great point in mentioning that each drum set reflected the personality of the artist. Stay tuned for all the gear photos!
Chris Coleman opened the show with a thundering performance and indescribable groove. His powerful style carried him between play-along tracks and tasty, even playful solos, moving from heavy backbeats to busting out his killer chops.
Horacio 'El Negro' Hernandez wowed the audience with a 40 minute improvised solo. Surrounded by blocks and cowbells, he created a melodic percussive soundscape chock full of Latin grooves, effortless time mastery, driving ostinatos, and incredible independence. His call-and-response with the crowd added another level of interaction to his performance.
Anika Nilles played tracks from her latest albums, bestowing creative rudimental fills and groovy, funky hi-hat work upon the crowd. As if that wasn't enough, of course there was plenty of playing with time, note displacement, and the mind-blowing patterns she's become known for.
Benny Greb and Moving Parts earned bows from people in the first row. Benny's bandmates perfectly complemented his tasty snare work and impeccable groove. He has a unique way of making even a stripped down beat sound interesting, and you can see how the music moves him: his playing is full of personality. He had the audience become part of the performance by clapping a simple rhythm; only in a room full of drummers do you hear a crowd stay that on time!
Finally, we saw the global premiere of Tommy Igoe's new group, WIM. The San Francisco-based trio played seven songs off their new, unreleased album. With a phenomenal performance that just exuded electric energy, Tommy's flawless playing had jaws on the floor.
A serendipitous moment happened when festival patron Devin Blakeborough, who'd brought his custom KBM piccolo snare to be signed by performers, met Kevin Melnechenko, the man who'd made it. A longtime police officer, Kevin started building drums to help deal with PTSD, and even though he stopped building a few years ago, he was thrilled to see one of his creations back where it originated.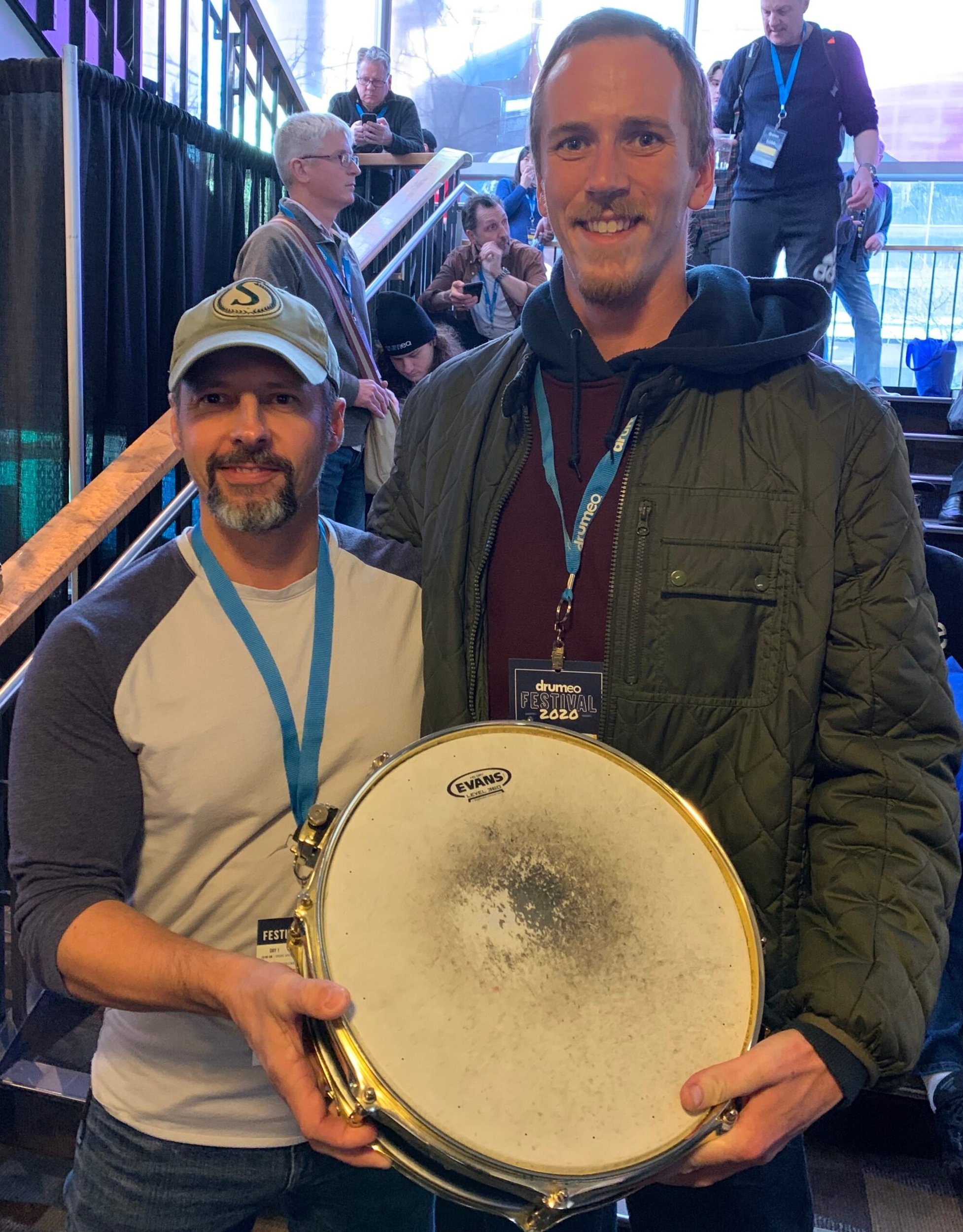 Thanks to everyone who came out today and took it all in! Tomorrow, we'll release a recap of Day 2. Don't forget to search #drumeofestival for live updates! Check out some of the posts from today:
SHARE THIS: