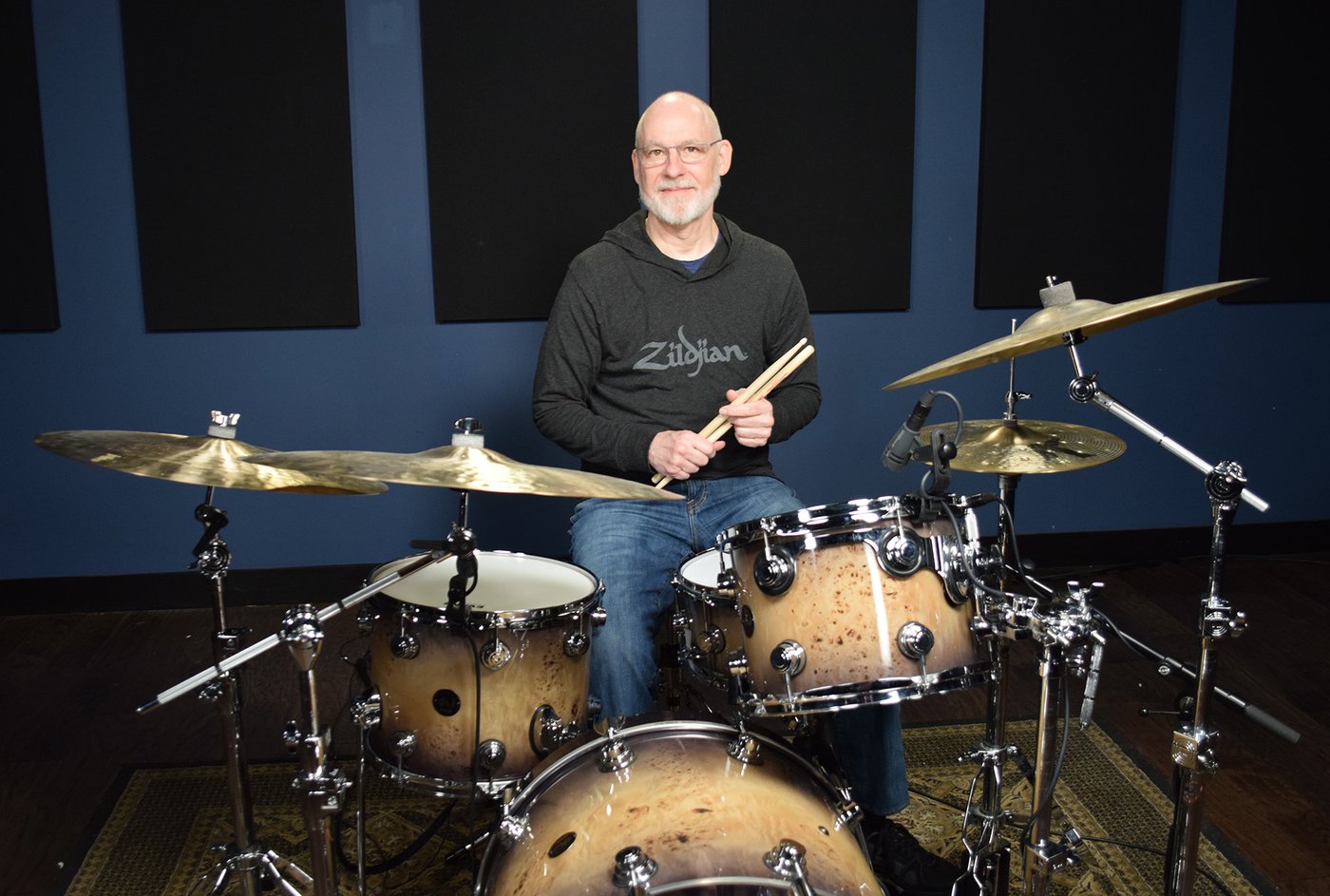 Bruce Becker has dedicated most of his life to drum education, and has gained a significant level of respect from drummers as a leader in approaching drum technique. Bruce has a very unique background with drumming, as he was a long-time friend and student of the late Freddie Gruber. Bruce was not only Freddie's student but was often called upon by Freddie to demonstrate techniques applied to the kit for the likes of Dave Weckl.
Over the years, a lot of Freddie's concepts have been adopted by Bruce and elevated to a level which many consider being more comprehensible than Freddie's often cryptic nature in explaining his lessons. Besides education, Bruce has recorded over twenty albums in his career and has been playing alongside his brother David Becker in the David Becker Tribune for the better part of 30 years.
So, it is more than fair to say that Bruce is one of the most specialized instructors on the planet concerning drum technique. I figured that it would be a great use of air time to explore many of my own curiosities when it comes to development with drumming. However, instead of explicitly asking Bruce questions about technique, I thought it might be more valuable for listeners to hear Bruce's thoughts concerning long term development.
The road to self-investment
I feel that sometimes it can be difficult to know how to spend your time practicing, how long it may take to notice improvements, how much play time vs. practice time we should invest in, whether old habits can be broken, and what the real reason is that we might want to exercise the use of practice pads. Bruce walks us through these topics with so much clarity, providing listeners with a sense of reassurance and guiding us towards a solid path to take with your drumming development.
That is only part of what makes this episode valuable, though. Late in the episode, Bruce and I stumble across an amazing topic that isn't often discussed in public forum. I want to open this up with a scenario. Let's say you are determined to become a great drummer. You are finding this to be of importance later in your life (let's assume you are 30 – 40 years old) and you just have to get the practice in and maybe feeling a bit pressured to make up for the lost time. So there you are, working away on your drums/pad and all of a sudden you hear your wife hollering at you to stop what you are doing and help with something in the house and it just can't wait twenty more minutes. In a huff and a puff, you reluctantly stop what you are doing and head downstairs to discover that you are going to be spending the next two hours clearing out your basement of items to be donated to the local Goodwill. You then begin to ruminate on the thought that you do not want to be clearing out old items from your basement because you were just hitting the zone with your practice and you were really in tune with the relationship between your hands and the sticks.
It's just an example. I am certain you all know that feeling when practice really starts to click and that is when you feel your effort is being completely soaked up by your body. It is a drag, isn't it? It could literally put a damper on your day if you allow it to. This, of course, is just one of many potential examples where other aspects of your life require your time and attention and it may interfere with your plans that you have been anticipating.
If you are anything like me, I am quite obsessive over the things that I love to do and sometimes I have a difficult time stopping what I am doing to do something else that interests me less. The truth is, we need to be flexible within our own designs of how we wish to spend our time to develop and self-invest. This is just one part of what Bruce and I discuss in this section and it continues to expand as we go along into some very interesting ideas about how we live out our lives.
Passion, obsession, and balance
I stand by the fact that this episode is a must-listen for drummers, but I insist that you really listen closely to the 15-20 minute section towards the end of this episode and give that some consideration if it applies to you.
I want to conclude by suggesting that we all take a moment and reflect on our self-investing. Investing in yourself is incredibly healthy and aspiring to greatness within our skill sets. I attempt to do just that with this podcast. I have committed myself to become a great journalist and a highly skilled interviewer. That is something I need to accomplish in my lifetime and it is my passion. It is fantastic because it gives me a sense of purpose within what I have created for myself, which makes me more confident, which in turn makes me a better husband, father, and human. However, I also need to recognize that other aspects of my life absolutely cannot become second fiddle to my desires. They are just as important as what I want for myself.
I really wanted to address this because I can clearly witness the level of productivity that several social media channels display with certain individuals. I also know how much time is required to achieve those results, and based on the time you should invest in your marriage, parenting, home ownership, business upkeep, day job, your friendships, and other activities, I have to wonder if the self-investing side is in amazing health while other parts of their life are on life support.
Marriages fail at an incredible rate these days. More and more people are living hand to mouth. Unemployment rates are sky high. We are all being told to work for ourselves and as far as social media goes, we are all living it up, and life is grand! I see some big holes in all that, and Bruce and I just nail point after point concerning this stuff. It is important stuff to consider, and I hope that this episode provides some interesting points to consider with your own life and how you manage it.
Music featured in this episode:
David Becker Tribune – Hey Mister
David Becker Tribune – Drivin' Home
Bruce Becker – House of Cards
Follow Bruce:
Instagram
Facebook
Website
Follow Drumeo Gab:
Instagram
Facebook
SHARE THIS: