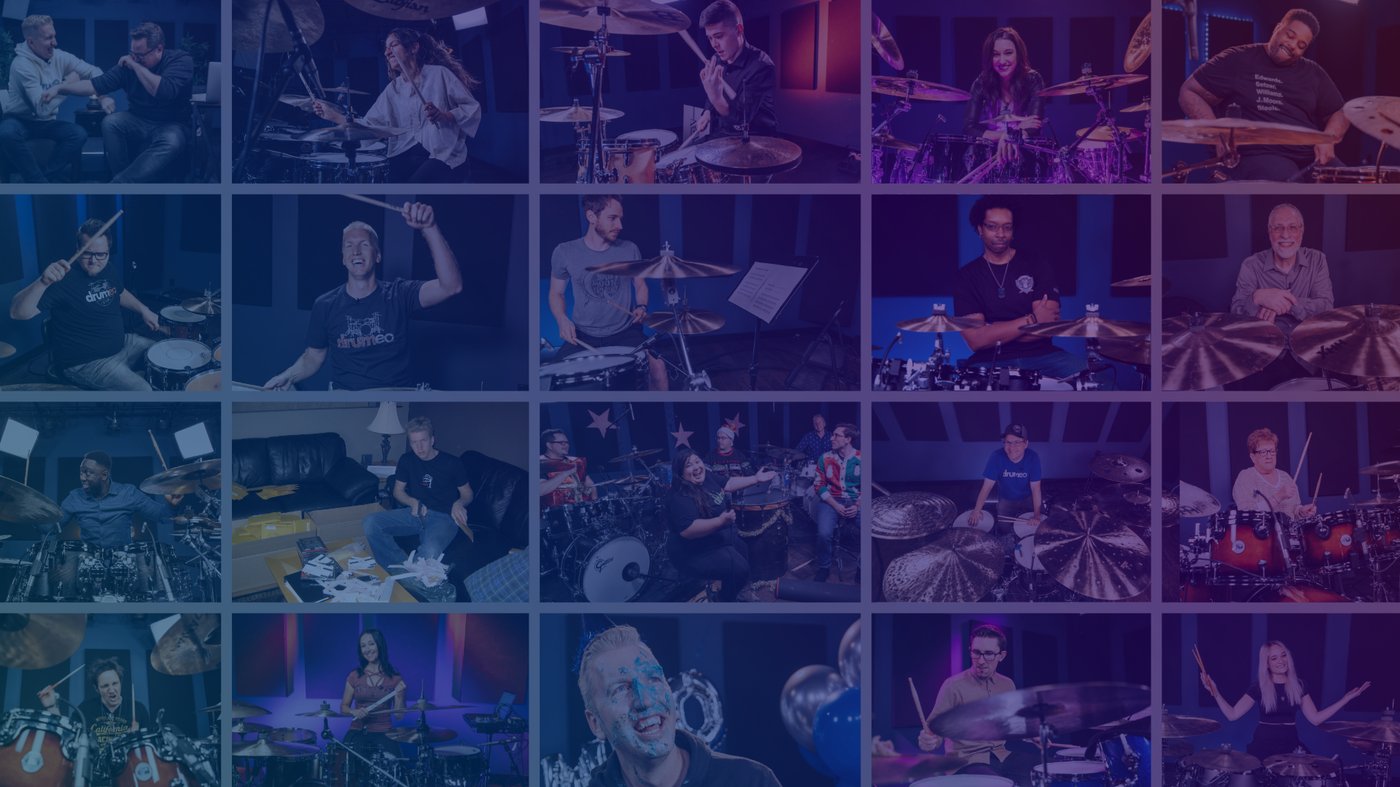 Drumeo is an online community where thousands of drummers go to find video lessons, drum performances, technique tips, play-along songs, sheet music, and live Q&As. There's a lot more than that, but that's not what this article is about.
Drumeo is celebrating its 10 year anniversary in 2022. It's a technicality, really: the team behind the biggest online drum lessons platform used to create and sell lesson DVDs by mail (weird, right?). The founders actually launched their first online community and resource for drummers in 2002.
So when you think about it, we've been around for twenty whole years in one way or another. Unbelievable!
When Drumeo launched in 2012:
"Call Me Maybe" topped the charts.
"Gangnam Style" was all the rage.
The Avengers was the highest-grossing movie in theaters.
The Olympics took place in London.
The Curiosity rover landed on Mars.
People were afraid the world was going to end (thanks to the Mayan calendar).
To celebrate 10 years of Drumeo, here are 10 things you (probably) didn't know:
1. Drumeo was almost 'Drumio'
The team came up with a bunch of potential names for the new company. These were the shortlisted options:
drumio
drumr
DrumHub
iDrum
drumeo
GoDrum
Tambor
DrumNation
Soundbox
OnlyMusic
The frontrunner was 'Drumio' (Drum Instruction Online) and all of the early designs used a Drumio logo with an Amazon-esque swoop over the 'I' and no drum silhouette in the 'O'.
But when the team tried to move forward with the name, they found that someone had parked drumio.com – and the domain owner wanted $50,000.
It only cost $9 to buy drumeo.com. Guess which one we went with?
Once we decided on "Drumeo", the logo took less than an hour to create. 
2. The "O" in Drumeo is a drum

This may not be a hush-hush design secret, but most people aren't analyzing company logos. So you've probably never noticed that we designed the white space in the 'O' to look like a drum from overhead.
You can see the same drum silhouette on the Drumeo Awards trophies: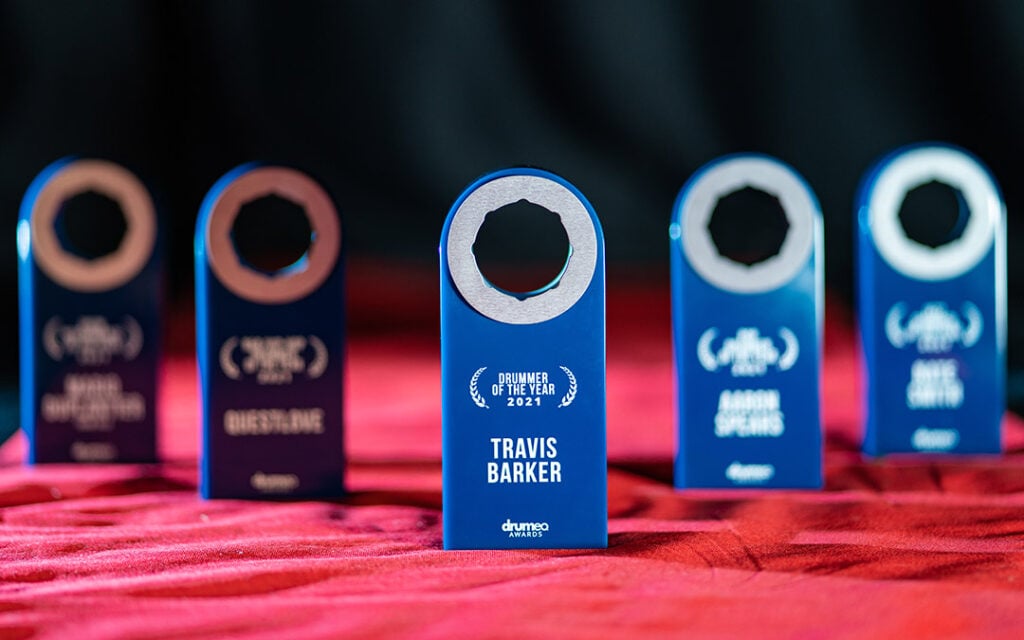 This design choice echoes companies like FedEx who use negative space in their logos.
3. Drumeo stands for "Drum Education Online"
This one speaks for itself. It's what we do!
4. Larnell Lewis was our first guest artist
Since before Drumeo became Drumeo, we've had a recurring roster of in-house educators, and we'd sometimes bring in local guest teachers for lessons. But we'd never had the opportunity to snag the big names we do today.
Before Larnell Lewis was in Snarky Puppy – and before he was the guy who went viral for nailing "Enter Sandman" after hearing it for the first time – he was a 28-year-old up-and-comer who we brought out to the old Drumeo studio for this lesson:
We've since had Larnell out again more than once, and he blows our mind every time he's at Drumeo.
These days, the majority of our lessons and courses feature 'guests' – largely established, big-name drummers – who we fly in from around the world to offer premium content for our audience. But Larnell was the first.
Here's the full lesson Larnell taught when he was at Drumeo again in 2020:
5. Drumeo used to be a mail order drum DVD operation
Before YouTube took off, online videos took forever to load and they weren't the best quality. So before we were Drumeo, we created several step-by-step DVD packs including The One-Handed Drum Roll, the original Bass Drum Secrets pack, The Rock Drumming System, Moeller Method Secrets, The Jazz Drumming System, and The Latin Drumming System.
It was The Rock Drumming System that really took off. We produced the first 1000 copies of The Rock Drumming System on DVD, and it brought in more sales in two days than in the entire previous month!
These days, we try to cover as many styles of drumming as possible, but Drumeo members still love our rock drumming content (check out Todd Sucherman's Rock Drumming Masterclass here).
6. We used to give away cymbals with new memberships
In 2012, we ran a campaign where 500 people got a free 16″ Paiste PST 5 medium crash if they signed up for Drumeo.
An annual membership cost $197 while the cymbal was worth around $150, so this was an epic deal for early Drumeo members.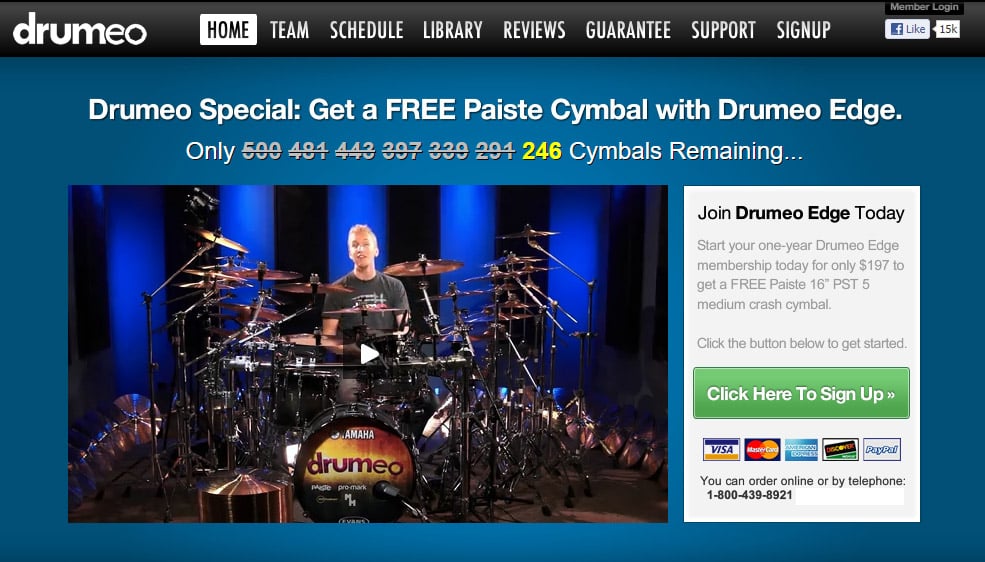 In 2005, Drumeo's official business name became Railroad Media – wait for it – "Because we train people".
Enough said. We've been fans of dad jokes for years.
8. Drumeo has over 60 drum kits and 300+ cymbals
We only have one production studio where we film most of our Drumeo content. But we have a ton of gear you don't get to see in our videos.
Between our studio, storage rooms and warehouse, we have:
62 acoustic drum sets
9 electronic drum kits
330+ cymbals 
83 snare drums
35+ bass drum pedals
25 cases
200+ drumheads
9 drum rugs
12 cymbal racks 
Countless pieces of hardware
25 bins full of spare drum parts
Here's a glimpse into our warehouse: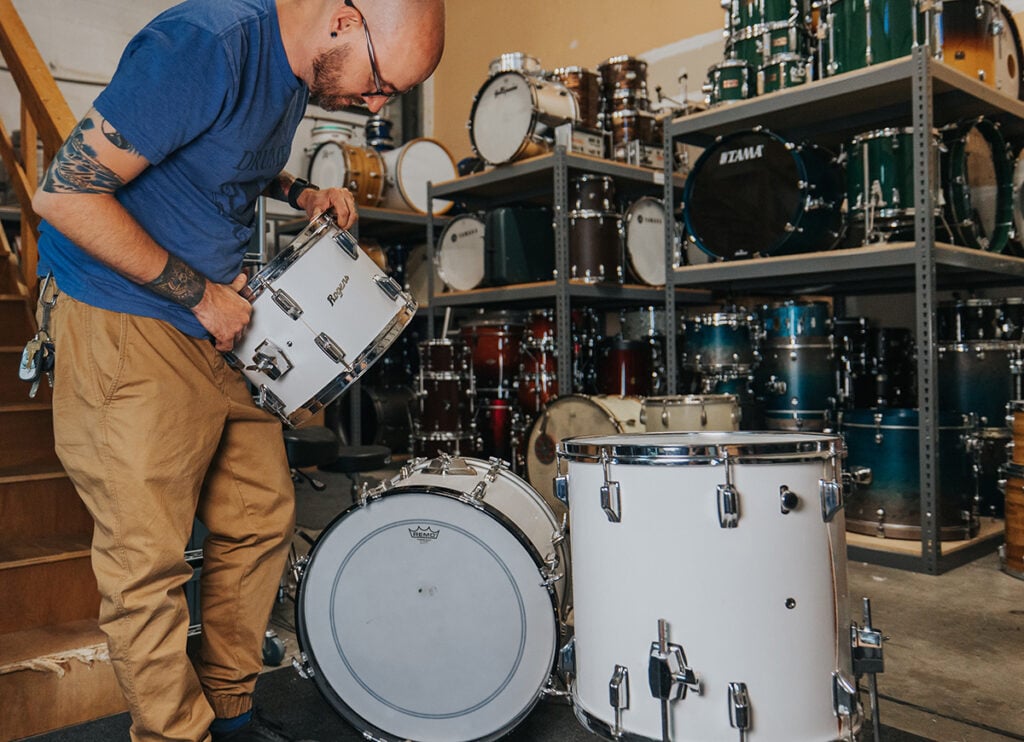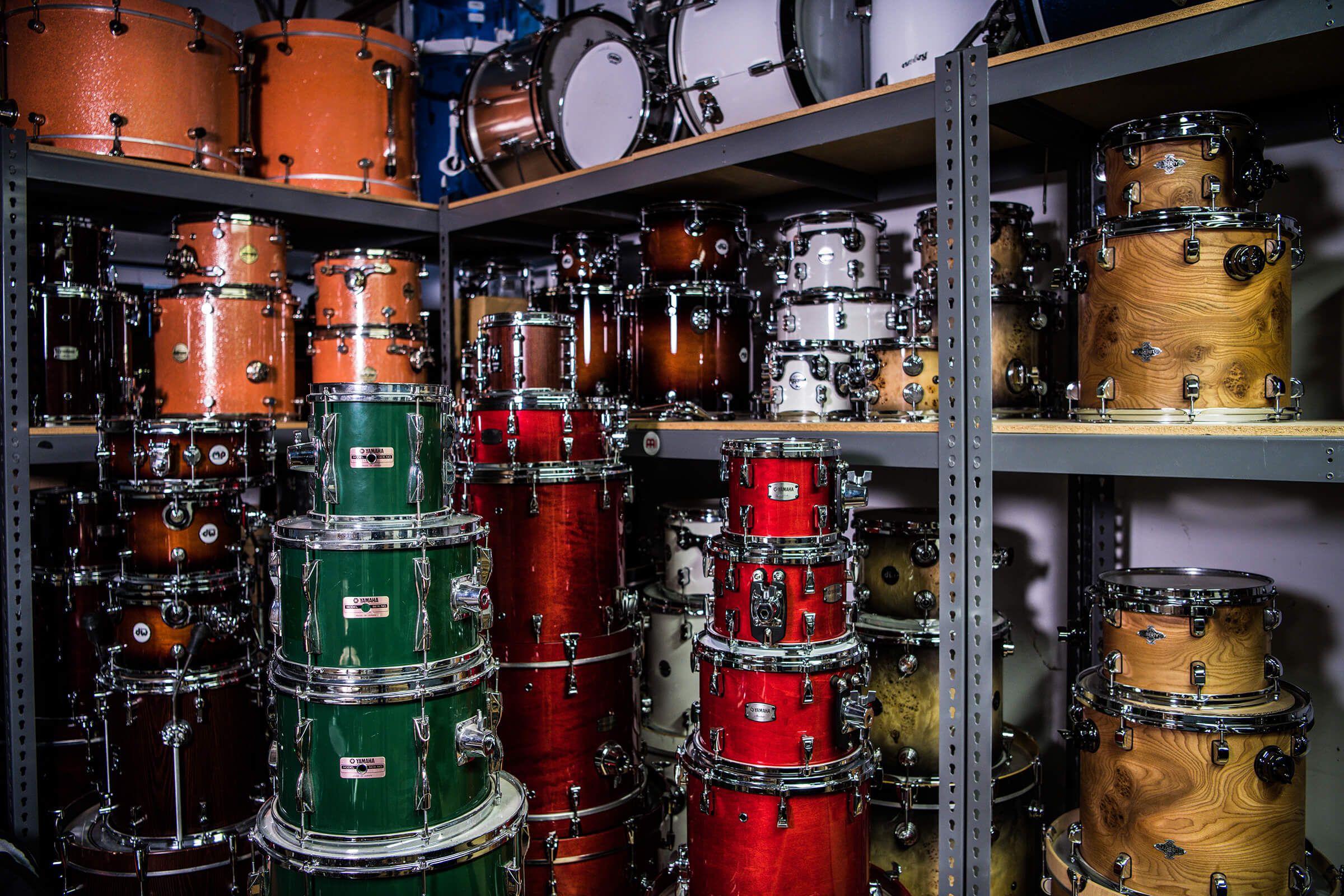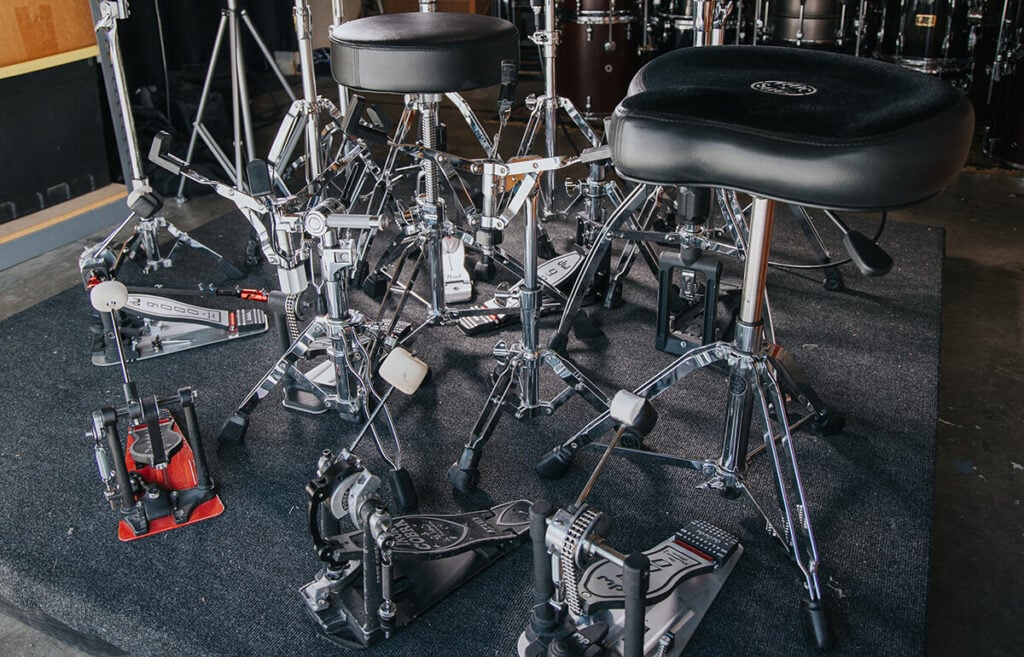 9. Drumeo is based in Canada
Most people think we're based in the United States because that's where most of our artists and students live. But nope – we're located on the west coast of Canada.
However, as you'll see in the next part of this article, not all Drumeo team members are in the Great White North.
10. Drumeo is part of something bigger
18 people work exclusively for Drumeo, but the team is actually much bigger than this: we have over 100 people here. Many of these work for Drumeo as well as our sister brands Pianote, Guitareo, and Singeo.
All four brands fall under an umbrella organization called Musora, which is all about helping people play the music they love, no matter the instrument.
While it's headquartered in Canada, Musora has team members around the world:
Canada
The USA
Spain
Italy
Romania
India
Portugal
Uruguay
… and The Dominican Republic.
There you have it. Drumeo has been around for a while and has taken a few different forms over the years, but the goal has always been the same: inspire people to play drums and encourage them to keep on drumming.
SHARE THIS: