The proven method to improve your hand speed, power, & control
//player.vimeo.com/video/85769523
Only $

29
You can also order by phone toll-free at
1-800-439-8921 or directly at 1-604-855-7605.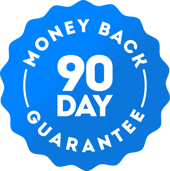 Your entire order is backed by
our 90-Day Money-Back
Guarantee.
Improve Your Technique Having great hand technique will help you improve your speed, power, and control - and help you reduce the risk of injury.
Become A Musical Drummer Enjoy practice sessions and inspiring performances that will show you how various hand techniques can be used within musical drumming.
100% Happiness Guaranteed We think you'll love these lessons, and that's why you can try them risk-free with our 90-day guarantee!
Technique Instruction


Mike's early experiences with poor technique, and how he was able to overcome them to advance his drumming abilities.

An introduction to correct stick grip, and an overview of how stick grip can make a big difference in how you play the drums.

The unique 'gun system' for discovering correct hand position for holding the drumstick. This creative approach is extremely easy to follow along with. Every part of the grip is explained in detail.

How to find the balance point of your drumsticks to allow them to get the most natural rebound (vital for virtually all techniques associated with speed drumming).

Tips and suggestions for removing tension from your hands and wrists (which helps reduce the risk of serious injury, and extends drumming endurance).

A breakdown of matched grip, and how both hands are mirrored for this style of playing (the most commonly used grip today).

An in-depth look at traditional grip, including close-up shots and detailed explanations of exactly how to play this technique (and an overview of the pros and cons of using it).

How to perform the German or Germanic grip with the correct hand positioning, and 'relaxed feel' (includes video of the grip being used in a short mini-solo).

How to perform the American grip, and how it relates to the German grip previously covered. This section includes special multi-angle viewing to show the exact differences of this grip in detail (also includes video of the grip being used in a mini-solo).

How to perform the French grip, and how it relates to the German and American grips (includes a mini-solo with the grip being used).

A unique exercise that combines the three grip types (German, American, and French) in one complete stick grip warm-up.

An in-depth look at the free stroke with detailed explanation of how it makes full use of the natural rebound of the drumstick (includes slow motion video). The lesson also features a special exercise to assist in fully understanding the principles behind the free stroke.

A detailed break-down of the Finger Control Technique, what grip works best, and exactly how to perform it for maximum speed (includes two excellent exercises for developing the method while you watch TV or relax on the couch). Also covers tips for conserving energy, and improving overall control. This method is an absolute must for speed drumming!

Applications for using the Finger Control Technique around the drum set (excellent for coming up with unique drum beat and fill ideas).Great for speed drumming and faster solos.

Mike's blazing fast 'Flurry Fills' based on Finger Control

An explanation of 'the motions', and how they will benefit you.

A complete look at the tap stroke motion, and how it can improve your speed, dynamic drumming, and more. This section also includes important practice tips, and simple exercises.

An in-depth look at the full stroke motion, and tips on what to focus on when first developing it. (Includes examples of common mistakes many drummers make).

Complete training for the medium full stroke (aka half stroke) with simple examples and exercises.

A detailed breakdown of the down-stroke, and an explanation of how it ties in with other strokes to create dynamics (including exercises that tie in with the tap stroke).

Finally, an in-depth look at the up-stroke to round out the section and provide you with a complete set of motions for continuous dynamic drumming. This is one of most important motions, and can be used with the down-stroke in a wide variety of ways (including the moeller method).

Seven powerful exercises that combine all the strokes/motions inunique accented patterns to assist you in developing each motion correctly (including additional related exercises, and tips to save valuable practice time).

Ten beats that utilize the motions and demonstrate how they completely change the dynamic feel of a groove. These examples are excellent for drummers interested in applying the motions in their everyday drumming right away.

Ten unique drum fills with the motions being applied in both simple and complex forms to help you with creative fills.

An introduction to the Moeller Method (aka Moeller Technique), where it came from, and an overview of Mike's experiences while learning it. This section is incredibly revealing, and breaks through many of the misconceptions drummers have of this method.

A complete breakdown of the low Moeller. This includes multi-angle shots, slow motion footage, and very detailed explanations.

A detailed explanation of the half Moeller, some important exercises to ensure it is developed correctly, and warnings about common mistakes seen in drummers first learning this method. Also included are multi-angle shots, and a slow-motion demonstration.

Finally, the king of the power strokes, the full Moeller! This section includes advanced tips rarely taught, multi-angle shots, and once again - slow motion footage breaking everything down.

A powerful exercise for incorporating the three Moeller types. This is a great way to begin applying them on your kit right away.

A full-length drum solo titled 'Solo for Sanford' in which Mike Michalkow pays tribute to Sanford Augustus Moeller.

Advanced applications based around the single paradiddle, including a breakdown of this important drum rudiment, and how it can be played with the motions and the moeller method for truly amazing speed (an exciting section for speed drumming enthusiasts).

A full-length drum solo titled 'Paradiddle Madness' which is played entirely with this valuable drum rudiment. An excellent example of the speed, power, control, and endurance that can be achieved.

Bonus slow-motion video loops that are perfect for practice sessions in front of the TV. You can watch and imitate the material along with Mike for complete method mastery!

Musical Inspiration


Seven unique full-length Drum Solos performed by Mike Michalkow on his massive Yamaha drum set. An excellent source of ideas and inspiration for drummers of all skill levels.

Three professional Jam Tracks that Mike Michalkow performs along with (two used with permission from Yamaha, and the last with permission from Chuck Silverman).

Five complete Band Tracks performed by superstar musicians Mike Michalkow (drums), Cameron Peace (guitar), and Damian Erskine (bass). These tracks are both entertaining and educational!

Five Drum Gear Demos showing off some of Mike's favorite drum gear with detailed descriptions of the kits, cymbals, sticks, practice pedals, and tuning accessories that he prefers.

Extras - Including digital copies of all the sheet music exercises covered in the entire training pack, and slow motion video examples of drum techniques!

The Members Area

In addition to all the content, you will also get instant-access to all of the same great content through our online members area. You'll be able to stream all the video lessons, download the play-along songs, view or print the included sheet music, and connect with other students in the Moeller Method Secrets community.

This powerful resource makes it easy to access your lessons anytime from virtually anywhere. It's works on PCs, Macs, iPads, iPhones, Android devices, and other mobile computers that have an active Internet connection. Best of all, you get unlimited lifetime access to the Moeller Method Secrets members area, so you can enjoy the lessons for years to come.
Technical Specs
| | |
| --- | --- |
| Video: | 2.5 hours of video lessons |
| Online: | Lifetime access to all content |
| SKill: | From beginner to advanced |
Mike Michalkow has been teaching drums and percussion for more than 20 years, having studied under master drummers Dom Famularo, Jim Chapin, Chuck Silverman, Thomas Lang, John "JR" Robinson, Peter Magadini, and Virgil Donati.

He has a wealth of experience to draw from having played in various original and cover bands, working on a popular cruise line as the orchestra drummer, and recording with songwriters and bands with styles ranging from prog-rock, latin, jazz, blues, pop, folk, celtic, country, metal, and R&B.

Mike's comprehensive teaching methods have helped thousands of drummers around the world reach their goals, through his best-selling training packs including The Drumming System, Jazz Drumming System, Latin Drumming System, Moeller Method Secrets, and Total Rock Drummer.
Topics Include
Comprehensive training on traditional grip, matched grip, and all the key variations (German, American, and French grips).
Covers finger control technique, the motions, the tap stroke, the full stroke, the half stroke, the down stroke, and the up stroke.
Seven powerful exercises that combine all strokes and motions.
A complete breakdown of the moeller method (low, half, and full).
Inspirational solos and practical applications for the techniques.
Three professional jam tracks and five complete band tracks.