Build your foundation & improve your creativity on the drums
//player.vimeo.com/video/85364289
Only $

127
You can also order by phone toll-free at
1-800-439-8921 or directly at 1-604-855-7605.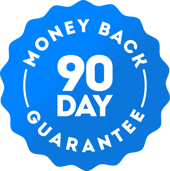 Your entire order is backed by
our 90-Day Money-Back
Guarantee.
Establish A Solid Foundation Get step-by-step lessons from Meytal Cohen to establish your foundation, master essential techniques, and improve your creativity.
Exclusive Play-Along Songs Apply everything you learn along to music with the drum tracks removed, so you can be the drummer.
100% Happiness Guaranteed We think you'll love these lessons, and that's why you can try them risk-free with our 90-day guarantee!
The Rock Drummer's Foundation

This section covers all of the essential information you need to become a solid rock drummer. You'll learn about holding the drumsticks, setting up your drums, using a metronome, the basic note values, reading sheet music, and playing beats and fills.

It is recommended that you start at the beginning, even if you already have some experience on the drums, because it will ensure you have a solid foundation for all of the future lessons.

The Rock Drummer's Techniques

Now that you've established a solid foundation it's time to learn fundamental techniques and concepts that are popular within rock drumming. The lesson topics include: ghost notes, double bass, playing accented notes, finger technique, drum rudiments, developing independence, and building speed.

These lessons will unlock entirely new options for you, so that you can be more creative and dynamic when playing the drums.

The Rock Drummer's Beat Library

In this section, Meytal demonstrates the beginner, intermediate, and advanced beats that are notated in the companion workbook. These unique patterns were developed by Meytal as she began to establish her own unique drumming style.

It is recommended that you wait until you can play each beat at the demonstrated tempos before moving on to more complex patterns.

The Rock Drummer's Fill Library

In this section Meytal demonstrates her favorite beginner, intermediate, and advanced fills. They are also notated out in the companion workbook, Each pattern is performed starting with a beat, transitioning into the fill, and then returning back to the beat - as you would use them in a song.

As with the beats, it's recommended that you wait until you can play each individual pattern at the demonstrated tempos before moving on.

The Rock Drumming Play-Alongs

Once you have established a solid foundation, learned the essential techniques, and mastered some of Meytal's favorite beats and fills - it's time to apply your skills with fun play-along songs.

This section includes five original songs. You can start by watching Meytal demonstrate them on video and then use the drum-less audio tracks to jam along to them on your own!

The Workbook

The Maximum Meytal experience also includes a companion workbook that you can use to follow along with the video and audio content. Everything is organized based on the module sections, so you can easily find the beats, fills, and interactive worksheets that are referenced in the training videos.

The Members Area

In addition to all 5 modules, 5 songs, and the workbook, you will also get instant-access to all of the same great content through our online members area. You'll be able to stream all the video lessons, download the play-along songs, view or print the included sheet music, and connect with other students in the Maximum Meytal community.

This powerful resource makes it easy to access your lessons anytime from virtually anywhere. It's works on PCs, Macs, iPads, iPhones, Android devices, and other mobile computers that have an active Internet connection. Best of all, you get unlimited lifetime access to the Maximum Meytal members area, so you can enjoy the lessons for years to come.
Technical Specs
| | |
| --- | --- |
| Video: | 4 hours of video lessons |
| Audio: | 5 play-along songs |
| Books: | 98 page workbook |
| Online: | Lifetime access to all content |
| SKill: | From beginner to advanced |
Meytal Cohen was born in Israel. She is the youngest of seven children with four sisters and two brothers. Her father passed away when she was in the second grade, so her mom raised all seven children. They would eventually become doctors and lawyers - except for Meytal.

At 18 years old she started playing drums shortly before being drafted into the Israeli Defence Force. She served the mandatory two years. In reflection, she says 'I met some of the best friends I'll ever have, but as a whole I'm looking forward to world peace and to love all living things'.

Meytal moved to LA to pursue a career in music at the age of 21. She attended the LA Music Academy and began to study drumming. Unfortunately, while attending school, she broke her back in a car accident. She had to wear a back brace for six months and returned to Israel during the healing process. But, she returned within a year and graduated.

She spent the next few years taking on small gigs while focusing on practicing along to her favorite music in her spare time. Nothing came easy. She was just trying to make a living.

Her big break came when she teamed up with two friends to film an electric violin version of Toxicity by System Of A Down. It was to be an audition tape for America's Got Talent, but it ended up having far greater success on YouTube. As a result, Meytal continued to upload videos. Today she has over 430,000 subscribers and well over 75,000,000 video views on YouTube. In addition, she has nearly half a million fans following her on Facebook.
Topics Include
5 step-by-step training modules, 5 play-alongs, and 1 PDF workbook
The Rock Drummer's Foundation, The Rock Drumming Techniques, The Rock Drummers Beat Library, The Rock Drummers Fill Library, and The Rock Drumming Play-Alongs
Four-way split screen video ensures you see everything
On-screen sheet music with a blue bar marking progress
Drum-less play-along songs with and without a metronome