Better Hand Technique, More Groove Ideas, & More Creative Drum Fills
//player.vimeo.com/video/292145073
$29.99 $

19.99
Save 33%
You can also order by phone toll-free at
1-800-439-8921 or directly at 1-604-855-7605.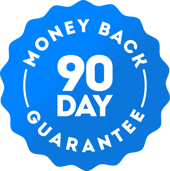 Your entire order is backed by
our 90-Day Money-Back
Guarantee.
Study With Pat Petrillo Veteran NYC Drummer, Acclaimed Drum Educator, & Designer of the Drumeo P4 Practice Pad.
Drumeo Interactive Edition The famous Hudson Music DVD has been reformatted for a world-class digital, interactive experience.
100% Happiness Guaranteed We think you'll love these lessons, and that's why you can try them risk-free with our 90-day guarantee!
Hands, Grooves, & Fills is a complete curriculum for developing technique, groove ideas, and a drum fill vocabulary.

Hands: Petrillo demonstrates his exercises and methods for developing smooth, relaxed hand technique, endurance and coordination. He also demonstrates all of the standard rudiments with modern interpretations, and shows you how to put them into musical phrases using his groundbreaking "Rudiment TAB System".

Grooves: Music is all about the groove, and Petrillo demonstrates how to develop bass drum technique and ghost note ideas, while having FUN with over 50 play along tracks featuring a great band of New York's finest musicians in the groove styles of Rock, R&B, Jam Band, New Orleans Funk, Fusion, Drum n' Bass and many more.

Fills: Creating fills is always a challenge, and Pat shows his methods of orchestrating 16th notes, sextuplets and numerous rudiment stickings into creative, awesome sounding fills. If you are lacking a fill vocabulary, or always wanted to learn killer fills, PAT BREAKS IT ALL DOWN!

This video pack also comes with a 52 page workbook.

All sheet music features Drumeo SmartBeat Sheet Music for playing or pausing the notation, speeding up or slowing down the exercises, and creating loops to improve your learning experience. You'll also get online access to Drumeo features like progress tracking, video commenting, and community forums where you can connect with students and teachers from around the world.
Technical Specs
| | |
| --- | --- |
| Publisher: | Hudson Music, 2007 |
| Video: | 175 minutes |
| Online: | Lifetime access to all content |
| Skill: | All Levels |
Pat Petrillo is one of today's most prolific drummers. Whether it's a deep pocket funk groove or a fiery fusion fill, Petrillo can bring it all together with musicality, finesse, and uncanny technical ability.

He has performed and recorded with R&B legends Gloria Gaynor and Patti LaBelle, Pop/Rock artists Glen Burtnik and Patty Smyth, and jazz artists Ed Hamilton and Gerald Veasley -- as well as playing the original Broadway productions A Chorus Line, Grease, and Footloose.

Petrillo has served as a faculty member at the Drummer's Collective in New York City and has served as a regular educational contributor to Drumeo, Drummerworld, and Modern Drummer Magazine.
Topics Include
Hand Technique & Coordination
Rudiment TAB System
Bass Drum Technique
Ghost Notes
Groovalations, Nastifications, & Swingalations
Linear Grooves
Drum Fills using the drag.
Drum Fills using the six stroke roll.
Drum soloing
Stick Tricks