//player.vimeo.com/video/85769526
Only $

27
You can also order by phone toll-free at
1-800-439-8921 or directly at 1-604-855-7605.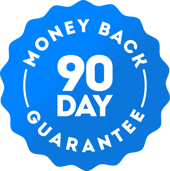 Your entire order is backed by
our 90-Day Money-Back
Guarantee.
Detailed Video Lessons The Drum Tuning System gives you tips for cleaning, tuning, and maintaining your drums so you can get the most value out of your kit!
Make Your Drums Sound Better The better your drums sound, the better you will sound when you play them! You'll learn how to tune your drums for any situation.
100% Happiness Guaranteed We think you'll love these lessons, and that's why you can try them risk-free with our 90-day guarantee!
Module 1

Drum Set Maintenance - This section includes information about polishing your drums, cleaning your cymbals (with advanced tips on how to deal with different types), and keeping your single and double bass drum pedals in perfect working condition!

Changing Your Drumheads - Here you will learn how to change drumheads for each type of drum individually. Mike covers the snare drum, bass drum, and tom-toms each individually - with special drum-specific tips to be sure you get the best results from each drum!

Snare Drum Tuning - Mike explains exactly how to tune this important drum to be sure you get a perfect crack each and every time. He covers the top and bottom drum heads, the snare wires, and the snare throw-off. You'll learn how to adjust each of these components to get the best results!

Bass Drum Tuning - This section includes specialized information about bass drum tuning. Mike explains several advanced concepts to ensure you get great tone from this booming drum. He explains a variety of adjustments that will allow you to change the sound of this drum to suit your needs.

Tom-Tom Tuning - Mike wraps up the basic tuning section with specialized tips about tom-tom tuning to ensure you get great tone from all the toms in your set. It doesn't matter if you have two, three, four, or even 5+ toms in your drum set. This section will show you exactly how to make them sound great all together!

Module 2

Tuning for Rock Music - This section includes important tips and tricks on how to tune your drums for various rock drumming situations.

Tuning for Latin Music - Here Mike explains the adjustments needed for playing along with a variety of Latin music styles.

Tuning for Jazz Music - Mike shows exactly how to get a kit ready for swinging along with some fun Jazz tunes.

Studio Drumming Tips - This lesson includes advanced tips for drummers that are interested in studio drumming. Mike walks you through essential information you will need to know long before you go into any recording gig!

Drum Tuning Troubleshooting - Important tips for dealing with unique tuning situations. Mike explains how to troubleshoot odd situations to come up with quick solutions!

Drum Muffling Techniques - Mike explains a wide variety of drum muffling options that you can use to tweak the sound of your drums. Always remember, muffling is never a solution to poor tuning, but is a way to enhance great tuning!

The Members Area
In addition to all the content, you will also get instant-access to all of the same great content through our online members area. You'll be able to stream all the video lessons, download the play-along songs, view or print the included sheet music, and connect with other students in the Drum Tuning System community.

This powerful resource makes it easy to access your lessons anytime from virtually anywhere. It's works on PCs, Macs, iPads, iPhones, Android devices, and other mobile computers that have an active Internet connection. Best of all, you get unlimited lifetime access to the Drum Tuning System members area, so you can enjoy the lessons for years to come.
Technical Specs
| | |
| --- | --- |
| Video: | 4 hours of video lessons |
| Online: | Lifetime access to all content |
| SKill: | From beginner to advanced |
Mike Michalkow has been teaching drums and percussion for more than 20 years, having studied under master drummers Dom Famularo, Jim Chapin, Chuck Silverman, Thomas Lang, John "JR" Robinson, Peter Magadini, and Virgil Donati.

He has a wealth of experience to draw from having played in various original and cover bands, working on a popular cruise line as the orchestra drummer, and recording with songwriters and bands with styles ranging from prog-rock, latin, jazz, blues, pop, folk, celtic, country, metal, and R&B.

Mike's comprehensive teaching methods have helped thousands of drummers around the world reach their goals, through his best-selling training packs including The Drumming System, Jazz Drumming System, Latin Drumming System, Moeller Method Secrets, and Total Rock Drummer.
Topics Include
Tips for tuning snare drums, bass drums, and toms.
Special adjustments for rock, jazz, and Latin gigs.
Advice for drum set maintenance, muffling, and more.
Tips and tricks for recording drums in a studio.