Boost your drumming by mastering the 40 rudiments
//player.vimeo.com/video/85564678
Only $

147
You can also order by phone toll-free at
1-800-439-8921 or directly at 1-604-855-7605.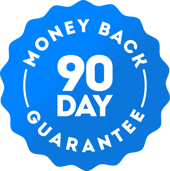 Your entire order is backed by
our 90-Day Money-Back
Guarantee.
Unlock Your Full Potential More than 13 hours of detailed step-by-step training to help you learn and apply all 40 drum rudiments.
Expand Your Beats & Fills Discover how to use hybrid rudiments to come up with thousands of unique beats and fills.
100% Happiness Guaranteed We think you'll love these lessons, and that's why you can try them risk-free with our 90-day guarantee!
The Beginner Module
This section is designed to introduce you to the Drum Rudiment System, improve your hand technique, and introduce you to all forty drum rudiments. Lionel starts out by giving you special practice tips and tricks that will enable you to move through the contents of the training modules with greater ease. Then, he gives detailed information about stick grips to be sure you are playing with the best technique. Finally, he goes through the basics of all 40 rudiments.

Each individual drum rudiment is first demonstrated on the practice pad. This is where Lionel explains each pattern in great detail, so you can understand exactly how to play the rudiments like they were meant to be played. Next, you get the opportunity to see the pattern played from three separate camera angles in slow motion. This helps you memorize the sound of the pattern, so it comes more naturally for you in practice. Finally, Lionel takes each rudiment to the drum set to demonstrate it on the snare drum, within two beginner drum beats, and within two beginner drum fills. All of these examples are demonstrated with four camera angles, sheet music on-screen, and at regular and slow-motion speeds.

As a special bonus, Lionel has also included some excellent drum warm-ups, practice tips, and footage of some of his creative snare-drum solos at the end of the beginner module. In total, this section includes 5 hours of video content and 45+ pages of detailed training material in the spiral-bound workbook.

The Intermediate Module
The intermediate section is designed to take everything a step further. It is jam packed with more tips and tricks, and all-new new applications!

You'll learn about 'the motions' and how they are to be incorporated into the rudiments to improve your overall speed and control. You'll also get some more information about stick grips, and some unique exercises to improve your accents and flam strokes. This invaluable information is what sets Lionel apart from other drummers, and he freely passes on all of his secrets in these revealing lessons.

When you are ready to learn more beats and fills, you can jump to the intermediate applications. Lionel revisits all 40 drum rudiments, giving you two new intermediate drum beats, and two new intermediate drum fills based on each rudiment. These patterns include the same special playback features as the applications in the beginner section. This means, all examples are shown from four separate camera angles, with sheet music on-screen, and playback at regular and slow-motion speeds. As the patterns become more complex, this unique training system becomes more and more valuable.

The modules include some bonus content including a special look at the 'towel technique', and another creative snare-drum solo from Lionel Duperron. In total, the intermediate section includes over 4 and a half hours of video content and 65+ pages of training material in the spiral-bound workbook.

The Advanced Module
The advanced section really takes the drum rudiments to a whole new level. This material is designed for motivated drummers that really want to push the envelope, and take their drumming to the extreme limits of what can be played.

Lionel starts by reviewing stick grip and finger techniques with some fresh insights into how you can continue to improve upon these important fundamentals. As with the tips in the intermediate section, this material is extremely valuable. Lionel has done a superb job of compiling valuable insights to deliver such a comprehensive training package.

As with the previous sections, the advanced pack also includes all-new applications based around the rudiments. You will find two advanced drum beats, and two advanced drum fills for each and every drum rudiment. Some of these are extremely challenging, and are sure to push your drumming to the limits. As expected, these video lessons also make use of the unique multi-angle training system that makes learning easy.

The training videos also feature additional bonus material including some special exercises, drum set solos, drum set & cymbal advice, an overview of drumsticks and practice pads, and a special in-studio interview with Lionel. All together, the advanced section includes over 4 hours of video content and 65+ pages of training material in the workbook.

The Workbook
The new Drum Rudiment System Expansion Pack is also included. It covers many related topics that compliment the material included in the Drum Rudiment System.

Modified Hybrid Rudiments - Over 120 modified hybrid rudiments that will expand your library of beats and fills even further! This rudiment pack will show you a variety of rudiments that build on top of the original 40. Lionel also talks about mixing the hybrid rudiments with the standard 40 to come up with thousands of unique patterns.

21 Steps To Becoming A Working Drummer - Stop playing drums as just a hobby, and start drumming for a living! With this downloadable workbook, you will get 21 tips on how to become a working drummer.

Encyclopedia Of Drum Terms - A detailed encyclopedia of terms strictly related to drumming, percussion, and rhythm. It's a valuable resource for any drummer.

The Members Area
In addition to all 13 hours of video, and the workbooks, you will also get instant-access to all of the same great content through our online members area. You'll be able to stream all the video lessons, download the play-along songs, view or print the included sheet music, and connect with other students in the Drum Rudiment System community.

This powerful resource makes it easy to access your lessons anytime from virtually anywhere. It's works on PCs, Macs, iPads, iPhones, Android devices, and other mobile computers that have an active Internet connection. Best of all, you get unlimited lifetime access to the Drum Rudiment System members area, so you can enjoy the lessons for years to come.
Technical Specs
| | |
| --- | --- |
| Video: | 13 hours of video lessons |
| Books: | 231 page workbook |
| Online: | Lifetime access to all content |
| SKill: | From beginner to advanced |
Lionel Duperron is a focused musician and an extremely affable and knowledgeable teacher with over 25 years of professional experience, Lionel Duperron is as passionate about teaching as he's dedicated. Proficient with every genre of drumming, he achieved worldwide acclaim with his fresh approach to teaching rudiments musically on FreeDrumLessons.com and DrumLessons.com, as well as with two popular instructional programs: the "Drum Fill System" and the "Drum Rudiment System".
Topics Include
All 40 drum rudiments covered in step-by-step detail
Practice pad and kit applications shown in slow-motion
Includes multi-angle video and on-screen sheet music
Beginner, intermediate, and advanced applications