Groove, Musicality, & Technique
//player.vimeo.com/video/292144401
Only $

29.99
You can also order by phone toll-free at
1-800-439-8921 or directly at 1-604-855-7605.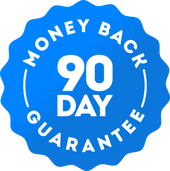 Your entire order is backed by
our 90-Day Money Back
Guarantee.
Study With Aaron Spears Drummer for mega-platinum superstars including Usher, Ariana Grande, and Carrie Underwood.
Drumeo Interactive Edition The famous Hudson Music DVD has been reformatted for a world-class digital, interactive experience.
100% Happiness Guaranteed We think you'll love these lessons, and that's why you can try them risk-free with our 90-day guarantee!
Beyond The Chops gives you a unique masterclass experience, showcasing Aaron Spears' phenomenal drumming that critics, fans, and even his peers have described as "beyond category".

This 3-hour program offers amazing performances, enlightening educational segments, and revealing interviews as Spears displays his natural talent, incredible groove, and deep skills in a set of performances with Gospel, R&B, Motown, rock, shuffle, and odd-meter tracks. You'll get an in-depth look at his exceptional ability to combine a wide range of musical genres and influences into a seamless, powerful, new style of drumming.

Spears also hosts a Q&A session in front of a masterclass and then sits down with drumming icon Jojo Mayer for a candid interview covering everything from his gospel roots to his recent work with Usher, the Backstreet Boys, and the American Idol tour. You'll gain insights into the unique rhythmic vocabulary he has created with many of the grooves and fills transcribed in an accompanying 21-page workbook.

All sheet music features Drumeo SmartBeat Sheet Music for playing or pausing the notation, speeding up or slowing down the exercises, and creating loops to improve your learning experience. You'll also get online access to Drumeo features like progress tracking, video commenting, and community forums where you can connect with students and teachers from around the world.
Technical Specs
| | |
| --- | --- |
| Publisher: | Hudson Music, 2009 |
| Video: | 187 minutes |
| Online: | Lifetime access to all content |
| Skill: | All Levels |
Aaron Spears is a two-time winner of the "Best R&B Drummer" award in the Modern Drummer Readers Poll -- and his "in the pocket" style of playing and authentic delivery is unparalleled in the world of drummers today.

His playing style has given him the opportunity to perform with some of the most popular musicians on the planet including Usher, Ariana Grande, Carrie Underwood, Britney Spears, Chamillionaire, the Backstreet Boys, James Brown, Alicia Keys, Adam Lambert, Jordin Sparks, Lil Wayne, Miley Cyrus, and many more.
Topics Include
Shuffle variations.
Grooves and fills.
Bass drum pedal technique.
Hand-to-foot combinations.
Drum fill orchestration.
How to develop a sense of time.
Coming up with new ideas on the drums.
Modern drum beats.
Technique and setup.
Creativity in drum solos.