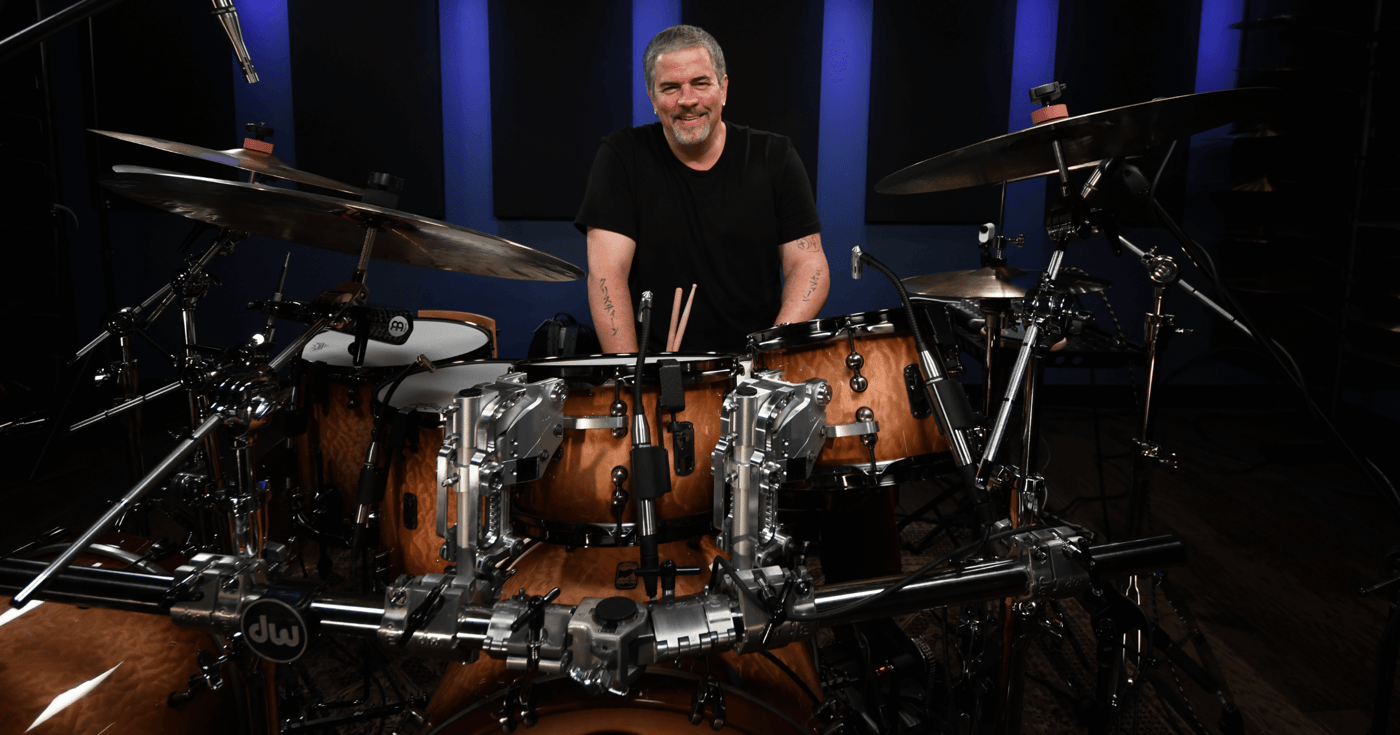 If you saw Russ Miller's 'Triple Your Hand Speed In One Day' video, you're really going to enjoy this one. And many of the techniques he shows on the hands transfer to your feet!
Most new drummers – and even many experienced drummers – have trouble playing double strokes or quick patterns on the bass drum pedal. And even if you're able to get the motion you want, you might not get the sound you want.
The following tips will help you achieve pro-tier speed and dynamics using what you already know. All you need to change is how you approach movement and the placement of the beater.
If you aren't familiar with the term 'burying the beater', it refers to leaving the beater 'pushed into' the bass drum head after playing a note and before playing another one.
Digging the beater into the head not only changes the sound of your bass drum hits, but it only allows you to play one note with two movements: one to push the beater forward, and one to pull it back.
Instead, if you let the beater bounce back right after the first hit, it's now in the position to play a second note – and it only takes one movement. This is known as the 'continuous motion technique' commonly taught by Moeller advocates like Jim Chapin and Freddie Gruber and used by modern drummers like Steve Smith, Steve Gadd and Jojo Mayer.
A great way to practice (and see if you're doing it right or not) is to try this with your bass drum foot on the hi-hat pedal. You want to splash the hi-hat with every hit (where it rings out instead of 'chicking' closed). After you play the first (downstroke) note, use your ankle with your heel down to play a smaller (tap) note. Then play one more note as you roll your foot back up (up stroke). You're now playing three notes with one leg movement.
Again, every hit should splash the hi-hats. If it doesn't, you're still using the bury-the-beater motion, which isn't what you want. Try to get your beater to come back to the same position every time.
Keeping the beater in continuous motion prepares you to play the next note. There's no stopping at the head that forces you to restart the movement. If you're playing double bass, use the same technique on your left foot.
If this video doesn't help you immediately triple your foot speed, you're the perfect candidate for a free 10-day course called The Fastest Way To Get Faster. Enter your email below to get started!
Exercise 1
Just like the exercise recommended for the hands, you'll play groups of 3, 6, 9, and 12 on each foot. Start with 3 down-tap-ups on one foot, then 3 down-tap-ups on the other foot. Then do it 6 times on the right foot, then 6 on the other foot, and then move to 9 and 12. Practice this slowly with a metronome.
Exercise 2
Since most drummers are more likely to be playing duple-meter figures (groups of 2 notes), just remove the ankle tap so you have a down stroke followed by a roll up. Put on 8th notes on the metronome – starting at 65 or 70 BPM – and practice groups of two, accenting each downbeat only. Then practice groups of two where you only accent the upbeats by reversing the technique (roll your foot up first, then bring it down). If you do this every day, imagine where you'll be in 90 days!
To take this even further, try switching between your hands and feet. Remember to focus on dynamics once you've nailed the motions. You'll find that this technique make it much easier to play multiple notes in a quick sequence with much less effort.
For more lessons like this, check out Russ' course 'Building Open-Ended Facility On The Drums' on Drumeo Edge!
SHARE THIS: