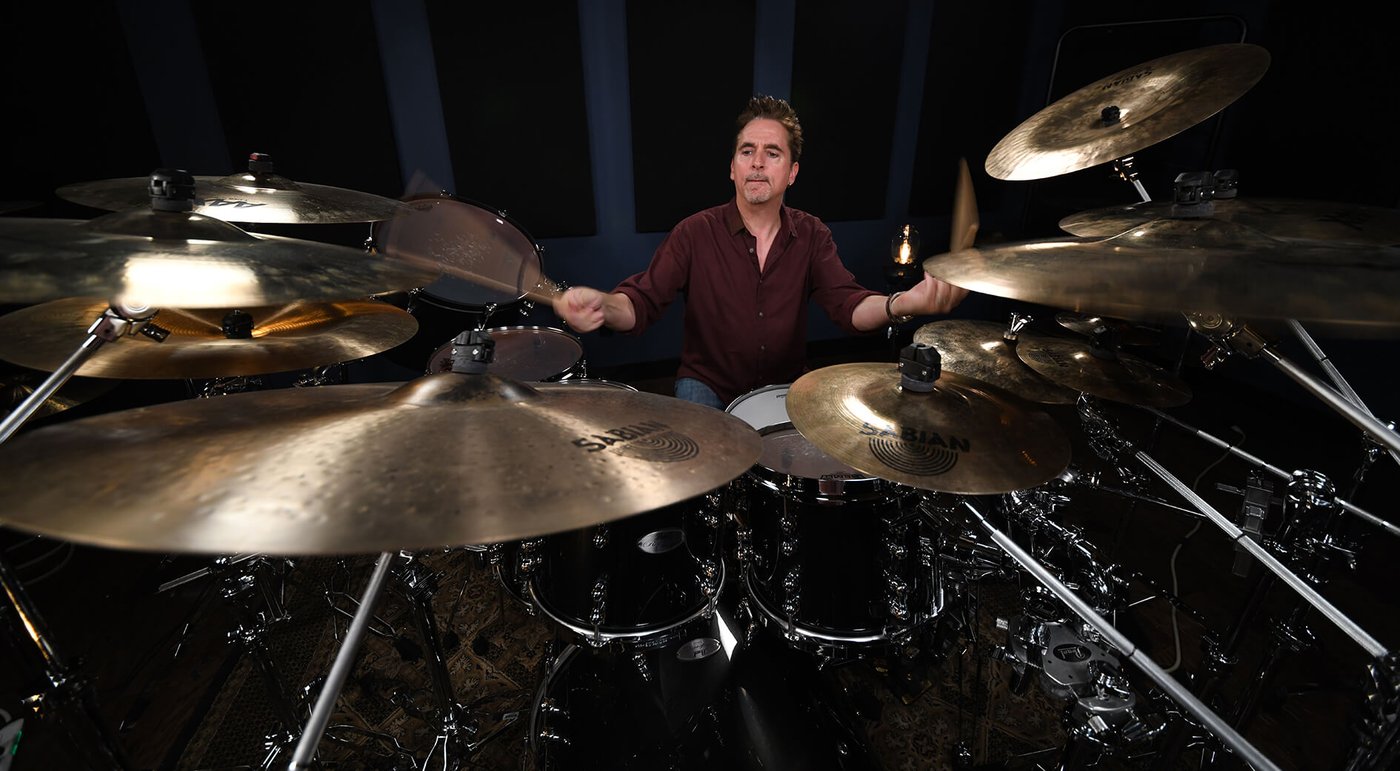 As a drummer, Todd Sucherman is in a band with a fitting name: Styx. Har har…had to do it. On a more serious note, the Styx throne has only been held by two individuals in the forty-six years that the band has been around: the original drummer, John Panozzo, and of course Todd Sucherman. That is serious rock drumming royalty to behold right there.
This interview was captured the day after the cold and rainy helicopter mountain shoot that many of you have seen on YouTube. The video shoot was in an effort to promote Todd Sucherman's Rock Drumming Masterclass and do something that has never been done before.
Imagine…you already play with Styx, you're publicly known as a total badass player, you have been recognized numerous times for your many contributions of excellence in the art of drumming, and then some crazy Canuck suggests you fly in a helicopter with a massive drum kit to play on top of a mountain while being recorded and filmed. "A charmed life", I believe is how Todd put it.
In addition to drumming for Styx, Todd is also a clinician, session player, and responsible for multiple award-winning video pack series Methods and Mechanics. In 2018 Todd was awarded the title of "#1 Progressive Rock Drummer" and "#1 Recorded Performance" for "The Mission" (Styx).
Beyond Todd's outstanding playing, he is also an incredible hang. I can see why people want him around. He's clear, direct, intentional, smart, funny, and there is a certain intensity to him that is nice to be around. I had an amazing time visiting with Todd, Dave, Jared, Victor, Taylor and the rest of the team at Drumeo while I was there. Getting to have that time with such a revered musician is something very special. It was the best way to reintroduce this podcast that I and many of you have grown to love.
So I want to give all of my past listeners a big "high five!" It's great to have you back! I also want to welcome new listeners to this show. Thanks for checking this out! I love hearing from listeners, and I will always try to get back to everyone, but please write into the show to share your thoughts, experiences, and in general any feedback or suggestions to seamus.evely@gmail.com.
Alright, let's get into this!
What we talked about:
Fresh in his mind, Todd talks about the BC mountain video shoot.

Todd talks about his philosophy on the good and bad cards that we are dealt when we are born and the cards that show up later in life.

The daisy chain of small opportunities can lead to big ones. Todd shares a personal story relating to this.

Todd talks about the night when he asked other students at Berklee when the penny dropped for them that they would actually become a musician. Todd goes on to explain that he never had to give it thought. He always knew.

We discuss Todd's upbringing in a musical family and how that nurtured him into a life of music.

Did you know that Steve Smith wrote a six-and-a-half page response after Todd reached out when he was a kid? Todd reflects on the impact this letter had on him, some of the memorable contents, and why he feels it is important to pass that same feeling onto other young students.

After we reflected on Steve's letter, we got into a story about Elvis and a costume that illustrates how the universe reveals unbelievably coincidental circumstances when we follow our path in life. Maybe it isn't a coincidence at all, but it is the kind of thing that makes us wonder "how in the hell…?"
It is widely known that Todd has been playing with Styx for twenty odd years now, but he is not the original drummer. Todd explains what it was like stepping into the role after tragedy struck, causing Styx to lose their bandmate, friend, and brother, John Ponazzo.

There were two concerts/tours that really stuck out to me in my research. One was the concert where Styx played with over 100 school children from the Cleveland Contemporary Youth Orchestra, directed by Liza Grossman. The other was when Styx did a tour (around 26 shows) in 2010, where they played Styx albums "Pieces of Eight" and "The Grand Illusion" back to back. I had to know more about how each of those musical experiences was like for him. Todd's answers may surprise you…

Todd is a father. I had to know more about how he balances his work life with his family life.

Todd shares some thoughts on the balance between having good business sense and a creative passion. They both need to exist with today's modern musician. I bring up a thing I found about a sour deal that Todd had to deal with when he released Methods and Mechanics.
Follow Todd:
Website
Instagram
Facebook
Follow Drumeo Gab:
Instagram
Facebook
SHARE THIS: