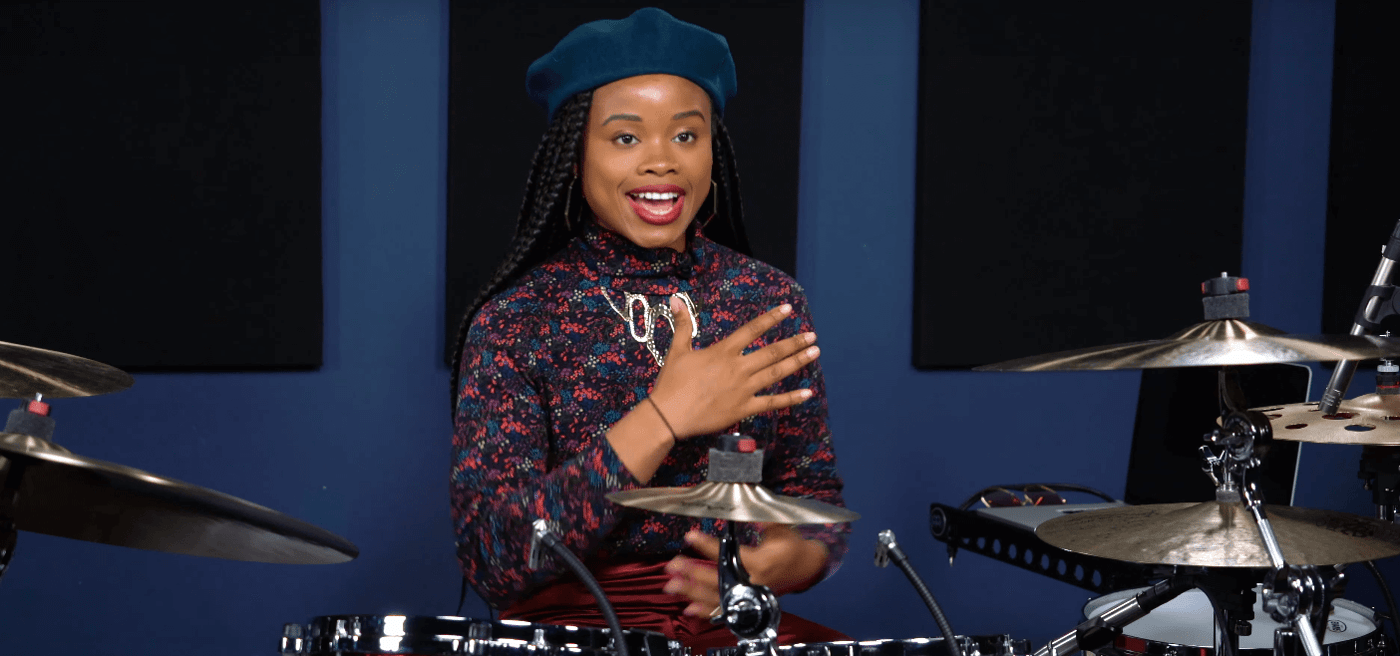 As musicians, we're all influenced by the music we listen to, even if we aren't consciously trying to learn a drum part. Taylor Gordon – aka "The Pocket Queen" – talks about five songs that changed her drumming, and demonstrates her favorite sections of each song.
Learning songs changed the game for The Pocket Queen and it can make you a better drummer, too! Drop your email below to get free note-for-note sheet music + handy playback tools for 40 of drumming's biggest anthems.
Check out Taylor Gordon's top five:
1. "Where Are You Going?" – Dave Matthews Band
"Carter Beauford is one of my favorite drummers in the world. He's more than a drummer; he's a composer. The parts he came up with in this song gave the music a new identity. It opened up my creativity at a very young age, and the possibilities on the drum set and how influential it is to the music. He doesn't just keep the time, but also pushes the song forward. linear drumming and methods I still use today. Drummers play such a vital part of the development of the composition."
 
2. "What A Fool Believes" – Doobie Brothers
"I'm old school and love rock music. My dad brought me up on Doobie Brothers. This is one of the first songs I ever played outside of church. It's simple – just a backbeat – but it laid a foundation for what I truly loved about drumming and the purpose of it. The main thing I do love is the simplicity of the drum part while all the other components are moving around it. So many different colors are being created while the backbeat remains consistent."
 
3. "Cissy Strut" – The Meters
"As a New Orleans girl, this is a personal favorite. One of the most interesting things about this groove is there's a bit of a debate over whether it's played straight or swung. Zigaboo has a way of playing behind the beat but still being in the pocket. It creates an interesting feeling. It's influenced by cajun culture and it influenced me to pick up those habits."
 
4. "777-9311" – Morris Day and the Time
"This song was programmed with the LinnDrum machine. There are some complex layers and an unorthodox groove. Rumor has it that in the process of programming these drums, they got misplaced and they ended up liking it so much they never fixed it. I heard the song so many times growing up. It was so intimidating to me, I never took the time to really learn the pattern. I finally broke it down and it took me a good, solid four hours. When playing this groove, it's helpful to have your internal clock already going, and really feel the 16th notes in your body. My main method is always to start at a slow tempo to help you not only figure out the parts but have a better grasp of the feel, the rhythm, the pocket of the song."
 
5. "Message In A Bottle" – The Police
"I'm a huge fan of alternative rock music. I love the Police and Stewart Copeland. The main reason why this song influenced my playing so much is because I feel like – once again – the drummer took the reins as far as being not only a timekeeper but a composer on the record. In the first verse, he takes more of a rock approach. By the time we get to the second verse, he's in more of a roots, reggae vibe. It's constantly graduating into this larger and larger groove and it really highlighted how a song is supposed to gradually build, and how responsible we as drummers are for making that happen (or creating more of a place for that to happen). Drummers have so much power to take a record to a new place and a new dimension. It's something I've taken with me in terms of being a drum composer."
 
What are your top five songs and how have they influenced your drumming?
About Taylor:
Taylor Gordon is a professional drummer and Berklee graduate based in Los Angeles. She has shared the stage with major artists including Beyonce, Musiq Soulchild, Robert Glasper, Tye Tribbett, Michelle Williams and Stevie Wonder, and musically directed performances for American Idol Winner Candice Glover, Recording artist Ravaughn, and television personality Wayne Brady. Taylor endorses Paiste Cymbals and Vater Percussion. When she isn't performing, she produces music for both independent and major label artists.
Follow Taylor:
Facebook
Instagram
YouTube
Patreon
 
SHARE THIS: