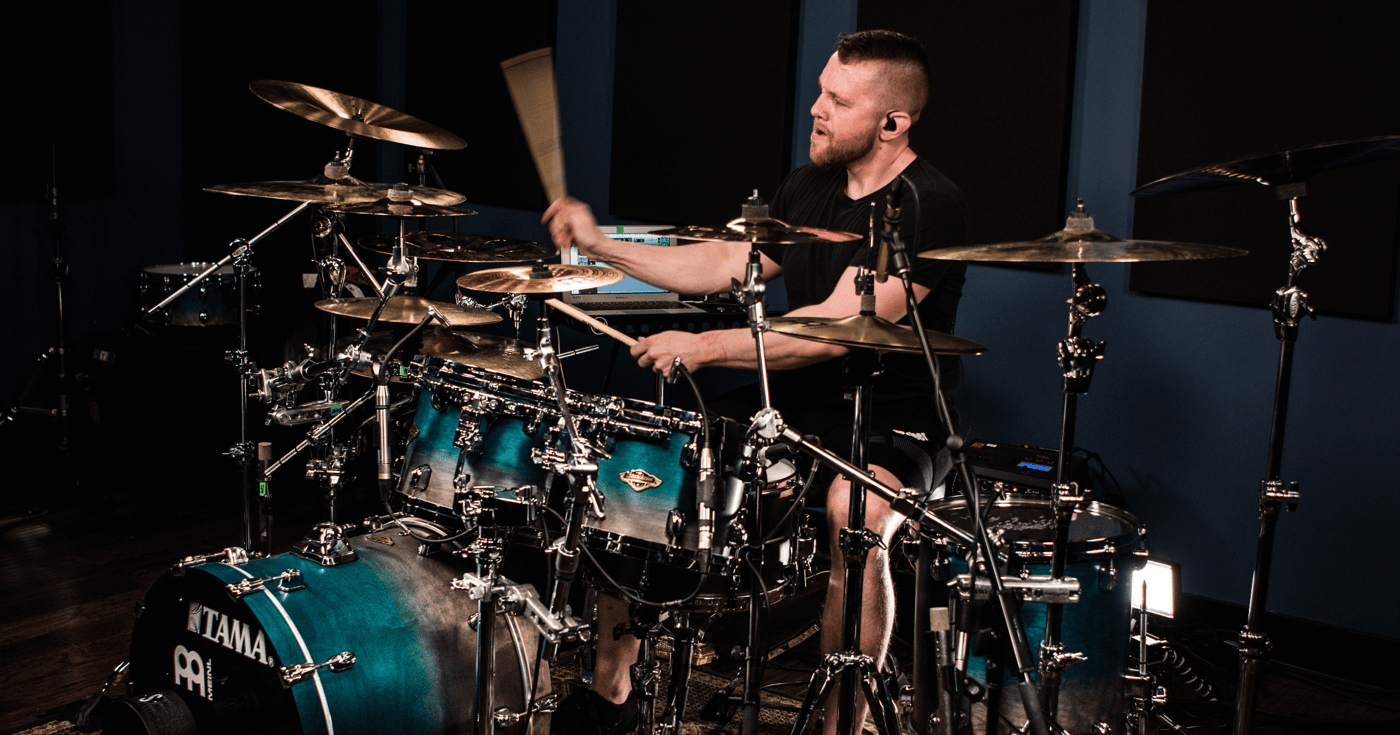 Drumming is as much mental as it is physical. If you're in a negative headspace, playing can be a much needed distraction as well as a great outlet for negative feelings.
Alex Rüdinger is a drummer known primarily for his work with metal bands like Intronaut, Whitechapel, and Revocation. In this important lesson, he talks about how drumming and mental health are related, how he's been able to take his experiences with anxiety and depression and use them in positive ways to push his drumming, and how routine can get you into a good mental zone.
If you've ever dealt with similar issues – or know what it's like to be impatient or hard on yourself – you definitely don't want to miss this lesson. Drumming has "really made me a better version of myself than any other career path could've done for me."
Lesson Index:
0:00 – SONG: "Brimstone" by Whitechapel
3:36 – Introduction
7:22 – How drumming can help your mental state
11:00 – Alex's warm-up routine
16:17 – Writing an album during a challenging mental period
21:39 – SONG: "Tripolar" by Intronaut
28:28 – Getting outside of your comfort zone
31:36 – Advice for beginners: Be patient and go easy on yourself
36:44 – What it means to listen to music
42:47 – How to be productive when you're mentally exhausted
48:55 – Advice for drummers struggling with mental health
51:42 – SONG: "Third Depth" by Whitechapel
55:50 – Q&A
About Alex:
Alex Rüdinger is an incredible metal drummer whose first big break came at the age of 18 when he was able to secure the drum chair for Threat Signal. Since then, Alex has played with bands such as Good Tiger, The Faceless, The HAARP Machine, Conquering Dystopia (featuring Jeff Loomis, Alex Webster, & Keith Merrow), Whitechapel, Intronaut, Revocation, Monuments, Evan Brewer, Ordinance, War Of Ages, and Cognizance.
Alex plays:
Tama Drums
Meinl Cymbals
Evans Drumheads
SHARE THIS: