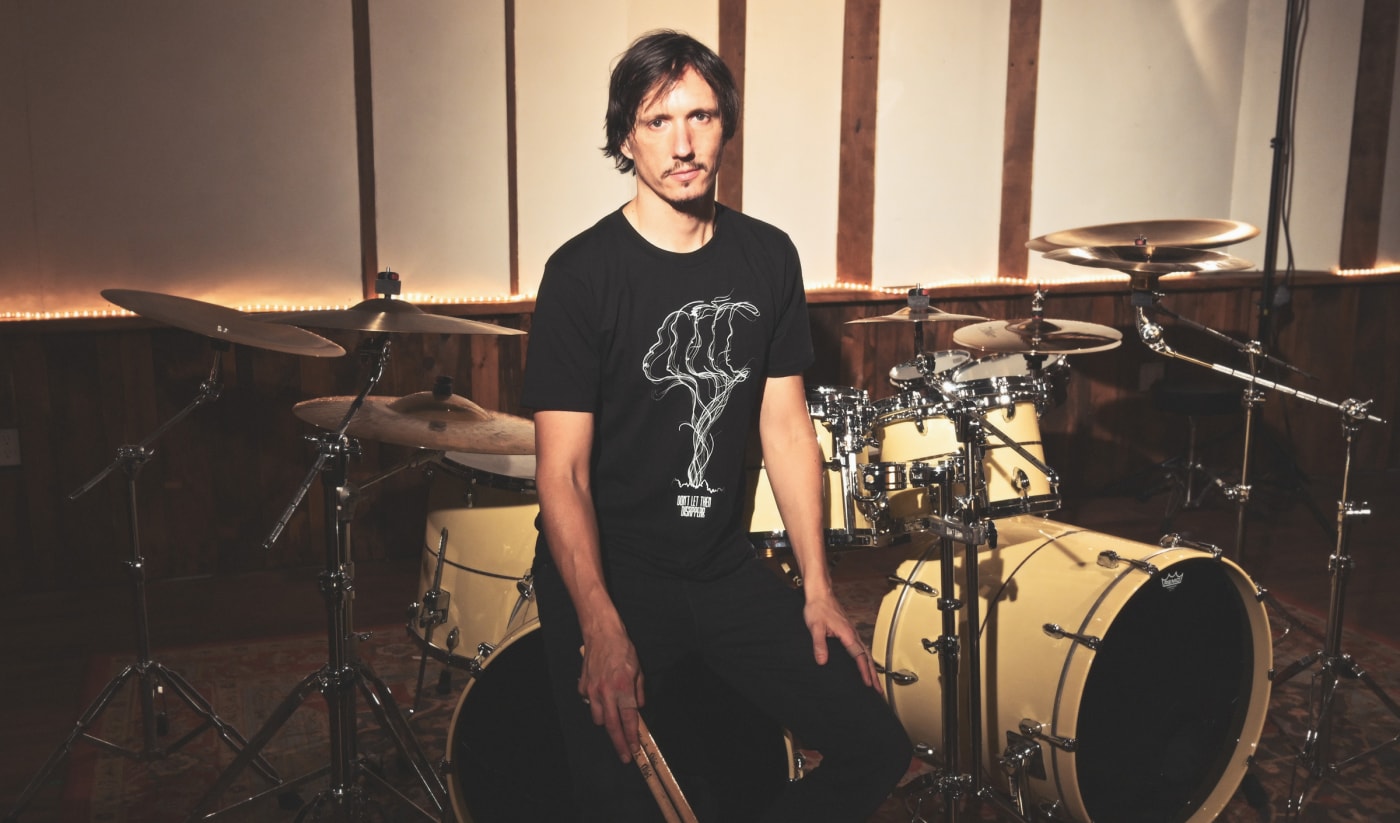 When I was a kid, I didn't care about music at all. I was more into sports. But my big brother, Joe, was obsessed with Metallica.
He started listening to the band when he was 16 and I was 11. He wanted me to understand the music, but I always felt like it was too noisy. I'd say to him, "Please, Joe…it's too loud, it's too complicated, the screaming, I don't like it."
But he was constantly playing Metallica, even when we were in the car with our mother or when we were cooking with her.
One day we were on our way to the train station, and he put on "Orion" in the car. The emotion I felt when I heard this song – the bass, the guitar solo, the drums – for the first time, I understood the music.
"I really love that song," I told Joe. "It's beautiful."
"Finally!" he said. "Victory!"
When we got home, he made a compilation of all the best Metallica songs and gave me a cassette. I played "Orion" over and over. I was so moved by this song, I was addicted to it. Then I listened to another song, and another one, and I finally fell in love with the band.
After that, my brother and I were all about Metallica. And I don't know what I was hearing in the drumming – whether it was Lars' playing or the songs themselves – but I just wanted to play drums.
When my mother bought me my first drum kit, I started to cover Metallica songs. And when my brother got a Metallica box set for Christmas, we really went crazy. We watched the live concert footage, I saw Lars' white TAMA drums, and I knew I wanted to be like him. I wanted to be shirtless on stage being a showman, exactly like that.
My goal in life was to become Lars Ulrich.
Joe and I started Gojira when I was 14 years old. When we met the other two guys (Christian and Jean-Michel), our shared passion was Metallica. We all started playing music because of them, we all had Metallica shirts, and we used to joke that we'd be "the next Metallica", which we thought was funny because it sounds so pretentious.
Later, our career took off. We became well known in France, then England, then the U.S., and we started touring internationally. One day my brother said, "We should do a Metallica cover and maybe Metallica will see it." So we recorded "The Call Of Ktulu" from Ride The Lightning, put it on our website, and someone from Metallica's fan club in France sent it to their bass player, Robert Trujillo.
I don't know exactly how it happened, but Robert started listening to our album From Mars To Sirius and shared it with James Hetfield, who also loved it.
We were invited to play a festival in France that Metallica was also playing. After the show, someone told us that James Hetfield was in the crowd watching us. And two months after that, James told Kerrang that Gojira was his favorite band at the moment and that he loved our album The Way Of All Flesh.
Finally, they'd noticed us. We were very, very happy.
Finally, they'd noticed us.
In 2009, we received the news that Metallica wanted to meet us at their upcoming tour date in Paris, at Bercy, one of the biggest indoor venues in town. My brother and I were so excited: Metallica wants us to see them! We hugged each other and we couldn't believe it.
I couldn't go, so Joe went alone. After the show, he was invited into the dressing room and saw the band surrounded by VIPs and guests. When my brother entered the room, Robert Trujillo interrupted his conversation, turned his head, and said, "You're Joe from Gojira! I love you guys. I'm a big fan!"
"Thank you so much, Robert!" Joe replied.
"I want to show you something." Robert took Joe onto the huge, empty stage. It was set up in the middle of the venue so the crowd could surround it on all sides, and it could rotate. "Would you be comfortable playing on this kind of stage?"
Joe said, "Yes – of course!"
They went back to the dressing room where Robert introduced him to James Hetfield. "Very nice to meet you!" he said. "You guys are my favorite band right now."
We grew up with Metallica, and the band is so important to our identity that it's basically the 'why' behind Gojira. My brother was shaking, but he tried to stay respectful and polite and not behave like a fan.
They hung out for a bit and had a good connection. Joe called me after.
"Mario…I just met Metallica. According to James and Robert, we're their favorite band at the moment."
I couldn't believe it. "Joe, this is huge!"
–
Around one month after that – and I remember that day very precisely – Joe called me. His voice sounded weird.
"Mario…Metallica has invited us to the U.S."
Their management had called Joe to say that they wanted Gojira to open on their upcoming tour.
I saw my life flash before my eyes. It felt like I'd been knighted. It was probably the best phone call of my life.
We started the tour in Nashville and did 15 or 16 shows. We only played huge arenas. It was amazing. We didn't get to hang out with them much because of how busy they were, but every time they came to us in the dressing room, they were super friendly and cool. And we were able to watch the show every night, and we knew every song by heart.
That was the best tour of our lives.
And then they invited us to Europe.
I would paint on drumsticks or canvas to pass the time. On the last date of that tour, I painted something for them. I gave it to the tour manager to give to James. He found me in the dressing room later to say thank you.
He then asked me if I wanted to jam with him.
I panicked. Do I say yes? Will I be able to play?
I'm French. We're complex. We think a lot. And I knew if I started thinking too much about it, I'd end up saying no.

"Yes, of course!" I replied.
I went into Metallica's jam room and sat behind the kit. James picked up his guitar.
I'm playing with James Hetfield, the most charismatic frontman in the rock and heavy metal world. Don't think about it, just do it.
So I started to play something simple and powerful. And right away, James jumped on the riff and I listened to him attentively while focusing on the groove. It was an incredible jam. We had good chemistry and I felt like we'd always been playing together.
But I knew it would get annoying if it went on too long, so after about five minutes, I threw in a fill to end the jam, and James stopped at the same time. It was perfect.
I stood up behind the kit, laid the sticks on the snare, and said, "Thank you so much, James. That was amazing."
He might not care or remember this, but for me, it was very special. As long time Metallica fans, we had so many questions we wanted to ask on those tours. But we stayed quiet because we wanted to be respectful and polite.
When you have a music career, you should always be professional, kind, and accessible, whether you're opening for a band or having a band opening for you. And always stay on your toes. It was our dream to open for Metallica, and our next goal is to headline big festivals. The work is never done.
There's always something to prove with every show, every album, every note you play on stage. You prove, and you improve. I put a lot of pressure on myself every show, and I still have all this adrenaline. I want to keep it alive and I'll give everything I have, every show, until the end.
If I'm not able to give everything, I will stop. I think that's the thought we need to have to become big. Don't settle with 'good enough'. Never hold back. Never stop pushing.
Feature image: Anne Deguehegny
---
Mario Duplantier
GOJIRA
SHARE THIS: