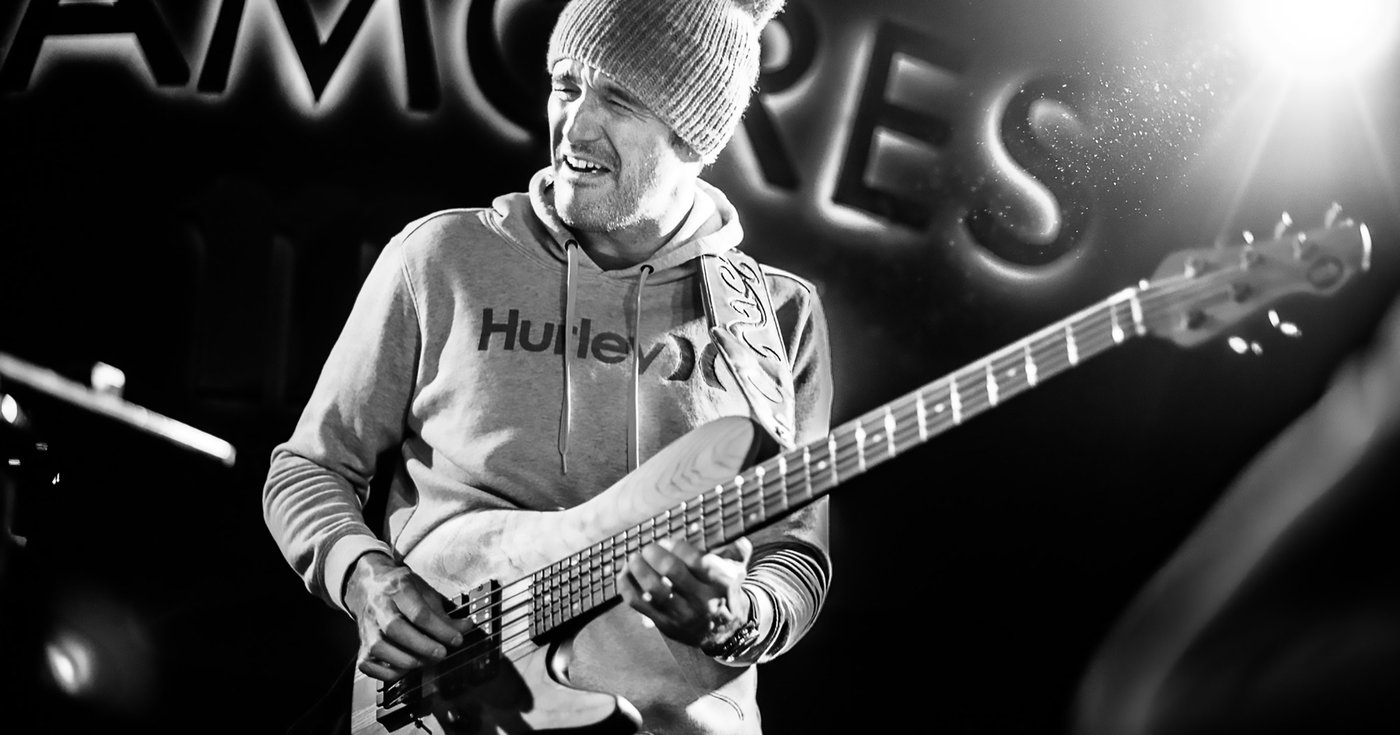 "People say the drummer is responsible for time. I think that's a load of crap.

They're responsible for form. There's a specific relationship between the drummer and the bass player."
It takes a lot of skill, knowledge, and intuition to keep up with an incredible drummer. And in order to create the best rhythm section in the world, every timekeeper needs an equally incredible bassist. Janek Gwizdala has carved out a successful career as both sideman and bandleader while playing with some of the greatest drummers alive, including Dave Weckl, Benny Greb, Dennis Chambers, Jojo Mayer, and Steve Smith. Add Gary Novak, Billy Cobham, Chad Wackerman, Mark Guiliana, Terri Lynn Carrington and Tony Royster Jr. to the roll call and you'd still just be skimming the surface.
Janek supported two of those world class names at the 2020 Drumeo Festival, pulling what you might call 'a hero move' where after wrapping up his set with Benny Greb, he had to rush off stage to join Steve Smith for a rehearsal. While he's juggled multiple sets at one festival in the past (take South by Southwest, for example, where he played with 15 different artists in the span of five days), he doesn't recall it ever having been this last minute.
The gig came up suddenly when Steve's current bass player got sick just days before the festival. "He called me Monday or Tuesday morning at about 6 am," says Janek. Steve was impressed at how quickly everything came together. "I sent him the music and he learned the entire set that day! He did a heroic amount of work in a short time."
With just three days of lead time, Janek knew it wouldn't be easy. Even though he's an experienced Berklee-educated pro who's only found it difficult to learn a set ten or so times in his 20-year career, Steve's music was one of those exceptions. "It's not the most straight ahead music, especially the VF jams track he worked on with Sput [Searight] called 'Eight+Five'. It's in 13, and that sort of set the tone here. But quite often, as long as you know a verse is followed by a chorus, everything is pretty much in the same ballpark formwise."
Talents aside, Janek has a bonus leg up on other bass players when it comes to collaborating with and understanding the planet's top timekeepers: his first instrument was the drums. He'd already been drumming for a few years in his hometown of London when a friend invited him to a local gig to watch a bass player he liked. "Well, who's the drummer?" Janek asked. It was Ian Thomas, a legend who had worked with artists like Eric Clapton and Seal. Of course he jumped on board.
When he got to the South London pub, he couldn't turn his attention away from the bassist, Laurence Cottle. It took just one song to convince Janek that this was what he wanted to do for the rest of his life. "It was the drums that got me to the gig, but it was the bass that I left with." He went out and bought his first bass the very next day. Laurence Cottle immediately became his mentor.
Janek recommends every musician, especially non-drummers, learn to play and understand drums or percussion, as well as piano. "It was important for me to understand the basic mechanics of drumming and being able to anticipate what a drummer might do or where they might go," he says. "It's part of my communication weaponry, so to speak."
Janek recommends every musician, especially non-drummers, learn to play and understand drums or percussion.
That communication weaponry has aided him in battle alongside dozens of the world's most accomplished drummers. "Peter Erskine is a huge influence on my musical career. Since 2006 we've toured a lot together, we've played and recorded with other artists together, and I played on his Dr. Um album. That was pretty huge for me and one of the few records that I'm actually proud of. I love playing with Eric Harland. Clarence Penn is one of my favorite guys and he played on my last record, The Union.
"Dennis Chambers was a massive reason I moved to America in the first place. There's a live concert recording of the Brecker Brothers live in Barcelona from 1994, and Dennis is on it. I wore that VHS out completely. To finally play with him – and we've been playing together for six or seven years – and to tour with Mike Stern with him, is huge. It's pretty awe-inspiring with the time and sound and how he moves the beat around. And if he knows you're teetering on the edge of knowing where the one is, he'll really, really fuck with you.
"The first time I played with Dennis is one of the few times in the last 20 years where I was actually nervous a few minutes before the gig. Then we played 20 bars together and the nervousness went away. His time is so fat and his quarter note is so wide that you cannot help but be right there with him. It's an amazing lesson."
The wish list
Many professional musicians have a sort of mental 'wish list' of people they'd like to play with. Janek has been fortunate enough to work with most of the drummers on his list. "I got super lucky basically on day one," he says. "I was 17, playing with Airto Moreira. At the time, I had no idea that my first ever gig was with one of the greatest Brazilian musicians of all time. All I know is that my dad used to listen to this stuff and told me it was great, and suddenly I'm playing with this guy who feels amazing to play with. But I had no context for many years as to how great he was.
"Then I got to play with Kenwood Dennard and the guitarist Hiram Bullock (Jaco Pastorius). That was as soon as I got to America, in 1998. It just kind of snowballed with Jojo Mayer, Mark Guiliana, Steve Smith, Eric Harland, Clarence Penn, Peter Erskine…so many great people."
In terms of which epic drummers are left to collaborate with, the list is endless. "There are a couple of people I never got the chance to play with, like Levon Helm, or people who are in bands, like Carter Beauford. Steve Gadd is a massive hero, and that would be huge – he's played on about 800 of my favorite records. I love Matt Chamberlain's drumming and I've never played with him. And then there's Abe Laboriel Jr., Steve Jordan, and ?uestlove: three more bucket list drummers." At the time of this interview, Janek was gearing up to record with Vinnie Colaiuta in the studio for the first time. "It's super complicated music, probably the most difficult I've played in a decade. I can't believe it's happening."
Janek's most significant and longstanding drummer-bassist relationship is arguably with Jojo Mayer, with whom he's been playing for over 20 years. "We've done so many things together," he says. "We've recorded, I've toured with his band, he's toured with my band, we've toured with other people, and we've spent a lot of time talking about philosophy. We share card magic and close-up magic as a common hobby and obsession. With Jojo, it's about serving the music and making it the best it could possibly be. I couldn't piss Jojo off and insult him and he could not do that to me, because everything we say to each other, be it critical or complimentary, is taken at face value and not personally."
Jojo echoes Janek's sentiments on their working relationship. "Janek is the rare type of guy you can hurl any random instrument at, and he'll figure how to play it in a day or two," says Jojo. "He excels at anything he wants. Not just music, but he's also a pro level tennis player and magician and has many other talents."
Interestingly enough, when their working relationship was in its early stages, Janek didn't realize just how big a role it was going to play in his career. "It took a really long time to notice because I was so young and so naive and so headstrong," he recalls. "I was such a prick in the beginning. I was about 20 years old and I'd just moved to New York. I knew amazing musicians lived there, and there was no denying Jojo was great, but I figured this was normal.
"It wasn't until maybe a decade later that I was like holy crap, there are just so many different things about this musician that I hadn't realized. That was also this evolution of me getting rid of the ego as much as I could and really taking an outside look at everything I was doing. And suddenly you start to become very humble, like holy shit, what an opportunity I've had to work with someone like that for so long. To this day, I'm still trying to carve out as many opportunities for us to work together as possible because I don't want to have any regrets."
Like most established musicians before him, Janek knows it takes more than just talent to make it in this industry. "It's 5% playing the instrument and 95% being with people," he says, referring to the importance of communication and interpersonal skills. "It's something I absolutely didn't do well in the beginning. Thankfully, I learned very quickly and from some of the greatest drummers ever: Jojo, Dennis, Steve [Smith]. They took me aside, kicked me in the ass early on, and I'm forever grateful."
What makes a great player
In a recent episode of his podcast, Two Bass Hit, Janek outlined qualities he looks for in a drummer: someone who has solid time and sound, doesn't overplay, is a cool person, and has the ability to understand form. For many players, there's a sort of 'aha' moment when you realize that you're with a musician from another planet. One of those moments for Janek happened – not surprisingly – with Benny Greb. "He has a huge online presence and he's known for his popular educational DVDs and drum clinics. He's one of the few people who plays real music and writes and chooses to perform with a band as opposed to with tracks. You see him on the internet and think 'this is good', but then you get the real 'aha' moment when you play with him for the first time. Especially with his time and sound that pushes me back in my chair when I'm sitting at my desk in my studio listening to him."
Janek finds these 'aha' moments are few and far between because of what he refers to as a culture of information overload. "Within a bar of playing with someone, you can hear whether there's experience or not. You can hear whether that person has spent their entire 'career' in a studio uploading videos to YouTube, but you can also tell if they've played with other musicians, whether they have the communication skills, whether they have the awareness and the experience of being on a stage with other human beings."
It's a massive modern day challenge, he says. Now 41, Janek started his career before YouTube, finding success as a sideman and bandleader in the traditional sense. But he's also managed to bridge the tech gap, or as he puts it, "transitioning into the modern digital age while trying to bring some of that tradition with me." It's clear from speaking with Janek that he believes in finding that balance between new and old, and that your approach to your musical career depends on your goals. And if that's to experience human contact and build communication – and you're branding yourself as an artist and positioning yourself as an authority figure – it means getting out of your bedroom or home studio.
"There aren't the mentorships there once were. No more Miles Davis or Art Blakey and the Jazz Messengers. There's a massive challenge that most people on YouTube will not experience when you can stay home and make a cover video. There aren't a lot of opportunities anymore, even in metropolitan areas like New York or Los Angeles that are known for having a healthy community who wants to hang out and share ideas. It's definitely changed. People have to be super motivated to go out and do that. When you can stay home and get a million views on YouTube, the necessity of going out – the 'human hang' – is not there."
Don't mistake these concerns as a distaste for the online universe, however – Janek is one of those players who understands the importance of content. He's created numerous digital products consisting of eBooks and videos about bass, hosts a regular podcast, and is very active on YouTube and social media. "No matter which trajectory you take – digital, analog, modern, old-school, studio, live, artist, bandleader, sideman, sidewoman – it doesn't matter as long as you are honest and cultivate your audience," he says, adding that to achieve longevity you need to not lose sight of these things. "I don't have a million followers, but my audience knows what to expect from me. I'm not going to bullshit them with clickbait titles."
Passionate musicians know where to find each other
When you put the top musicians in a room together, there's no limit on what you can create and how much you can move people with sound. When he was 15 years old, Janek was surrounded by some of London's best musicians, and he went to great lengths to soak it all in. With Laurence Cottle taking him under his wing and bringing him to gigs, Janek would record every single concert on a cassette player only to stay up late to transcribe the parts at home that same night. That's how he learned how to play the bass. "That 'mythical' 10-12 hours a day of practice wasn't a myth at all – it was very much reality. Sometimes I never got out of my PJs for days on end. I only stopped to eat. That's basically how my life was for two years."
The underlying message may not be that you must dedicate your entire day to practicing your instrument (although you can, and certainly should, if you have the time and discipline), but putting in the hours won't seem like a drag if your instrument is what genuinely captivates your heart and soul. While Janek emphasizes the need for honesty and originality as a musician, "the underlying foundation is that you have to be madly in love with the work. You have to love to get out of bed when it's too early, to do the extra three hours when you've already done five, to go out and grind and meet people and learn songs and transcribe and use repetition until you want to scream and punch a hole in the wall. Otherwise it doesn't work. In half a second, you can identify the musicians who are in love with that and who are not, just by listening to them."
Janek has enjoyed many opportunities to work with drummers who share his passion and work ethic. He's looking for musicians who he says can make him step away from what he's doing and think about what he can do better. And similar to what he looks for in a drummer, he believes drummers should also look for an excellent grasp of time and sound in a bass player. "People say the drummer is responsible for time. I think that's a load of crap. They're responsible for form. There's a specific relationship between the drummer and the bass player. You should play with musicians who challenge you no matter what, who make you ask much bigger questions."
Steve Smith backs this up from a drummer's perspective. "[Janek] takes care of the fundamentals. His time and feel is excellent, he's easy to play with, consistent, listens closely and is creative from night to night. His soloing is world class, which in the jazz world is very important."
Benny Greb agrees. "For me, it is important that a bass player offers solid timing and a nice fundamental frequency range that supports what is happening. I also want them to have great improvisation skills and spontaneity. Janek has all of these qualities and more. He's supportive but also inventive, functional but interesting. He can sound powerful and ugly, and in the next moment beautiful and poetic."
To be one of the world's top musicians – and to play with other top musicians – you need more than talent. It's also about humility, respect, and putting music before ego. "I know my job as a bass player is to make everyone else sound better," says Janek. "That's my only job: to make other people have a good time when we play music together.
"As a drummer, if you can find other people that do that, I think you're going to be in really good shape to be motivated to wake up and take care of yourself and live a long life playing music."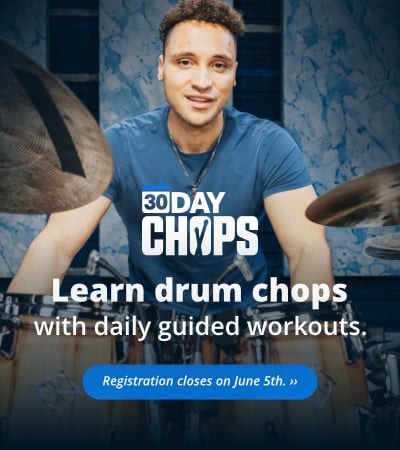 SHARE THIS: