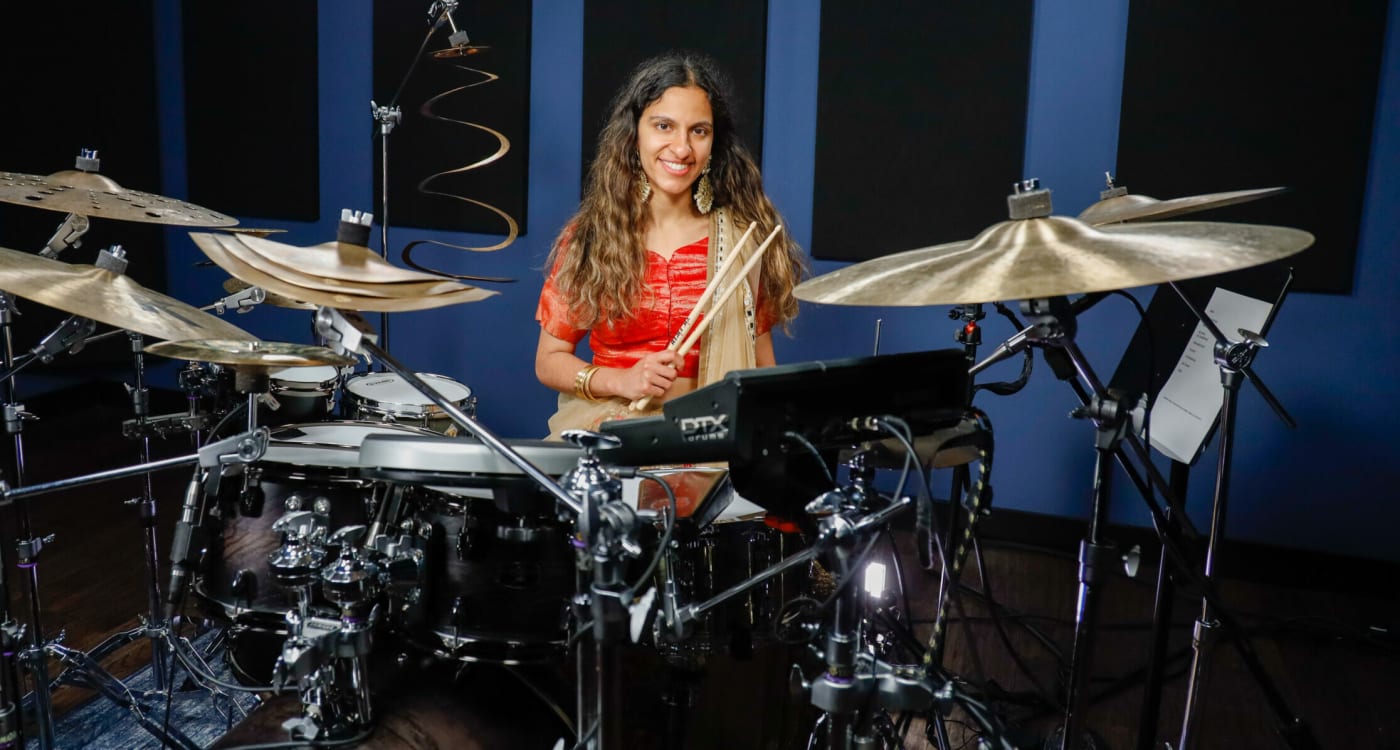 Until I was 18, I was completely self taught. I grew up with music around me, and started playing drums at the age of two and performing at the age of five. My Dad is a musician – he plays primarily keys, harmonium, piano. I would be on stage with him playing drums with his band. We played Indian, Bollywood, semi-classical music and we were the house band for many artists that came from India and for various festivals. I was known as a prodigy, always got applause and stood out, and was the main drummer of the jazz band in high school.
I thought I had the validation I needed. I thought I was good enough to get into music school.
Playing piano growing up, I understood notation and how to read music but I didn't know what rudiments were. I would play drums at a music store and they'd say "Cool inverted paradiddle", and I didn't know what they were talking about.
I got rejected from almost all of the schools that I applied for. Berklee said no. Manhattan School of Music said no.
I thought I was living a lie. If all of these schools are rejecting me, am I even good? Has everybody been lying to me? Maybe I'm not a prodigy. I felt completely lost. Being self-taught, and having a father who was self-taught, we had no guidance of where I would go from here.

If all of these schools are rejecting me, am I even good? Has everybody been lying to me?

However, York University in Toronto gave me a chance – and a $40,000 scholarship, the Oscar Peterson Scholarship. While I was there, I bought all the books I'd been tested on in every audition and started working on everything. I found it very easy to catch up theoretically.
I grew up in a household where Indian music was the only music we listened to. We didn't have YouTube to look things up, so for me, it was whatever my parents brought in the house. We had tablas and Indian percussion laying around. I would listen to all of these percussion-heavy Indian songs, and then in my spare time I would take the tabla parts and play them on the drum set. I would play it all on the floor tom and pitch bend it with my elbow and then put my face on the snare to mute it. I loved being creative and having fun. I would put my face on the snare drum. I would hit the rim with my pinky ring to imitate the Dholak. I was thinking of the drum set like a percussionist in a very unorthodox way.
When I applied to the music schools, they would ask me if I knew of Buddy Rich and Dave Weckl and all these contemporary drummers. I definitely did. But I also knew Zakir Hussain, Trilok Gurtu and I listened to Folk music, Qawwali, Ghazals, Bollywood music. My reference points were always percussionists. No school really catered to my journey. Everybody who I knew of grew up playing drums in the church and surrounded by drum kits.
I felt like I didn't fit in. I didn't meet one person who was my gender, my skin color, with my upbringing. I felt completely lost and like I had no way out.

I didn't meet one person who was my gender, my skin color, with my upbringing.

I was sitting in a gospel music rehearsal at university, and there was a drummer there. He started playing his kick drum in a certain way and my mouth was on the ground. What is this? What is gospel music, what is funk, what is fusion, what is this hip-hop stuff that I'm listening to? My life turned around.
I remember after watching that rehearsal I went back into my dorm room and cried for hours.
I suck! I don't know what this is!
I made a decision. For those four years of school, I hid my identity of Indian music and percussion. I was already getting recognized in the Bollywood industry, but I wanted to get more into North American culture. I wanted to be immersed in understanding the full technique of drum kits. I had to put the percussion mindset aside for a while.
I started listening heavily to gospel, fusion and funk, going to all the jazz clubs and staying up until four in the morning shaking hands, going to all the jazz festivals, playing gigs around Canada five days a week, hustling, learning who's who in the scene to get understood and recognized and to soak in this new knowledge of music.
I played gospel music in a church for about five years, and that also changed my life. I wanted to understand the gospel feel that you can only get by immersing yourself in the culture, the same way you learn and understand any genre of music. I tell people that I've had two lives, and this was my second life.
Indian music actually encompasses so many genres that you become versatile without even knowing it. I'll never forget when I went for my first private lesson at university. I played a mambo groove on the conga and I was like, "Check out this Indian groove!"
They told me otherwise.
"This isn't an Indian groove. This is a Cuban groove that comes from the Cuban culture."
My mind was blown that I was playing a lot of these rhythms in the Bollywood tradition and it was not authentic. My goal was to become as authentic as possible.
I finished university with a Bachelor of Fine Arts, specializing in Jazz performance and World music and graduating with the Summa Cum Laude distinction. I became a full time gigging musician and started to notice a shift in my life. All the people who looked down on me or didn't accept me at the universities started becoming my colleagues and friends. I finally got validated by the Berklee professors, and started getting offers to be endorsed by various prestigious drum companies. It wasn't impossible to catch up.
I just wish someone was willing to tell me what was missing in my life. Unfortunately, no one saw the potential I had. I had to be my own cheerleader.

I had to be my own cheerleader.

Later, I met Dave and Jared from Drumeo at NAMM and they invited me to come out to do a lesson. They were like, "What do you want to talk about?"
I was like, "Coordination, independence, creativity."
"Sarah, you know, so many people have covered this topic. What if you do Indian grooves?"
Oh my god.
Being self taught – hearing Indian grooves on the tabla and then playing them on the kit – I thought if I talked about it, no one would understand it. It comes from such an organic place, I thought maybe I'd be looked down upon. I tried to hide this identity because I thought nobody could relate and that it wasn't cool. I was ashamed.
But this time I thought, you know what, let's give it a shot.
After I did my live lesson, it went viral, and my life changed. In the drum industry, my branding became how I'm a versatile drummer, but also somebody who makes Indian grooves and applies it to modern music and beats.
When I was younger, I thought I was a failure because I didn't understand proper technique, and because I didn't have a stick control book. But I realized that you shouldn't be ashamed of who you are. You just have to push through these hard points and embrace it.
Even if you don't know anybody who had the same growth as you, you have to be your own cheerleader and have faith in yourself. Know the power that you have. Know what you're capable of doing and what you're not capable of doing – even if you will be capable of it one day. Own who you are.
I was constantly trying to get everyone's approval. Everybody has an opinion and their own perspective, but there's no such thing as right or wrong. One person will say "you should bury the beater" while another says you shouldn't. You'll be told you're holding the sticks too tight, or too loose, or that less is more or that more is too much. Opinions and opinions.
Don't be afraid to really form your own identity. Don't be afraid to color outside the lines.
---
Sarah Thawer
SHARE THIS: