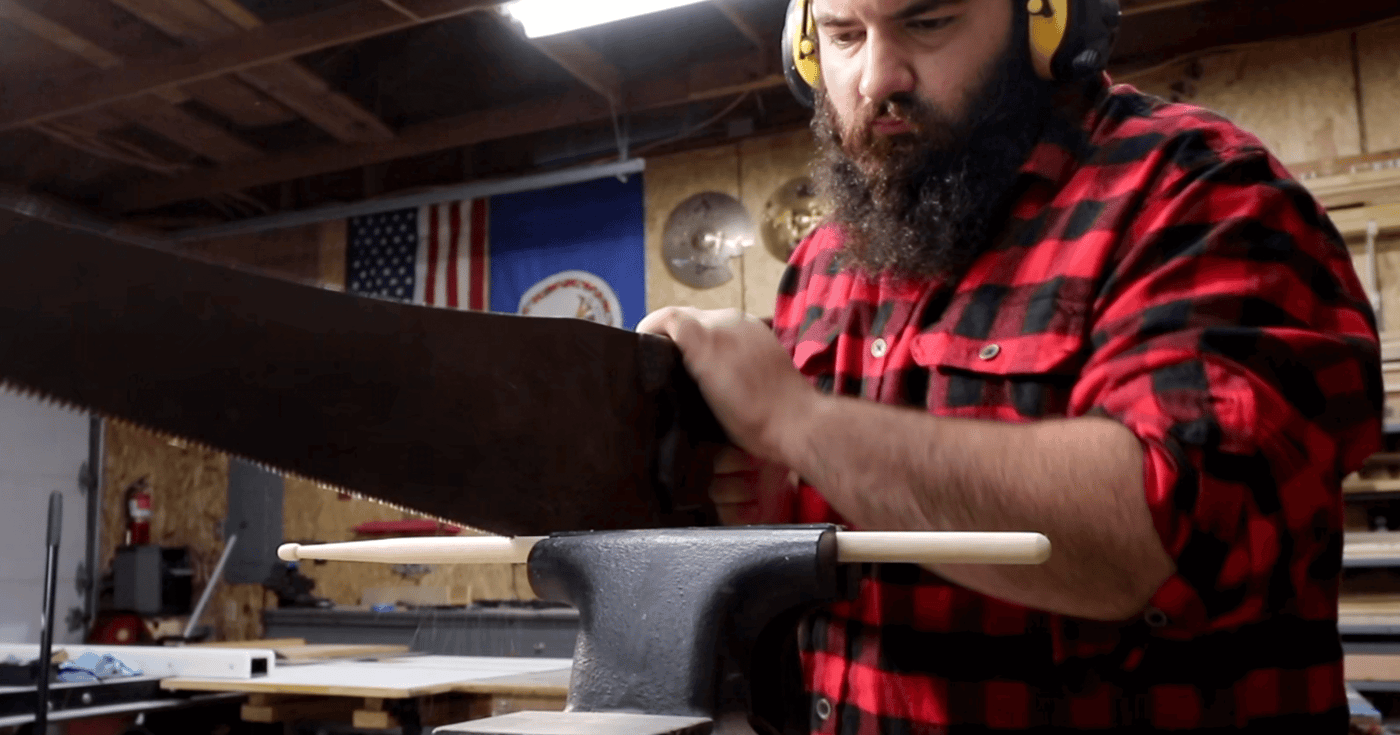 Are your drumsticks chewed up? Broken? Just a bad pair? You probably have some old ones lying around.
Don't throw them out just yet.
In this episode of DIY Drum Experiments, David Raouf shows you some practical ideas for recycling your old drumsticks – and even with the cardboard sleeve they come in!
Disclaimer: Some of these ideas require power tools. Be smart. Don't attempt one of these hacks if you don't know what you're doing!
1. Hoop protector
Materials needed: Drumstick sleeve
Tools needed: None
Skill level: Beginner
Most older or cheaper pedals have 'teeth' on their clamps, and while most bass drums come with a rubber hoop protector, maybe yours doesn't. No problem: take a cardboard drumstick sleeve, fold it around the hoop, attach your pedal, and that's it. This makeshift protector can also save your hoop from scratching and denting if you're using a cheap cowbell mount.
2. Slave pedal stopper
Materials needed: Drumstick, spray paint (optional)
Tools needed: Saw (optional)
Skill level: Beginner
Anyone who plays double bass pedals knows that the slave pedal tends to slide forward, even with spurs. Slide a drumstick on the inside of the hi-hat stand and under the clamp of the slave pedal for a makeshift pedal stopper.
If you have a hi-hat stand with a solid plate that prevents you from pushing the stick all the way under it, you can put the foot of a cymbal stand in front of the other side of the drumstick.
For a stealth look, cut the stick in half and paint it black.
3. Wooden beater
Materials needed: Drumstick, 1/4″ steel rod, epoxy
Tools needed: Saw, hacksaw, sandpaper, drill
Skill level: Intermediate
Cut off the butt end of a stick (so you're left with the bottom 5″), then cut a steel rod to 7″. The end of the rod will be a bit rough, so put it in a drill and sand the end to smooth it out. Drill a 5/16″ hole in the center of the stick (you can do it by hand but a drill press makes it much easier).
Mix up some epoxy and glue the rod into the drumstick piece. Once the glue dries, you can use it in place of your regular bass drum beater or with an auxiliary pedal.
4. Floor tom legs
Materials needed: Drumsticks
Tools needed: None
Skill level: Beginner
This one's more of a hack than a way to upcycle – but if you can't find your floor tom legs, just put drumsticks where the legs would normally go and voila, you're ready to roll.
5. Stick ornament and keychain
Materials needed: Drumstick, eye hook, ribbon, key ring
Tools needed: Saw, sandpaper, drill
Skill level: Intermediate
Show off your drumming spirit during the holidays by cutting off the tip of a stick with a saw, smoothing the end with sandpaper, drilling a small pilot hole, attaching an eye hook, and cutting some ribbon and tying it to the hook. You now have a drumstick Christmas tree ornament!
Want to make a drumstick keychain instead? Use a key ring instead of ribbon.
6. Bottle opener
Materials needed: Drumstick, bottle opener end
Tools needed: Saw, drill
Skill level: Intermediate
Order a bottle opener end. Cut the butt end of a drumstick so it's 5 3/4″ long, drill a hole in the center, and screw in the bottle opener attachment. Enjoy!
Old drumsticks can be used for other things, too. You can put them in the garden as stakes for plants or cut them in half lengthwise to make coasters. Some people have even made creative furniture out of drumsticks. David has used broken pieces to glue back together into a solid block, which he then shaped and sanded into a wooden bass drum beater.
Don't be afraid to try something different! You were going to throw them out anyway, so why not try to get a little more life out of them?
Click here for another 25+ DIY drum hacks!
SHARE THIS: