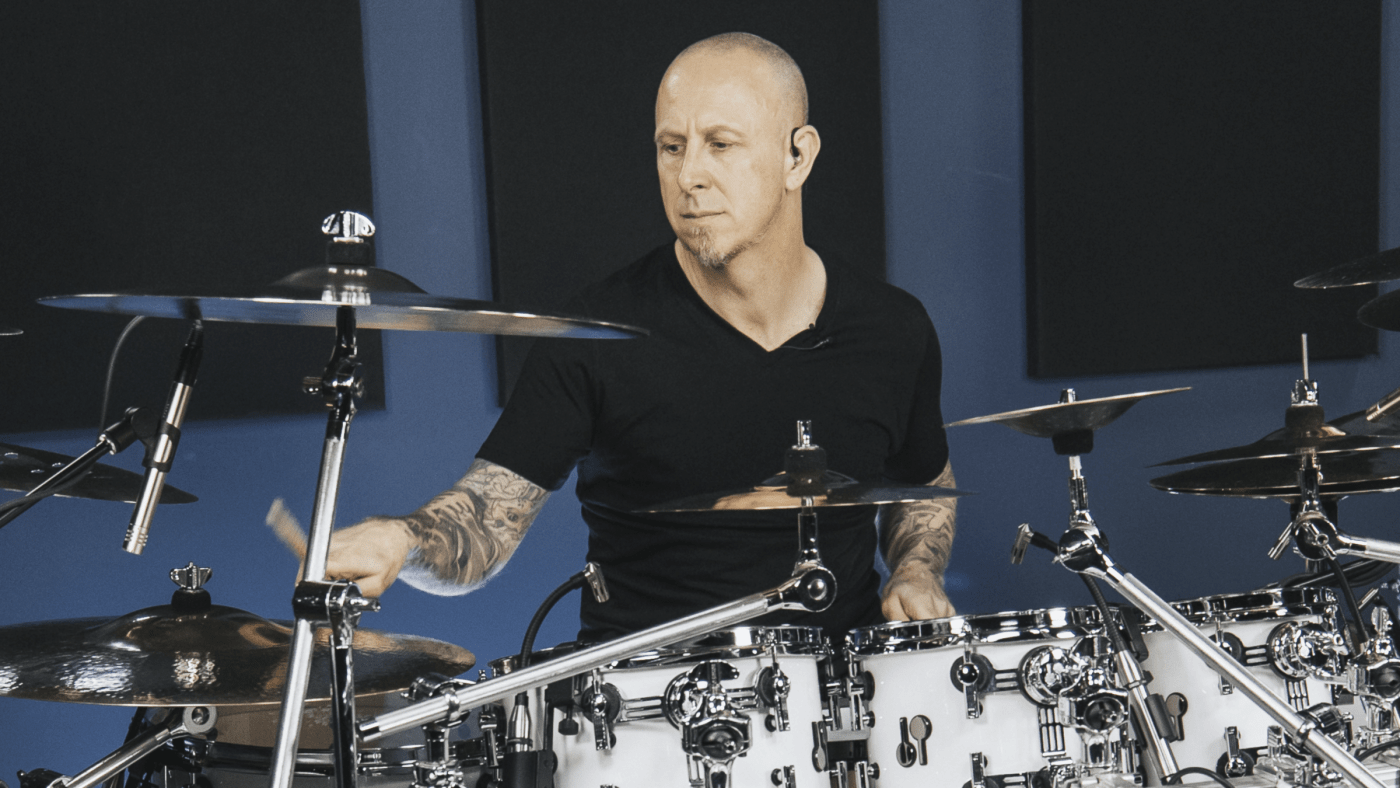 Don't get mad. Get odd.
If you're a drummer who's spent a lot of time getting 'even' by playing in 4 or 6, you can take your playing to the next level by opening yourself up to odd time signatures.
It can feel awkward to push outside your comfort zone at first – especially when you're trying to play in 5, 7, or 9 over a quarter note click – but with enough practice it'll become second nature.
In this full live lesson with Ryan Van Pooderoyen (RVP), you'll learn one simple exercise to break out of your 4/4 bubble and become the next Neil Peart (no promises, though).
Each of these columns represents a bar of time, and the numbers represent the time signature in that bar. Rotate through this chart to get used to switching from one time to the next.
First, clap along over a quarter note click while counting out loud.
Next, keep time on the hi-hat and hit the crash and bass drum on the 1 of each bar. Start over if you miss.
Finally, turn it into a full (simple) groove and rotate through the chart.

As soon as you get used to these numbers, change them up.
Don't make it too complicated. Start simple and start at 60 BPM, increasing the tempo by 5 BPM as you get used to it. And if you find it difficult, keep trying. You will eventually get it. Quoth RVP: "Failure is your best teacher!"
Lesson Outline:
0:00 – SONG: "Hollow" by Imonolith
3:45 – Introduction
6:20 – Intro to odd time
9:50 – The challenge/exercise
17:21 – Trying it in a groove
21:49 – Making it more interesting
32:55 – SONG: "Planet Of The Apes" by Devin Townsend Project
For a longer, more in-depth lesson, Marco Minnemann has a great hour-long tutorial on playing in odd time.
About Ryan:
Ryan "RVP" Van Poederooyen is a Vancouver-based educator and clinician. He's currently the drummer of hard rock band Imonolith and the former longtime drummer of Devin Townsend. With many years of world tours, albums and live CDs/DVDs under his belt with Devin, Ryan has also been hired for sessions with producers such as Brian Howes (Nickelback, Hinder, Puddle of Mudd, Daughtry), Chad Kroeger (Nickelback), Rhys Fulber (Fear Factory, The Tea Party, Josh Groban) and many others.
Ryan Plays:
Sonor
Sabian
Evans
Regal Tip
SHARE THIS: