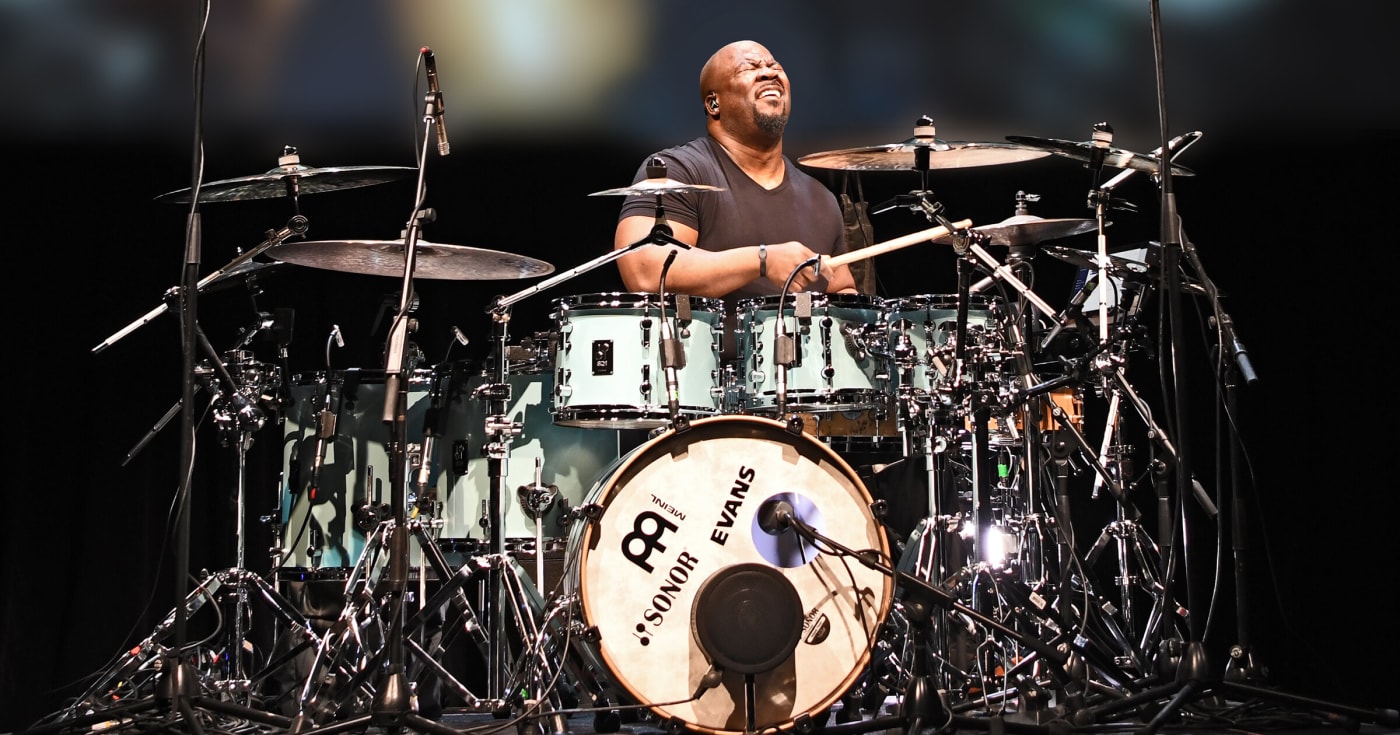 I tried to kill my love for drumming.
I tried to smother it.
I told myself "drums AIN'T for me."
I was sooo bitter, hurt, and devastated.
I was only 21 or 22 years old, but those were some of the darkest days of my life.
At 18, I moved to New York from my hometown of Saginaw, Michigan to study at The Drummer's Collective and started to take music seriously. I should've gone to Berklee after that. I thought I needed that piece of paper, that degree, that stamp of approval.
But when I got a partial Berklee scholarship, I had to turn it down.
It wasn't enough to offset all the expenses, and combined with bad timing and family issues, it just didn't come together. The semester was going to start really soon, and I knew I needed to have certain paperwork and qualifications ready, and I needed to go home and fix this or that, and I didn't have the additional cash. I was discouraged, and I think it's also because I felt like I wasn't gonna achieve my dream.
I beat myself up! My world was crushed. What am I going to do in life?
Whatever else I did would be mediocre. "It ain't gonna matter. Even if I make a million dollars, it ain't drums." That's what I was thinking. I didn't know what my future was. "Drums don't mean anything because I'm upset now!"

My world was crushed. What am I going to do in life?

Life is gonna suck now!
And I convinced myself to bury my passion for it, hoping to extinguish it.
I'm an all or nothing kind of person. I put it all in the basket and it didn't happen and I started to question everything. New York, the Collective, practicing…I felt like all of it was a waste. It devastated me.
The only thing I felt I had left was the church. After a year in New York, I went back to Saginaw. My old pastor needed a drummer and I was able to slide back into my old position. When he decided to move back to Cleveland, he took his key people with him.
I felt like everything that happened after that was the universe trying to kill me. I was drumming with "Rev" every Sunday, but because I didn't have a key I didn't have regular access to the drums. I needed a job.
I worked slinging bags and cleaning for Continental Airlines, thinking about how I could've been at Berklee. I didn't like it, but I had to do it.
Even when I was doing great, driving the latest four door Grand Am GT with a sunroof…these were STILL some of the darkest hours of my life. I thought I needed to get a better job with better money.
Deep down, that fire for drums still burned. And I was still trying to smother it. My friends were getting together in the city to shed, and I wouldn't go. I had to sleep. I had to work.
You gotta grow up, I told myself. You gotta work through your own issues. You can't use drums as a shield anymore. Now it's time for you to deal with yourself as an adult and figure out your next step.
I became a correctional officer after that. Cool, this'll get me into the FBI! At least I was going to do something with my second love: law enforcement, Air Force, flying, firearms, Navy Seals, Martial Arts…stuff I'd been interested in since I was young. But when I started the job, I couldn't see myself retiring like this. My dream of being a drummer was like don't give up, don't give up, don't give up. And I was trying to subdue it, like "Shut the fuck up!" It was screaming at me like some punk-rock-band-that-just-hates-the-world-type energy.
I was irritated. I was mean to other humans and I isolated myself, and just…
Argh!!
I was just waiting for the right person to say the wrong thing at the wrong time so I'd get to unleash ALL my anger on them.
Wait a minute!
That's nowhere near my balance, my center, my chi. I'm a peacemaker by default. I hate drama. But I wanted to clobber somebody and use all the martial arts I knew, just because?? #SadDays
That was the first sign. I started paying attention to my emotions and my anger. I can't go through life like this. Something ain't right. Something's not adding up. I was BEYOND not happy. I fussed about everything! I actually became more of a focused, detailed person because I was over analytical about every single thing.
Even a damn taco from Taco Bell would have me angry in a room, alone, yelling at nobody: "Why'd you make this taco like this?!?! Too much beans, too much sour cream, what the heck, too much lettuce…what is wrong with you people! Can you even put this in your mouth? The whole balance is nasty!"
That was my energy, sadly.
It was the Guitar Center Drum-Off that broke it all.
I'll never forget winning the first two local store competitions. I'm not a competition person. I didn't sign up for it…one of my bros secretly did. I fought it, I eventually caved. I hadn't played drums in two weeks. It was ALL improv.
After winning the regionals at the Rock and Roll Hall of Fame in Cleveland and jamming with Tony Royster Jr., I thought this was cool, but where was this going?
When you're broke, busted and disgusted like a "communion cracker" you don't pay attention. I was numb. I had no idea this was the thing that could catapult me into my career.
Around that time, I got evicted. I had to walk away from my personal possessions, and hoping it would still be there when I got back. I needed to figure out how to cash this check (that might bounce), trying to figure out how to get a U-Haul…while having points on my license and a debit card that wasn't working because the IRS attacked it.
Imagine with me, a beat-up Shelby GT Mustang from the 60s sitting in a yard. It's covered in mud and you just wanna beat the heck out of its owner, like "What did you do?? She was beautiful!" And this guy's like, "It's just a car." Lol this was me, responding to my dad the same way…
I was telling my dad about the Drum-Off in a sour tone: "Hey Pop, this is happening. Next is Hollywood." And he's like, "Wait, what? This competition is taking you to Hollywood? You're going to play at House Of Blues?? That's unheard of!" So I got online and started researching and realized oh…this IS a big deal. I was going to the finals! #Whoa.
It's in that moment where I got inspired. I decided to restore that "Mustang" ;-).
Imagine taking that car apart, buffing it out, giving it new parts. Now it's seven times the value of what it originally cost. Was it worth the price of restoring it? Yes! And it's hard to believe it's the same car that was once falling apart.
As angry as I still was about life, I needed to go practice. But deep down in my heart, I thought I'm not gonna win this.
I knew I needed to get to a drum set real quick. As angry as I still was about life, I needed to go practice. But deep down in my heart, I thought I'm not gonna win this. They're gonna pick some guy who can do all the tricks and twirls and gymnastics.
Before I knew it, it was time for the finals. I was 22 years old, and the who's who of drumming – Will Kennedy, Josh Freese, Marco Minnemann, etc. – were judging. There were six of us representing each region of the United States. We all picked our order out of a hat. I picked 6.
Oh wow, no pressure.
It's good and bad. Good to see what everyone else did, but bad because the judges and audience are worn out by then. They've heard it all. You really gotta bring the heat. You've gotta do something nobody else did.
The drummer who went on before me was Jimmy Adams III. He was already the west coast fave to win this thing. Everyone thought he had this in the bag. I knew nothing of him. He gets up and does his thing, doubles on double bass pedals, doing a snare roll, bringing the tempo down to nothing…killing it.
People were going nuts!
He reached over to grab a towel while his feet were still going. He's hyping it up, he's gass'n it baby! The towel happened to be knitted/woven as a US flag. This was shortly after 9-11. Everyone went nuts! I was like, he just won. This was a nice trip, got me and my family out to LA, at least we had a nice dinner, & I got a nice suit… :-/
I had seen everyone else play and had changed my plan to something else. But when Jimmy brought out the flag towel, I went back to what I'd originally had in mind. It was the only thing I knew I could do right now with whatever little confidence I had.
And I did it. I did it my way.
While in the moment, I didn't realize. I thought they weren't screaming for me like they were for him. But at the end, when they called my name, it was a COMPLETE shock. Everything I worked for – as hard as I practiced, all the costs that I paid over the last 20 years – JUST made sense in that moment. #UtterShock
My mom walked by me, said "You'll be alright," and physically closed my jaw for me, lol.
She knew what I was going through. She saw my emotional state; she saw it coming. I was like I don't know what this means, but it ain't what it was.
I can't tell you all of what it took emotionally to create that solo, create the theme, admit, relive, open up all the wounds that I was trying to subdue & cover. I had to go back down memory lane and embrace it all in order to be myself on stage and say, "This is alI because I haven't been playing drums, forced to work in Corrections and with Continental Airlines."
I had to convince myself it was worth it to go back to that pain. I had to talk to all those scars, like, "Hey guys, it was worth it."
It came out in my playing. My pain IS my sound.
None of it is in vain! Use that pain instead of running away from it or acting like it's not real. Embrace it! If you can use your pain as fuel, all of your lows will be worth it if you #StayForward.
---
Chris Coleman
SHARE THIS: