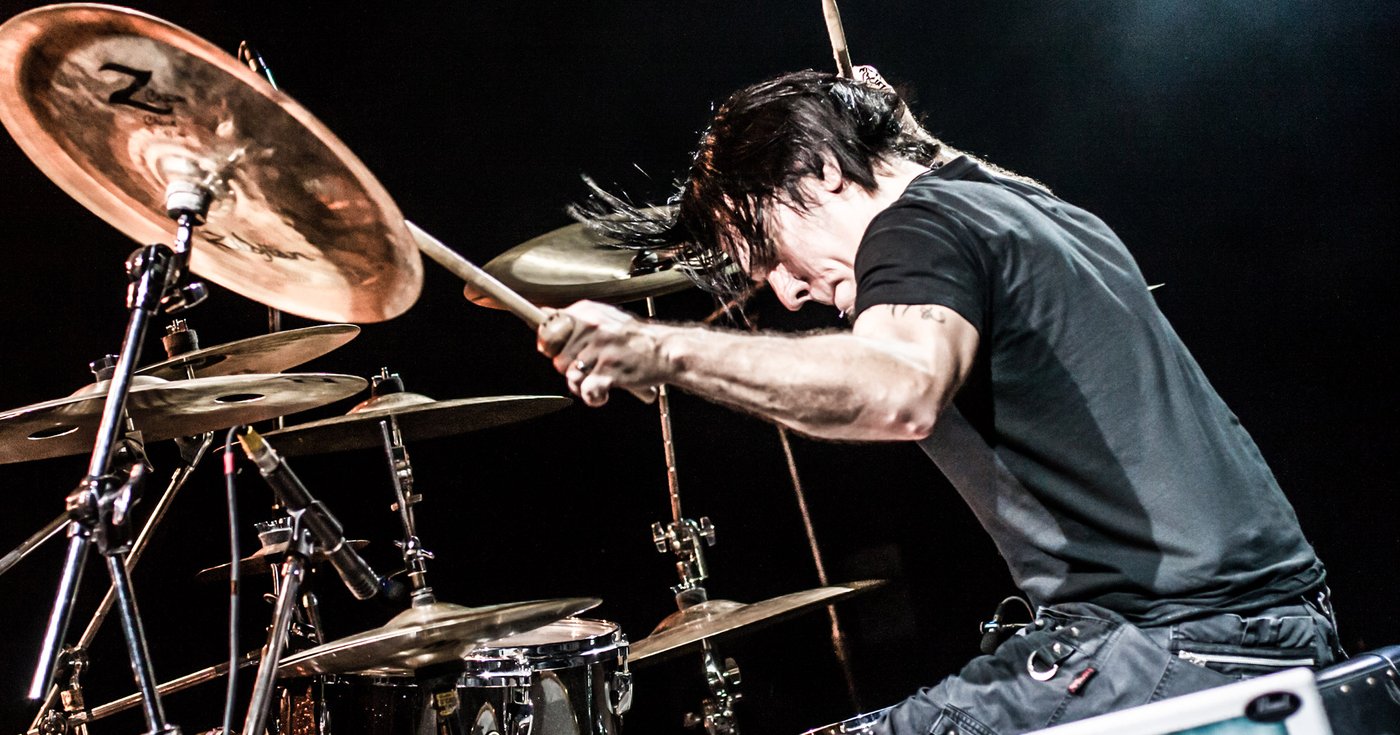 Drummer Lab is a series that follows Nadia Azar's kinesiology research on some of your favorite drummers.
---
How many Calories does Casey Grillo burn during a show with Queensrÿche?
In mid-March of 2018, my study on drumming-related injuries was in full swing, and Drum Talk TV was helping me to distribute it to drummers around the world. Their CEO, Dan Shinder, also knew about the energy expenditure study, and he offered to contact Casey Grillo to see if he'd like to participate.
Absolutely!
Casey was the drummer for Kamelot for over 20 years. He now owns and operates Drumstatic (custom designed and printed bass drumheads) and has been filling in as Queensrÿche's touring drummer for the last couple of years.
Casey told me that he had always been curious to know what kind of workout he was getting while playing the drums (this was to become a recurring theme with most of the drummers who volunteered for this study). So we made plans for him to wear the monitors for two upcoming Queensrÿche shows: one in Detroit, Michigan (April 21, 2018) and one in Northfield, Ohio (May 4, 2018).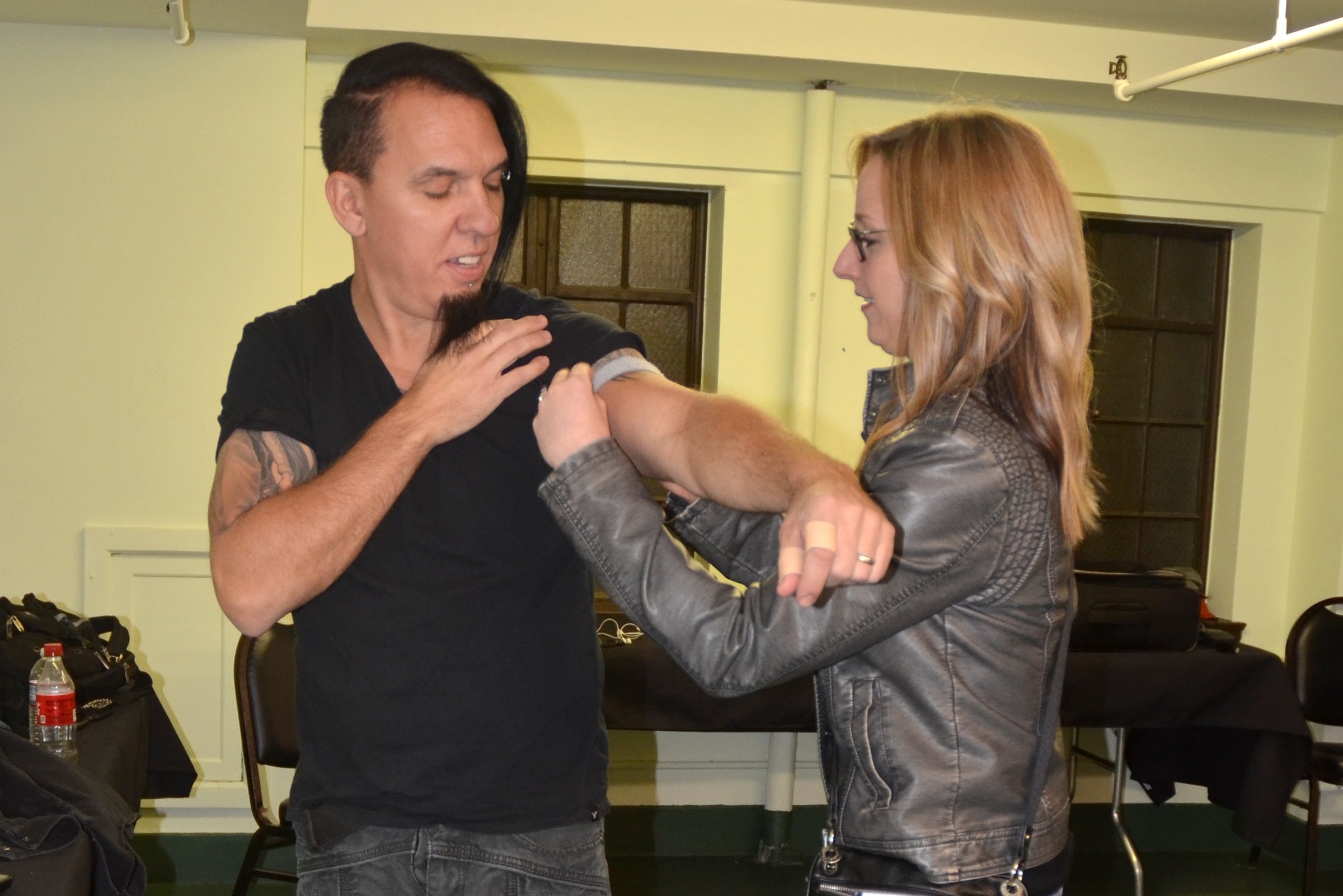 Here's what we found:
For Show #1 (Detroit), the band played 11 songs over 57 minutes. Casey's total energy expenditure was 630 Calories (including downtime between songs). "Damaged" was the most intense song in the set (~13 Cal/min), and as you might expect, "Silent Lucidity" was the least intense (9 Cal/min).
For Show #2 (Northfield), the band added six songs and a drum solo to the set from Show #1. They played for almost 90 minutes, so it's not surprising Casey burned more Calories that night (928 total, including downtime). "Walk in the Shadows" just barely edged out "Damaged" for the win as the most intense song this time around, but the difference between them was negligible (both were ~12 Cal/min). Once again, "Silent Lucidity" was the least intense song (9 Cal/min).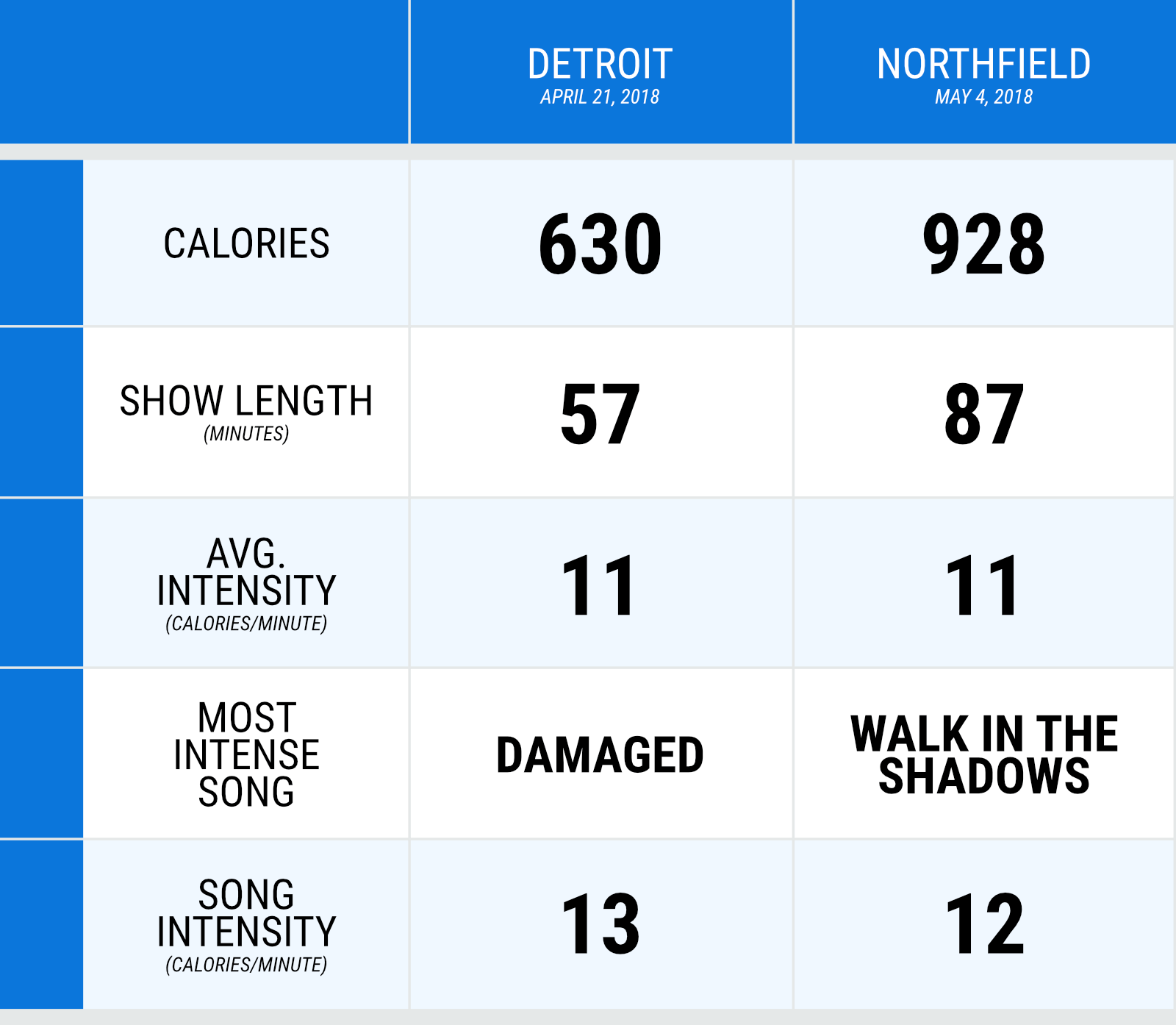 However – when you look at the average rate of Calories burned per minute, the two shows are pretty much identical (~11 Cal/min). Casey was working at the same average intensity level for both shows, even though one was longer than the other!
Based on his body mass, this rate of energy expenditure is roughly equivalent to cycling at 12 mph (~19 km/h) or running at 5 mph (~8 km/h)1. To put this in context, Casey would have had to run 4.75 miles (7.6 km) and 7.25 miles (11.7 km) at this pace to match the energy he used in Shows #1 and #2, respectively.
In other words…it's a workout, people!
Top 3 takeaways:
1. Casey burned an average of 11 Calories per minute at both shows.
2. This rate of energy expenditure is comparable to cycling at 12 mph or running at 5 mph.
3. "Damaged" and "Walk in the Shadows" were the most intense songs from each show (13 Cal/min and 12 Cal/min, respectively).
References:
1. Calories burned in 30 minutes for people of three different weights [document on the Internet]. Boston (MA): Harvard Health Publishing, Harvard Medical School; 2018 [cited 2019 May 29]. Available from https://www.health.harvard.edu/diet-and-weight-loss/calories-burned-in-30-minutes-of-leisure-and-routine-activities
Feature Image: Ignacio Cangelo
Other Images: Dory Azar
SHARE THIS: