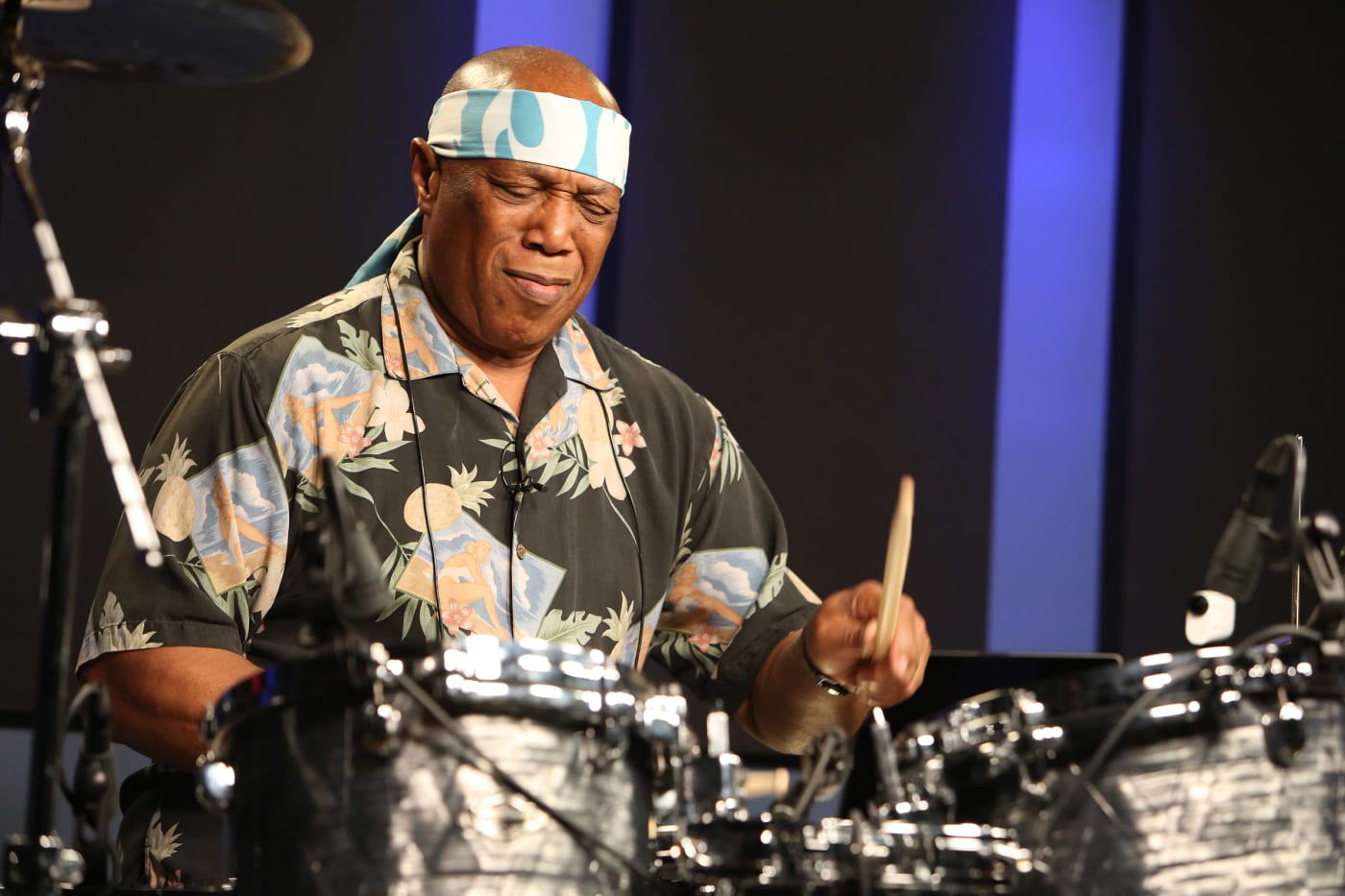 "Just lay it down. And if that happens, you work until you get sick of playing."
Try Drumeo Edge for free for 7 days
'Billy Cobham' is a name that echoes throughout the history of drumming. Known for his power, finesse, dynamics, speed, musicality, metric modulation and just about every attribute that drummers admire, it's impossible not to recognize the impact Billy had on music.
Whether it was his work on several Miles Davis records including Bitches Brew, Mahavishnu Orchestra's early recordings, or several Stanley Clarke records, Billy always brought a certain energy and sound that could be identified rather quickly. While he worked on many important early fusion recordings and beyond, he also led bands that produced important works – in particular the 1973 record Spectrum.
Billy has also been quite involved with drum education. In fact, he was performing in clinics back in the early 80s. He has also hosted drum retreats and masterclasses. Currently, he's hosting a masterclass series titled "Billy Cobham's Guide To Stress Free Drumming," which consists of ten classes, each of which is three hours in length. He is joined by co-host Dom Famularo each month, and there are two classes each where special guests Dennis Chambers, Will Calhoun, and Gary Husband offer their expertise.
Click here to sign up for "Billy Cobham's Guide To Stress Free Drumming"
In this episode:
You will hear about…
Knowing what you're playing to maximize your sound
How to deploy rudiments musically
The problems with dominant musicians and how to deal with them
If musical choices are like opinions
Making the band comfortable and creating great feeling music
Billy's out of body experiences with Horace Silver and Mahavishnu Orchestra
If artistic compromises create a long-lasting negative impact on musicians
Why you should listen:
Billy and I really dove head first into a dialogue about how musicians can better serve a band. This isn't about how we become better drummers through exercises and practice. This is about taking what you know and utilizing it tastefully to create great music. Forget the thrills of speed and complex patterns. While they have their place, once we have a firm grasp on their musical qualities, just laying it down and making our bandmates comfortable is critical if we want to become great musicians.
Music featured in today's show:
George Duke and Billy Cobham Band – "Hip Pockets": 1:40
Billy Cobham – "Red Baron": 8:40 & 9:52
Billy Cobham – "Life & Times": 18:15
Billy Cobham – "Stratus" (Intro): 18:42
Billy Cobham's Glass Managerie – "AC DC" 24:27
Billy Cobham – "Stratus": 29:54
Billy Cobham – "Le Lis": 43:15
Follow Billy:
Instagram
Facebook
Website
Follow Drumeo Gab:
Instagram
Facebook
YouTube
SHARE THIS: