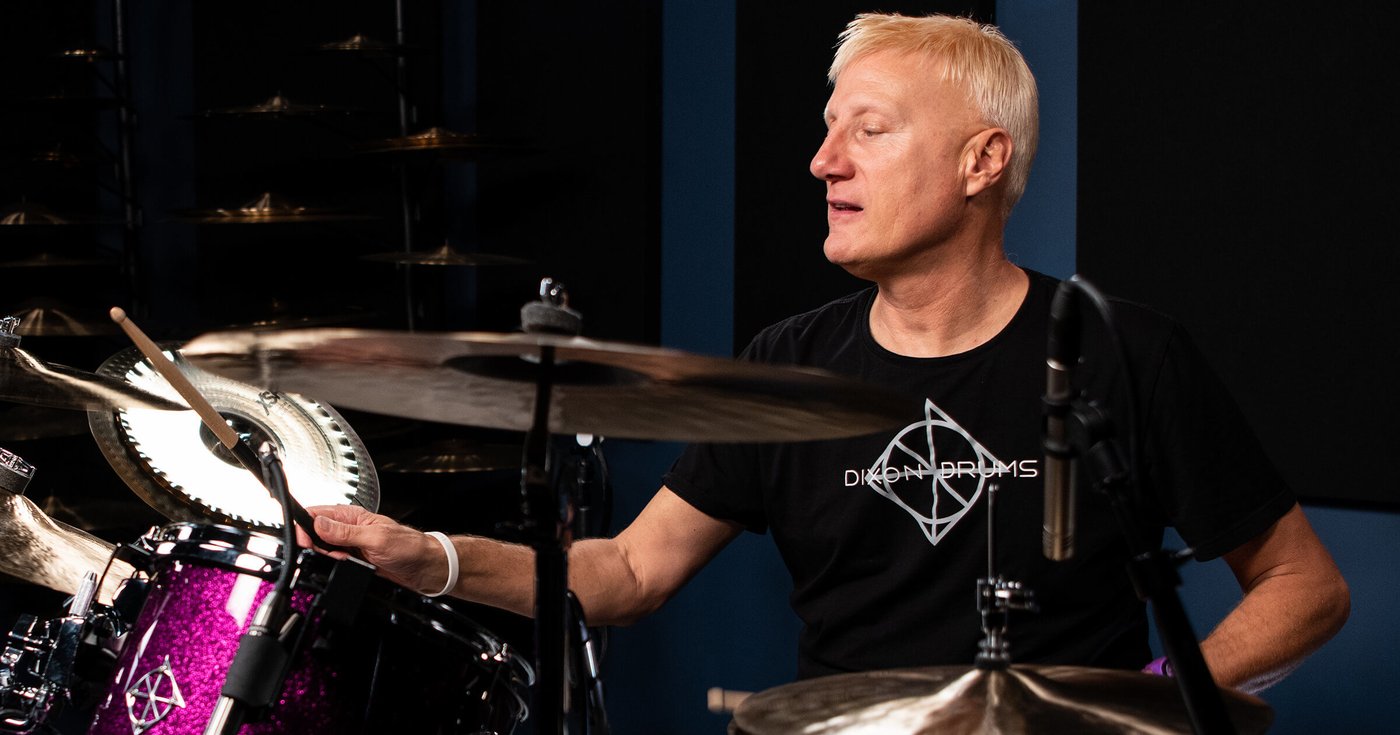 "Well, I don't wanna sound like that guy but I am the happiest I've ever been in my life!"
Gregg Bissonette has enjoyed an amazing career in music. The Detroit native has had the pleasure of playing with such artists as David Lee Roth, Ringo Starr, Maynard Ferguson, Carlos Santana, Don Henley, his brother Matt, and many others. As you can probably tell based on those names alone, Gregg is incredibly versatile musically. Beyond that though, Gregg is also known for being down to earth, professional, comical, and friendly. All of these attributes have certainly helped him in sustaining his life in music.
Gregg proudly endorses Dixon Drums, Sabian Cymbals, Vic Firth drumsticks, Remo Drumheads, DW Drum pedals, Samson Audio, LP Percussion, Audix Mics, Gregg Bissonette signature stick bag by Kaces, XL Specialty road cases, Beato drum bags, and LT lug locks.
In this episode:
You'll hear about…
Gregg's experience recording lessons at Drumeo
Some advice he received from his parents at a young age
Why we need to love and accept everybody
Gregg's experiences with being a dad
Gregg and Matt's first band together – Today's People – and how beneficial and enjoyable it has been for them to perform music together over the years
Gregg's state of happiness and the importance of being positive
Who is Skippy Skuffleton?
How Gregg got into voiceover work
Priceless advice for working drummers
Why you should listen:
Gregg's name has come up before in DrumeoGab interviews and it always seems to come back to the same overall message. Besides the fact that Gregg is a great guy, it boils down to his great experiential advice that he provides to the pros. When he speaks, you listen. With that being said, we have an hour of that here. It's great fundamental wisdom that you can't go wrong with.
From the importance of being positive, grateful, professional, able, down to earth, helpful and versatile, it's all here. There is a particularly strong message in there where he talks about other people who can try to rob you of your happiness and why we should just stay in our lane and keep working on being the best version of ourselves.
Follow Gregg:
Instagram
Facebook
Website
Follow Drumeo Gab:
Instagram
Facebook
SHARE THIS: