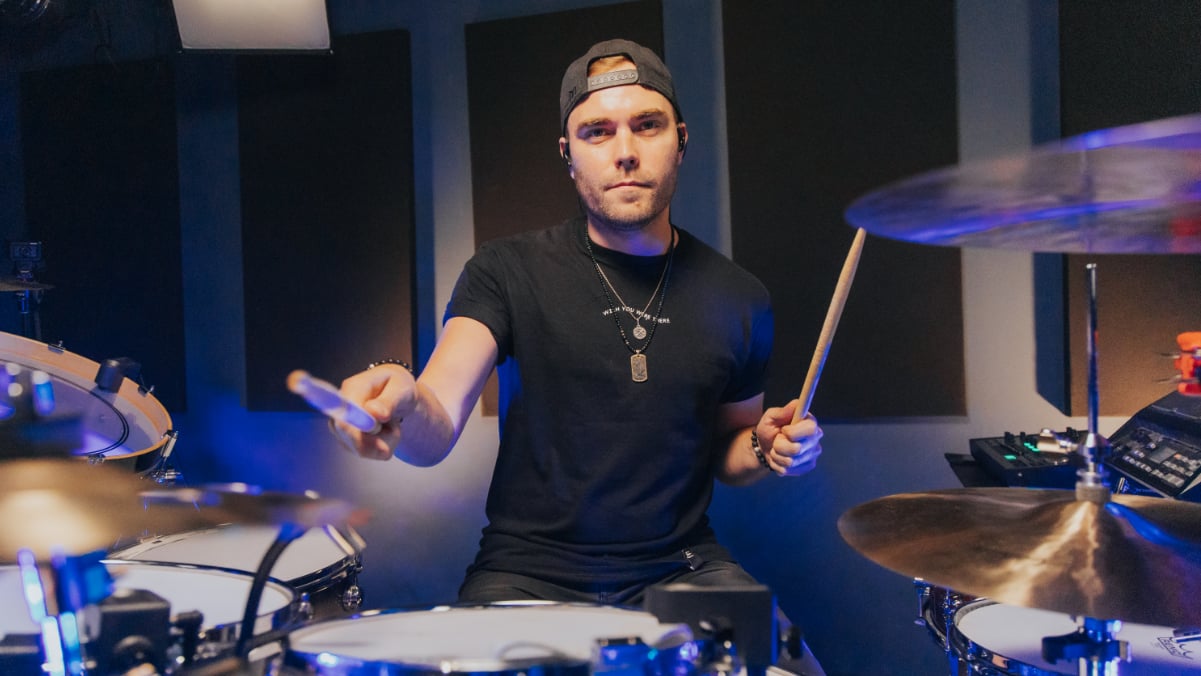 If you could get advice from a pro drummer who plays arenas and goes on world tours, you'd take it, right?
Mike Sleath is the touring drummer for international artist Shawn Mendes, and he's here at Drumeo to share some of the wisdom he's learned on the road as a busy live musician.
Being a pro drummer doesn't just mean being great at your instrument:
You learn how to 'self-mix' your live playing, like laying off the cymbals so you don't overload everyone's ears at a club gig, or simplifying your fills so you don't lose the attack in a big room.
You learn how to adapt to new situations. Things are constantly changing on the road, so you have to be ready to play or make changes at the last minute.
You might need to take someone else's vision and apply it on the drum set. For example, Mike didn't write the drum parts on Shawn Mendes' albums – he translates them onto the kit in a way that's exciting and energetic live.
You should understand the artist you're playing with and really get to know how they think. Shawn Mendes only had a few songs when Mike auditioned, so he also learned the covers Shawn had put out in order to get inside his head.
Even if you're tired, you should give it your all every single night, whether you're playing for one person or 100,000 people.
In this video, Mike plays through a few Shawn Mendes songs, shows you some features of his hybrid setup, and shares some awesome stories alongside his useful tips (like the time he had to fake it 'til he made it and learned how to use a Roland SPD-SX overnight).
Lesson Index:
0:00 – SONG: "Treat You Better" by Shawn Mendes
4:10 – Introduction
6:00 – Understanding the room you're in
9:47 – Being adaptable
16:06 – Recreating studio drums live
20:09 – Understanding the artist
21:44 – Playing for the person at the back of the room
25:35 – SONG: "Stitches" by Shawn Mendes
About Mike:
Mike Sleath is a Canadian musician who's best known for his work as the touring drummer for Shawn Mendes. His resume also includes tours and performances with artists like Camilla Cabello, John Mayer, Khalid, Zedd, Conor Maynard, Miley Cyrus, Francesco Yates, and Cody Simpson. Mike has appeared on pretty much any major TV or award show you can think of, including The Grammys, SNL, the VMAs, The Tonight Show, Ellen, the Billboard Awards and much more.
Mike Plays:
DW Drums
Sabian Cymbals
Los Cabos Drumsticks
Remo Drumheads
Roland
LP
Follow Mike:
Instagram
Facebook
YouTube
Twitter
Website
*This article contains affiliate links, which means we might earn a small commission from the product seller if you make a purchase. For more info, check out our privacy page.
SHARE THIS: