Top 10 Things I've Learned From Working With The Best Drummers In The World
Over the years, I've had the huge pleasure of working with the best drummers and teachers in the world. Together, we've produced some incredible lessons that have been viewed more than 100 million times. During this time, I've been a student to these amazing drummers and literally have been a 'fly on the wall' in these sessions. So today, I want to share with you the top 10 things I learned from working with the best drummers in the world.
---
10) Do your own thing and don't worry about what anyone else does.
I had the opportunity to work with Peter a few years back and it was definitely a great experience. We planned to film some Drumeo lessons and then were set to travel to Victoria, B.C. by ferry to participate in the Victoria Drum Festival. I was playing at the festival that year and my spot was right in between Peter Erksine and Dave Weckl, so you can imagine that I was insanely nervous. Peter, being one of the most chilled human beings I have ever met, said to me, "Just do your own thing and don't worry about what anyone else does."
Such good advice, we all spend so much time focusing on what others are playing and don't focus on becoming individual musicians. No one can be a better version of you, and no one can be a better version of Jared Falk. I am the best at being me!
---
9) How do I know this groove will work in a musical context?
Benny is one of my favorite drummers, so to actually be able to call him a friend as well is something very special that I will never take for granted. He's such a deep thinker. I like to call him the "Seth Godin" of the drum industry. I was once sharing with him about a lesson I wrote and telling him about this new drum beat that I came up with. Many times, my process for writing new lessons was simply creating grooves in my notation program, learning the grooves, and then teaching them to our online students.
He questioned this process and asked me "how do I know that groove will actually work in a musical context?" To be honest, I didn't know that it would work – I just thought it sounded cool. We all love cool sounding beats and fills, but being able to communicate with our vocabulary is much more important. This has really inspired me to put more thought into all my lessons that I teach in the future.
---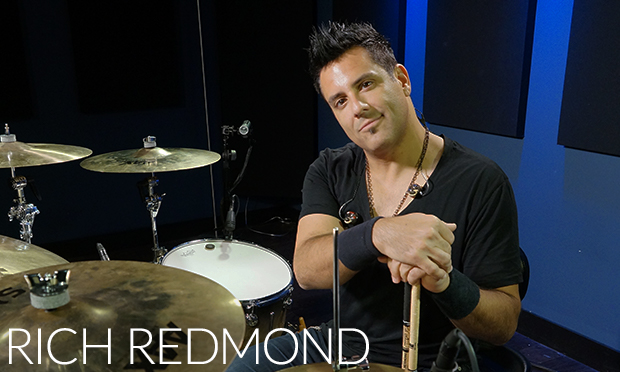 8) Be easy to work with and always open to new ideas.
For those that know Rich, you know he's one of the hardest working drummers in the industry. Not only does he drum for the Jason Aldean band, but he's an actor, educator, clinician, and I'm sure I could continue listing many other things that he does.
One thing that I learned from Rich is that you need to be easy to work with and always open to new ideas. He's always so accommodating and open to hear new ideas about what he is teaching and how he is teaching it. You'd think that someone who has such a wide range of experience would be a bit more hard headed, but this guy is one of the best in the business.
---
7) Pay your respects to the great drummers that have paved the way.
I remember when I got a message from our receptionist saying John Blackwell called and he'd like you to call him back. I was like "what?!". I ran to the phone and got him booked on Drumeo right away.
As we were preparing for the lesson he kept getting distracted by our conversations and wanted to show me new music that he had discovered. Considering how incredible he was on the drums, and all of his achievements playing with Prince, he held so many other drummers up on a pedestal above himself and constantly wanted to share their music with me. One of the many lessons I learned from John was to pay your respects to the great drummers that have paved the way for the new generation of up and coming drummers.
---
6) Never stop learning and exploring.
It was a surreal moment sitting in the Drumeo studios and having the legend Billy Cobham there right next to me. I wish you all could experience that moment.
One thing I was really inspired from by Billy was how much he was still learning every day. He was writing new music, studying new things on the drums, and doing anything he could to stay at the top of his game. Billy was 72 years old when he appeared on Drumeo, but you'd never know by looking at him or talking to him. He has discovered the fountain of youth when it comes to learning and managed to stay inspired to continue his legendary status.
---
5) Share the love of drumming and inspire others.
If you haven't checked out Eric Moore's lesson, you need to. Even if you're not into the ideas he's presenting, you can learn so much from how he approaches drumming and life in general.
One of the ideas that was reinforced for me by watching Eric play and teach was how we all need to continue sharing the love of drumming with the world as much as possible. It's best for everyone in this industry if it continues to grow, and Eric's personality shines and does an amazing job of motivating drummers to practice, and getting people who have aspired to play drums to give it a shot. We loved having Eric at Drumeo and can't wait for the next lesson with him!
---
4) Never settle for second best. Work hard AND smart.
Kenny Aronoff was one of the first special guests that we had on Drumeo. I don't think we were ready for an artist of his caliber when we first hosted him for a lesson. We did our best, but realized that we missed the mark on a bunch of key elements of how to work in this industry at the professional level. Kenny has the highest standards and I believe it's one of the reasons he continues to work at an incredible rate in this industry as a live drummer, studio drummer, speaker, author, and so much more.
If you're looking for a blueprint of how to be successful in this industry, look no further than Kenny Aronoff. He taught me to always focus on doing things at the highest level, never settling for second best. The only way to do that is by working hard AND smart. It's not one without the other.
---
3) Stick to your values, no matter what anyone says.
Larnell Lewis was the first guest we ever had on Drumeo. I will never forget when I had him over for Indian food. I remember saying to him, "One day, you're going to be famous, so please don't forget about us at Drumeo."
After that, he got the gig with Snarky Puppy, started playing huge drum festivals, and the arrows are just constantly pointing up for him.
When I think about my time with him, I learned SO much about playing drums, he's an incredible player. But many times, I learn things that are unrelated to drumming. With Larnell, the biggest thing that I learned was to always stick to my values, no matter what anyone says or thinks. Larnell is an amazing musician who operates with integrity at the highest level and I'm so proud to have had him on Drumeo.
---
2) Be grateful. Don't take anything for granted.
Gabor Dornyei was a name I hadn't heard before Dave Atkinson first showed me one of his videos. Obviously I was blown away with his technical ability and amazing time and groove. I've never seen someone be able to switch between right and left handed drumming and not sacrifice the groove in the least. If you haven't checked out his Drumeo lesson, you should.
After we had filmed his lesson, we went out for dinner and got to chatting. One word I like to use to describe Gabor is 'passionate'. He is passionate about life and music. As we were discussing people that we knew in the industry, something came up about a person who was sick and couldn't play their instrument because of it.
Gabor got quiet and then told us about how grateful he is to have his health and be able to play this amazing instrument. We all take way too many things for granted sometimes, myself included. Personally, the realization that I had was that I need to make every second count and always be grateful for this amazing opportunity to play drums and make music. I have to thank my family, friends, Drumeo team, and all our amazing Drumeo students from around the world. Thank you for allowing me to do what I do.
---
1) Don't be afraid to tell your story. You are important.
Finally, we have a legend Bernard Purdie. Bernard is a one-of-a-kind gem in this industry and we're all so lucky to be able to learn from him. There was a time during Bernard's lesson where a student asked him what his number one tip for new drummers would be. Bernard paused, and then said this:
Bernard has MANY amazing tips for drummers. He shared lots of them in that Drumeo lesson, but the one thing I learned from him is to not be afraid to tell my story. We all have a story, we're all unique, and there are people out there who can benefit from hearing your story. Don't get inside your own head and tell yourself that no one cares or that you're not important. You are important, you are special, and we'd love to hear from you.
I want to thank you all so much for giving me some of your time. I really appreciate it. At Drumeo, we love helping drummers get better, so if you ever find yourself in need of some education and inspiration, please come by the website and we'll hook you up!
---
Follow me!
►Facebook
►Instagram
►Twitter
The 10 Best Drum Videos From 2016
As this year comes to a close, we decided to take a look back and list the most popular videos from our YouTube channel in 2016. Within these videos you'll find a wealth of inspirational and educational material to push you along in your drumming journey. Which video was your favorite?
10) Billy Cobham – The Art Of The Rhythm Section
William Emanuel "Billy" Cobham, arguably the epitome of the fusion drummer, is an American composer, bandleader, and educator with an extensive list of accomplishments – and we were so honored to have been able to host him in our studio.
Having inspired drummers such as Carter Beauford and Dennis Chambers, Billy is one of the most influential drummers in history. You don't want to miss this lesson where he breaks down the fundamentals and nuances of creating a tight rhythm section in music.
---
9) Benny Greb – "Next Question"
Please enjoy this piece from Benny Greb's Brass Band project! This song was originally released in 2009 and performed by Benny Greb, Reiner Winterschladen, Sebastian Hoffmann and Reverend Uli Krug. Watch Benny's full Drumeo lesson!
---
8) Polyrhythmic Grooves Every Drummer Should Know
A polyrhythmic groove is simply a groove that makes use of two or more different rhythms simultaneously. Not only does it make for some cool sounding beats, but it also helps your overall limb independence tremendously. If you've never dabbled in polyrhythms before, this is an awesome place to start! Sheet music can be found here.
---
7) 10 Drum Fills Every Drummer Should Know
Stephen Taylor is here to provide you with 10 drum fills you should have ready in your toolkit at all times. The lesson title says 10, but each fill each has a couple of variations which leaves us with 20 drum fills total!
After being a satellite instructor for Drumeo for over 3 years, Stephen finally made his way to our studio to meet the crew and dish out more drumming knowledge. This lesson is designed for drummers of all skill levels! Click here for the MP3 tracks and sheet music.
---
6) Anika Nilles – "Synergy"
Synergy, one of Anika Nilles' more recent singles, is a blend of pop, rock, and progressive music to create a smooth blend of head-bobbing goodness. Not only does Anika deliver a killer drum performance, but she also wrote and produced the music herself – AND handled the synth and piano parts. Sheesh! You can purchase Synergy (both full and drumless versions) by clicking here.
---
5) Stanley Randolph – Tips & Tricks For The Funky Drummer
Stanley Randolph has become one of the most in-demand and highly respected drummers of our time, gaining the attention of music icons and legends such as Stevie Wonder, New Kids on the Block, Back Street Boys, Christina Aguilera, Chrisette Michele, Boyz II Men, Toni Braxton as well as several members of the Jackson family.
Please enjoy this very special lesson with Stanley Randolph as he runs through tricks, tips, and exercises to develop yourself as a funky drummer.
---
4) Easy Double Bass Grooves That Sound Hard
Aaron Edgar is here to provide you with a handful of double bass grooves that sound difficult but are actually super simple to play. The great thing is they're all based around a similar left foot pattern – allowing you to apply this to any groove you play by even using the hi hats as well.
---
3) Eric Moore – Building Speed & Maneuvering Around The Kit With Combos
Eric Moore is best known as the former drummer for Suicidal Tendencies and Guitar Center's 2003 Drum Off Champion. From 2004 to 2008 he toured with Sly & The Family and R&B icon Bobby Brown, both of which being Grammy award winners. As a big contributor to the gospel chops movement, we knew Eric would be more than capable to do this lesson justice.
---
2) Benny Greb – "Grebfruit"
We've got a special treat for you today! Here is Benny Greb's full performance of "Grebfruit" – a song written by Benny himself! And all of those voices you hear? Yep – that's Benny. Buy the full album here!
---
1) 7 Must Know Gospel Drum Beats
Many drummers think gospel music consists solely of drum chops and fast linear patterns. Sure, those aspects are important – but what about the groove? Luckily Larnell Lewis is hear to provide us with 7 beats you should have under your belt if you're considering playing this genre. Click here for the sheet music.
---
Follow us!
►Facebook
►Instagram
►Twitter
What Makes A Successful Drummer?
FROM THE AIRPLANE TRAY TABLE OF JARED FALK
You will never be a successful drummer if you are defining your success in comparison to what someone else has achieved. Personal drumming success is not something that is measured with a metric such as how fast you can play, how many polyrhythms you know, or how much money you make. There is no quantifiable measurement, success comes in the form of a feeling. When you're successful, you'll know it and no one can tell you otherwise.
I understand that can sound very 'hippie' when I talk about feelings, but I believe this to be true. I've been thinking deeply about this lately as I was trying to figure out the common denominator behind all of the amazing drummers we've had on Drumeo. What makes them so special?
Take a moment to think about two of your favourite drummers… Mine are Benny Greb and Carter Beauford. When I think about them I believe they are successful. They have technique, feel, groove, time, vocabulary, are great listeners, and so much more. But does me thinking they're successful make them successful? I don't think so.
I have personally taken a step back from filming video lessons and playing live gigs, but I feel more successful than I've ever been with my drumming. Let me explain – In the past I would feel guilty for not practicing enough or not playing enough live gigs. I would analyze my drumming and get mad because I didn't sound like my favourite drummers. I didn't like having those guilty feelings. After all, I play drums because I love playing music. It should be fun – not a guilt trip.
As soon as I came to the realization that there is no quantifiable way to measure a successful drummer, everything changed. I started having fun again and didn't take things too seriously.
I don't have aspirations to tour internationally with a big recording artist. Playing drums is a hobby that I am passionate about, not my career choice. I love staying home close to my family. I have a beautiful wife (Shanna), two boys (Greyson and Sawyer), and two dogs (Teagan and Sadie). Things are awesome in my life and lately I have just been filled with gratitude to be able to do what I do. I get to play music, teach drummers, hang out with the best drummers in the world, and work with an incredible team at Drumeo.
Many of my online students will message me stressing about their lack of practice time. Depending on what their goals are, sometimes I just tell students not to worry. Enjoy the process of getting better, regardless of how fast you think you're progressing or how much time you have to practice. Just have fun with it.
At Drumeo, we have students with a diverse range of goals. Some students want to tour, become a session drummer, play local gigs, participate in jam sessions, film drum covers, teach privately, teach online, drum for exercise, or just play for their own enjoyment. None of those things are wrong.
It really frustrates me when I hear some popular teachers talk about drumming like it's a sacred art and anyone who plays needs to learn a certain way and go down a specific path.
So with that said, I just really want to encourage you today. Become the drummer you want to be. Strive to feel successful as defined by you and drumming will become fun again. And thank you for reading, I really don't take any of your attention for granted and I appreciate you hearing me out on this. If you have any questions, I'm always available to chat through email: jared@drumeo.com
P.S. Oh, one more thing. I love what we're doing at Drumeo and I'd be doing a disservice to my staff and amazing community if I didn't personally invite you to be a part of it. Please join us, we'd love to see you inside the members area today! You can get setup here: Drumeo.com or call us between 8am – 4pm PST (11am-7pm EST) at 1-800-439-8921
---
Benny Greb On Drum Practice Vs. Performing
Free Practice Routine Generator »
I'm sure just about every drummer will be able to relate to this video. I can't even count how many times I've been satisfied with something in the practice room only to have it break apart during a performance. In this clip, Benny Greb outlines common problems and solutions to transitioning from practice to performing.
Click here to watch Benny Greb's full lesson on "The Art & Science of Groove".
---