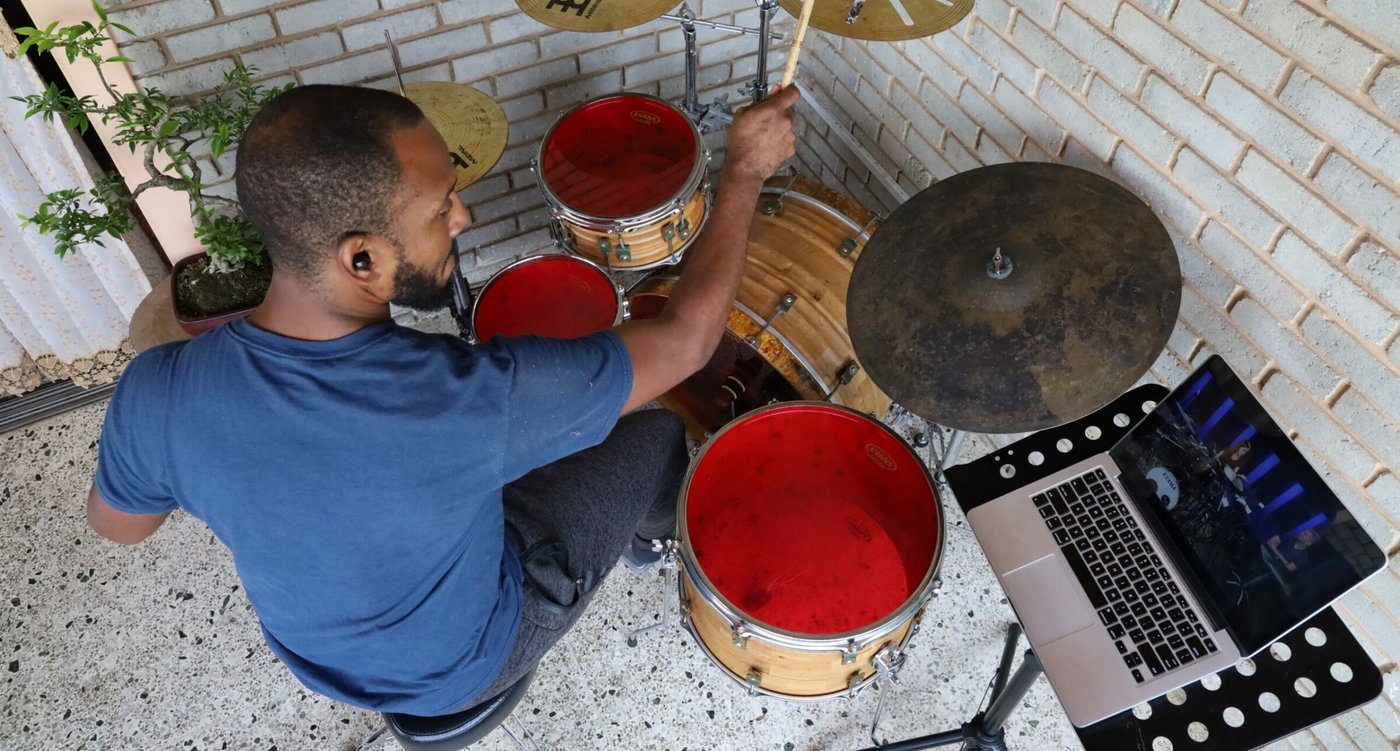 How can you make drumming more fun? By playing along to music, of course. And when you're sitting solo, that may mean finding and using drumless tracks and play-alongs.
Play-along tracks can help you practice your timing and improv, work on specific techniques, try out various beats and fills in different styles, and even improve your ability to play in odd time.
They provide an opportunity to apply the skills you've been working on in a musical context, and they're typically much more enjoyable than playing to a metronome. Because you're drumming to actual songs, they can be used to practice musicality as well. These tracks are especially great when it may not be possible to jam with other musicians.
(If you're a new drummer, click here to check out a new, easy-to-follow video course that'll teach you everything from how to hold drumsticks to how to play along to your favorite songs. It's only $7 – less than your last Uber ride!)
Drumless tracks
Typically, songs that have been recorded with no drums, or where the drums have been removed, are called "drumless tracks" or "drum play-along tracks". Some are specifically written and recorded for drummers to play along to and add their own parts, some are original tunes written by a composer, and others are "sound-alikes" or covers of popular songs.
There are also original recordings (think The Who's "Won't Get Fooled Again" or Nirvana's "Smells Like Teen Spirit") where the drum tracks have been removed, which gives you a chance to try out some famous drum parts (or write your own) over the actual song.
Free drumless tracks to download
If you want to try jamming along in different styles, here are some free MP3s to get you started:
Jazz drumless track – With Click | No Click
Rock drumless track* – With Click | No Click
Funk drumless track** – With Click
Latin drumless track – No Click
Prog drumless track – No Click
Country drumless track – With Click | No Click
Techno drumless track – With Click | No Click
*"Slow Rockin'"
**Track composed by Nathan Bosch
You can also check out this simple, repetitive play-along (with MP3 downloads) to practice drum fills over.
Drumeo members can get access to thousands of drumless songs through the award-winning platform, and the free 7-day trial is more than worth it: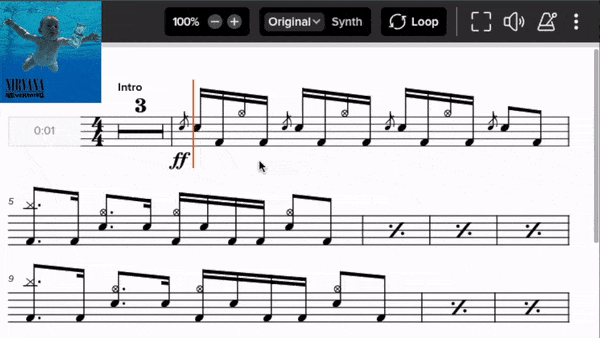 There's also the free version of the moises.ai app which lets you remove drums from 5 songs per month. You might love it so much you're willing to pay for the full thing.
9 Free Drum Playalongs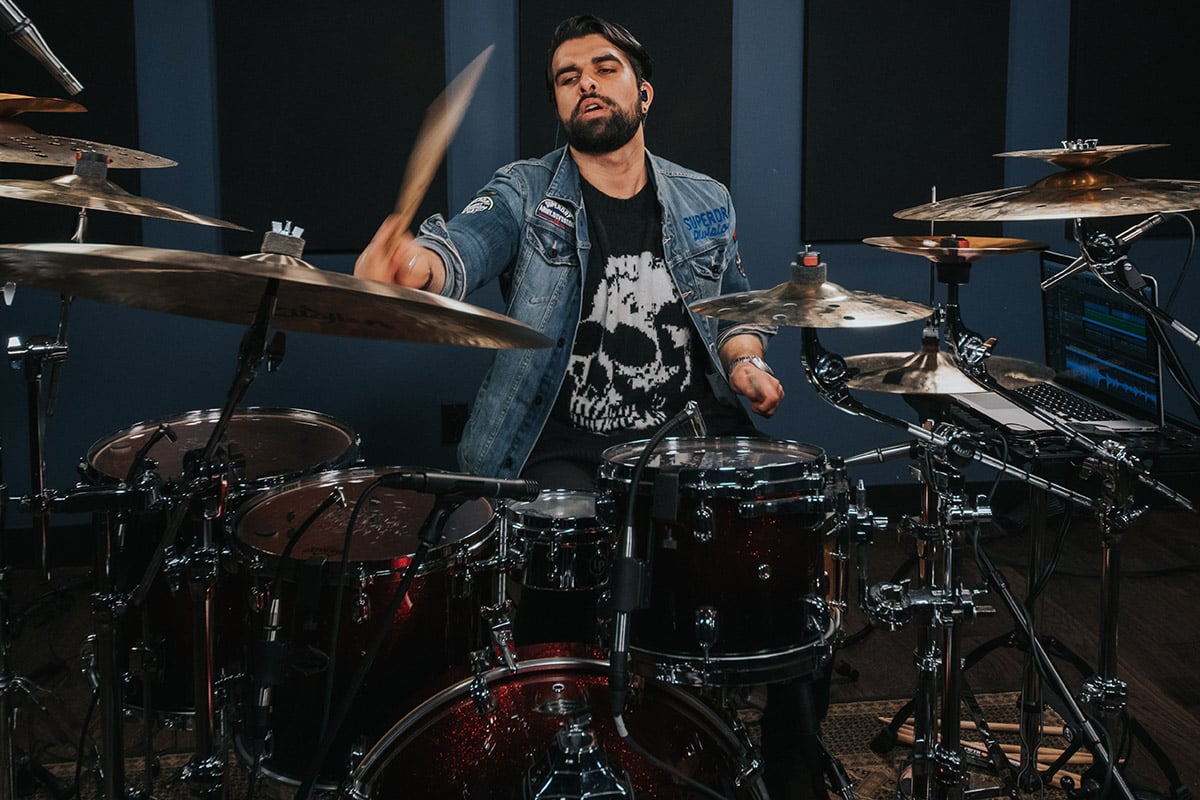 Download these drumless tracks and add your own drumming on top! You'll also get:
– Playback/metronome tools
– Reference videos (watch a pro play it)
– Sheet music
Tracks with drums
This could be a song by your favorite band that you play along to from a CD or Spotify/YouTube stream. It could also be a song a teacher assigned to help you practice a specific technique. In this case, it's useful to have a version with drums in order to understand what you might play. Most teachers offer play-along tracks with and without drums so you can practice along and then try it out on your own.
Where to find play-along tracks
Do a search on "drumless tracks", "drum play-along" or "minus drums" on YouTube and you'll find over a dozen channels dedicated to them, as well as numerous playlists. Many of these collections are organized both by style (rock, funk, jazz) and by tempo, so if you're working on a technique at a certain speed, you can choose accordingly. Some channels contain tracks all written and played by one composer, and some are compilations of various writers.
Even Spotify has playlists of drumless tracks, and there are entire websites dedicated to providing them, both free and paid. You can find thousands of songs at drumlessversion.com where the drums have been removed from the original master tracks. Music publishers like Hal Leonard and Vic Firth offer free drumless tracks (often with a PDF of the song chart and drum notation), Amazon and iTunes carry play-along compilations, and drum education sites like Vic Firth and Drumeo Edge offer drumless tracks as well. For example, Drumeo has hundreds of play-alongs you can sort by tempo, skill level, and style.

Also, many drum education books include CDs (now digital downloads) with play-along tracks for you to practice the techniques taught in the book.
Click tracks
Most drumless tracks that are created specifically as play-alongs (as opposed to well-known songs where the drums were removed) have count-off clicks at the start to tell you when to come in with the drums. Many come with a click track that plays all the way through the recording.
Some education sites offer drumless tracks that come in two versions: with and without a click. This lets you practice and record yourself playing with the click version, then try the no-click version to work on your timing and precision (this can really hone your ability to follow the bass like you would when playing with a band).
Remember: if you download a play-along that doesn't have a click track, you can always import the song into a DAW (Digital Audio Workstation) like ProTools, Logic, or Reaper, and add your own.
Recording and making drum videos
If you're looking to make drum videos to post on social media (or just for yourself for feedback and educational purposes), play-along tracks are a perfect solution. Most aren't copyrighted, so are free to use them for your own purposes. If it's not a cover, it gives you a chance to showcase your own writing and arranging skills for drum parts.
If you want to record cover videos, look for drumless versions of the song (because if you post the original, it might get pulled from YouTube due to copyright issues). And if you're using an all-in-one recording solution like the Yamaha EAD10 with its companion Rec n Share app, you can easily import a drumless track and record yourself playing along in minutes.
Playing with music is one way to make practicing and learning drums even more fun. Use drumless tracks and play-alongs to apply new skills, work on time and feel, learn how to write drum parts, and enjoy your favorite songs. Give it a try!
Also…if you're looking for free video lessons, tips, and cool deals, drop your email here. We'll respect your inbox – promise!
*This article contains affiliate links, which means we might earn a small commission from the product seller if you make a purchase. For more info, check out our privacy page.
SHARE THIS: